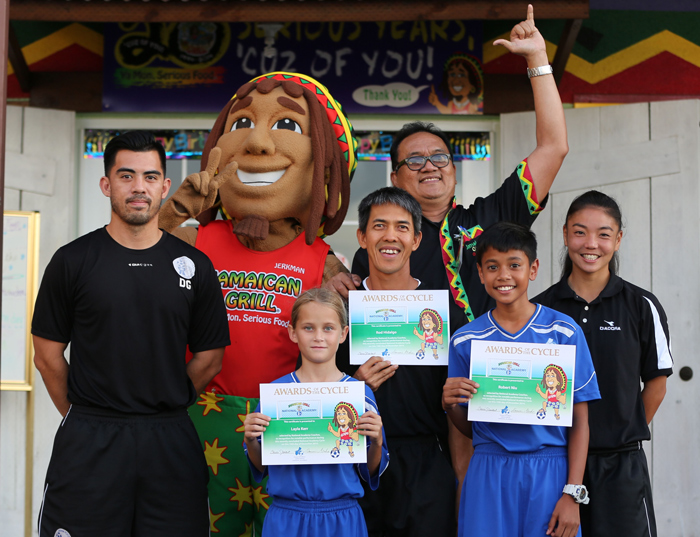 04 Mar

Niu, Kerr, and Hidalgo recognized with GFA National Academy honors

Robert Niu, Layla Kerr, and Rod Hidalgo were recently recognized by United Airlines Guam Football Association National Academy directors and staff as the Jamaican Grill National Academy Players and Coach of the Cycle, respectively, for the program's final session of 2014.

"Robert continues to demonstrate the qualities of an elite player week in and week out at training," said Dominic Gadia, Director of the National Academy. "Robert is a very intelligent football player with great leadership skills. He is very confident in organizing and leading his teammates. Robert is technically sound and with his good reading of the game, he makes hard work look effortless."

Niu, a 12-year-old student at Harvest Christian Academy, plays for the Strykers FC in the Triple J Auto Group Robbie Webber Youth Soccer League. Earlier this year, he was hand-selected by National Academy directors for entry into Project Elite, a program primarily reserved for the Academy's top U12 athletes and some from the U10 group, to groom them for future national team duty.

Kerr, who is home schooled, plays for the Strykers FC. The eight-year-old has been playing soccer for over two years.

"For her age, Layla has consistently demonstrated good dribbling skill, good technique and speed when running with the ball, and good power when shooting," said Kimberly Sherman, assistant director of the National Academy. "She is a very quick learner and is willing to try new things under the advice of Academy coaches during training sessions. Based on her skill and character on the pitch, she was pushed up to train with the U10 age group toward the end of the cycle."

Hidalgo, selected as the National Academy Coach of the Cycle, currently still plays for Strykers FC, while also logging in coaching hours with Community First Dededo Soccer Club and with interscholastic teams.

"Rod Hidalgo is one of the most experienced coaches new to the National Academy," Gadia said. "His experience in youth coaching allows him to work with any age group in both our boys and girls programs. Great enthusiasm combined with his coaching experience allows him to get the most out of players he works with. Additionally, he is one of our most dependable coaches, and his support for GFA is like none other."

The GFA National Academy, supported in great part by Japan Football Association, started in 2012 with over 100 athletes selected by Guam's licensed coaches, and has grown to include a National Goalkeeping Academy particularly to develop goalkeepers, and a Project Elite program. Tryouts for the 2015 program will be held in late February, with the year's first cycle beginning in March.

"I would like to congratulate this cycle's winners for their efforts and also would like to congratulate all other Academy athletes who have completed the 2014 cycles," said Gary White, GFA technical director. "For all youth athletes looking to elevate their level of play, I invite them to try out for the 2015 National Academy next year. With the program already moving into its fourth year, many of our young athletes in the program have developed into players ready to train with youth national coaches for international duty. If those same players continue through the elite player pathway, they may earn U.S. college scholarships in a few years or professional club contracts."

For each winner, Jamaican Grill awarded certificates of achievement, as well as dining certificates at the restaurant's Dededo location.