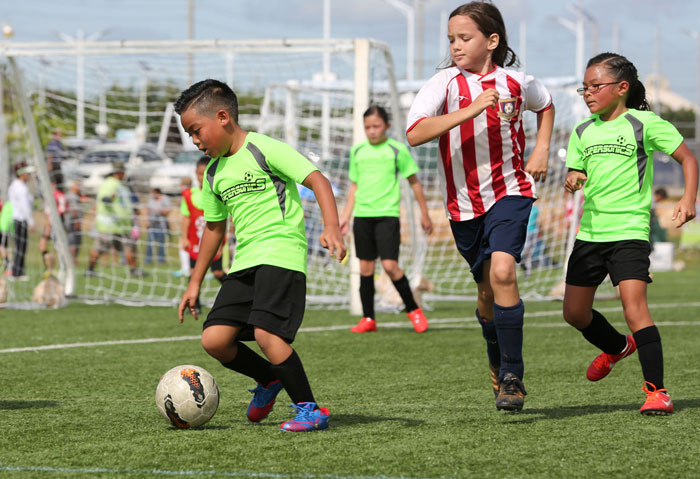 22 Jan

New Players Enjoying Youth Soccer

When the Supersonics' Cohen Terlaje scored a goal during a U10 match of the Triple J Auto Group Robbie Webber Youth Soccer League, the eight-year-old instinctively leaped in excitement and continued to smile as he sprinted back to the centerline ready for the next play.

"I like soccer because it is a lot of fun," said Terlaje, who began playing soccer when he was five years old. "My favorite part of the sport is scoring goals."

Terlaje is one of three players on the Supersonics roster with previous soccer-playing experience. The young team – new to the youth league this season – was organized by head coach Mike Peredo, according assistant coach Edward Blas.

"One of the parents wanted to get their child more involved in sports, so we decided to form a team in the youth soccer league," Blas said. "So far, it's been good – the kids are having a lot of fun. In the beginning, some of them were hesitant to get out on the field, but now, everyone wants to go out and play."

Over 100 teams in six age divisions continued matches in Week 3 of the youth league at the Guam Football Association National Training Center Saturday.

In U17A division matches, the Paintco Strykers defeated Community First Dededo Soccer Club 4-1. Shawn Charfauros scored twice in the win and Chris Cawili also scored. The Strykers' other goal came on a Dededo own goal. Brandon Auayan scored Dededo's lone goal.

Wings FC Red defeated Quality Distributors 6-0. Shashikant Kotwal and Daniel Kim each scored twice. Misaki Cramer and Isiah Lagutang also scored.

Wings FC Black defeated Southern Heat 4-2 with two goals each from Derek Okuhama and Thomas Park. Ryan Teologo and Colleen Naden scored for the Heat.

The ASC Trust Islanders Betde defeated the Guam Shipyard Wolverines 7-0. Mike Mira, Tevin Pangelinan, Leon Bamba, Jacy Bravo, Nicolas Cabuhat, Devan Mendiola, and Scott Ishizu each scored one for the winning team.

In U14 action, the Wings defeated the Islanders Asut 9-0 led by Tyler Presto's hat trick. Takumi Ito, Yae Kawauchi, Preston Boynton, Cain Pamintuan, Lars Peterson, and Bradly Lubas also scored.

The Islanders Betde defeated Dededo 6-0. Adryan Gozum scored twice for the Islanders Betde and Isabella Bass, Shawn Sablan, Mia San Nicolas, and Alex Perez also scored.

Quality defeated the Southern Cobras 9-2, led by Sam Larkin's hat trick. Brandon Lopez, William Zheng, Eddie Huang, An Truong, Dominic Rohr, and Ronald Fuellas also scored. Russell Perez and Trey Layson scored for the Cobras.

Strykers Red defeated the Wolverines 8-1. Joshua Calvo finished with a hat trick and teammates Taka Ward and Jeremiah Nguyen each scored twice in the win. Micah Hennegan scored the Strykers Red's other goal. Emily Perkins scored for the Wolverines.

Strykers White defeated the Tigers 9-0. Ethan Elwell, Xavier Naputi, Vince Cruz, Rhys Paynter, Jacob Herring and Clayton Mitchell all contributed in the win.

In the U12A division, the Islanders defeated Wings FC Black 9-2 led by Jonathan Sevilla's four goals. Javian Cruz, Mackey Rasmussen and Russell Anicas also contributed in the win. Tayler Bonner and Gabe Simard scored for Wings FC Black.

The Sidekick SC edged the Tigers 4-3. Jinae Teria, Spencer Guzman, Jonah Paulino and Adryan Lujan all scored for the Sidekick SC. James Lee scored twice for the Tigers and Anis John also scored.

Wings FC Red defeated the Wolverines 6-3 led by Niclas Vavra's hat trick. Kyle Halehale, Taiga Simon, and Eddie Cho also scored for the Wings FC Red. Michael Lee scored twice for the Wolverines and Shyann Roberto scored the team's other goal.

Quality Distributors' Sam Larkin maneuvers around the Southern Cobras goalkeeper Alexander Jimenez to find space for a shot during a U14 match of the Triple J Auto Group Robbie Webber Youth Soccer League Saturday at the Guam Football Association National Training Center. Quality defeated the Cobras 9-2.