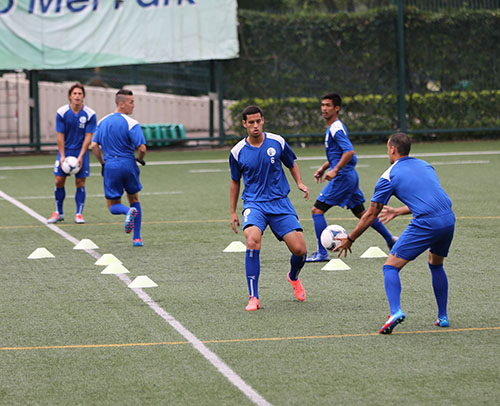 07 Mar

New additions to Matao integrating seamlessly during training camp in Hong Kong

The new additions to the Matao, Guam men's national football team, integrated seamlessly to the core group during the team's first training sessions in Hong Kong in preparation for the semifinal round of the East Asian Cup.

"Integrating into the team has been good – I feel very welcome here with the team," said 18-year-old Travis Nicklaw, who along with his older brother, professional soccer player Shawn, trained for the first time with the Matao at the Shek Kip Mei Park turf pitch in Hong Kong Tuesday. "I'm expecting that during matches, the pace of the game and the physicality will be different compared to college soccer.

"It'll be a big leap from what I've experienced in college, but I think that it will be easier to adjust to it with this team. I feel comfortable with them," added the 6-foot-3-inch freshman at San Diego State University.

Older brother Shawn, who had played for the University of Connecticut before signing with HB Koge, a professional football club in Denmark, also feels that adjusting to the new team has been a smooth transition.

"I knew from the start from the Gaffer (Matao head coach Gary White) that this team was a nice, close group," Shawn Nicklaw said. "Everyone has been very welcoming and it feels like I've been around them for a while.

"Each game we play in the tournament will be at a very high level and we'll really have to work hard to get good results. We're playing against very high quality teams – we are going to show the world what we can do," he added.

The Matao, under head coach Gary White, has already started turning heads with successful performances at recent FIFA-friendly matches and international tournaments. The team qualified to play in the semifinal round of the East Asian Cup by winning the tournament's preliminary competition in July, where the Matao defeated the Northern Mariana Islands and Macau. In the semifinal round, Guam will face Chinese Taipei, Hong Kong, DPR Korea and Australia starting Saturday.

The team currently is in Hong Kong for a four-day training camp to make final adjustments prior to the tournament, get acclimated to Hong Kong's chilly, rainy weather, and allow off-island players to train together with Guam-based players.

Prior to the training camp in Hong Kong, the team played a friendly match against the Blue Ayuyu, NMI's men's national team at LeoPalace Resort Guam. The Matao ransacked the visiting team for eight goals to none in the contest. Jason Cunliffe and Zachary Deville each scored twice for Guam. Dylan Naputi, Christian Schweizer and Ian Adamos also scored. Guam's other goal came on an NMI own goal.

In addition to the Nicklaw brothers, Cunliffe, Deville, Naputi, Schweizer and Adamos, Guam's 20-man roster for the tournament is composed of T.J. Atalig, Joshua Borja, Mark Chargualaf, Dominic Gadia, Ryan Guy, Doug Herrick, Dallas Jaye, Scott Leon Guerrero, Marcus Lopez, Ian Mariano, Elias Merfalen, Micah Paulino, and Jonahan Romero.

Guam's first two games – against Hong Kong and DPR Korea on Dec. 1 and Dec. 3 respectively, will be played at Mongkok Stadium, with a capacity of close to 7,000. Guam's final two games – against Chinese Taipei and Australia on Dec. 5 and Dec. 7, respectively, will be played at Hong Kong Stadium, with a capacity of 40,000.