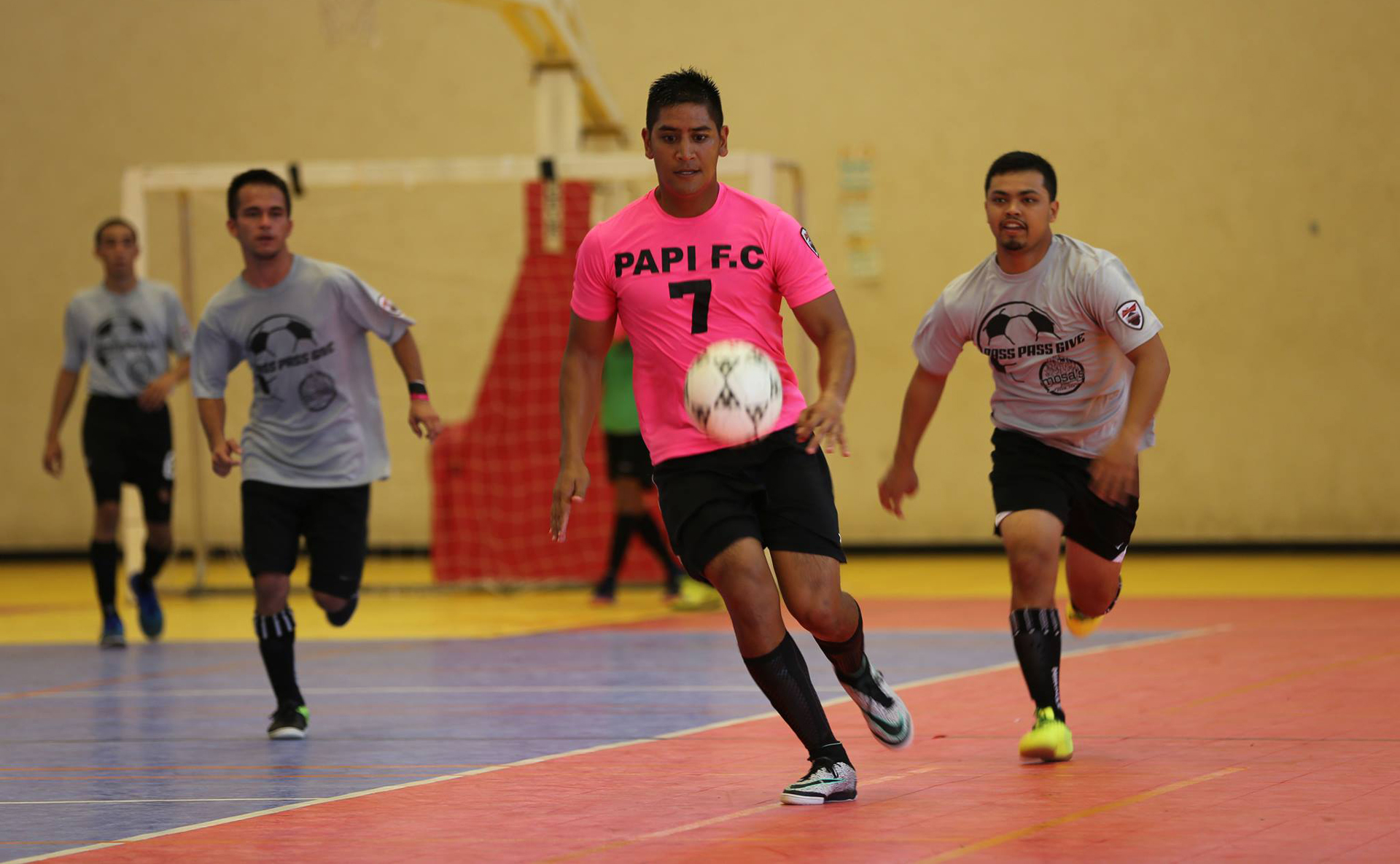 27 Dec

Mosa's Fall to Third in Futsal Following Back-To-Back Losses

[September 4, 2017 – Harmon, Guam] – After a hot 4-0 start in its maiden Budweiser Futsal League season, back-to-back losses dropped former league leader Mosa's to the third-place spot in league rankings halfway through Week 7 play Sunday at the Guam Sports Complex Gym in Harmon.

Papi FC was the latest team to earn a victory over Mosa's, an 11-7 win, to overtake the top spot in the league. Ian Mariano led all scorers with five for Papi and teammate Ashton Surber scored four. David Drews and Marcus Lopez scored Papi's other goals. Riley Jones Taijeron and Matthew Robles each scored twice for Mosa's and teammates Seth Surber, Jared Quichocho, and Gideon Tyquiengco also scored.

In Sunday's other matches, the Bank of Guam Strykers managed to hold off the NAPA Rovers 4-3 to move up to the No. 2 position in league standings. Kyle Halehale led all scorers with two goals for the winning team and teammates Julius Campos and Scott Spindel also scored. Nathan Sablan, Jorge Hellu, and Shawn Spindel scored for the Rovers.

University of Guam Tritons won via forfeit over the Crushers FC.

In Week 6 play, Papi FC defeated the Crushers FC 13-1 with five goals from Ashton Surber and two each from Jan Flores, Roy Abril, and Jonahan Romero. Ian Mariano and Eddie Lee Lorenzo also scored for Papi. Jeremy Copple scored the Crushers' lone goal in the contest.

Quality Distributors edged Mosa's 8-6 with two goals each from Barinedum Bakor and Joseph Preseault and one each from Scott Leon Guerrero, Fook Liao, and RC Salas. Quality's other goal came on a Mosa's own goal. Keith Surber and Matthew Robles each scored twice for Mosa's and teammates Kevin Leasiolagi and Seth Surber also scored.

The NAPA Rovers picked up a 11-5 win over the ASC Trust Islanders with Jorge Hellu leading all scorers with five for the winning team. Shawn Spindel finished with a hat trick in the win and teammate Nathan Sablan scored twice. Natsuki Recella scored the Rovers' other goal. Noah Duenas scored twice for the Islanders and teammates Sora Recella, Brandon Auayan, and Andrew Gonzales also scored.

The Bank of Guam Strykers smashed the University of Guam Tritons 24-3 with a 13-goal performance by Scott Spindel. Teammate Hiro Asoshina scored four and Kyle Halehale and Bradley Dickson each contributed a hat trick in the win. Takumi Odell scored the Strykers' other goal. Jacques Diambra-Odi scored twice for UOG and John Raz also scored.