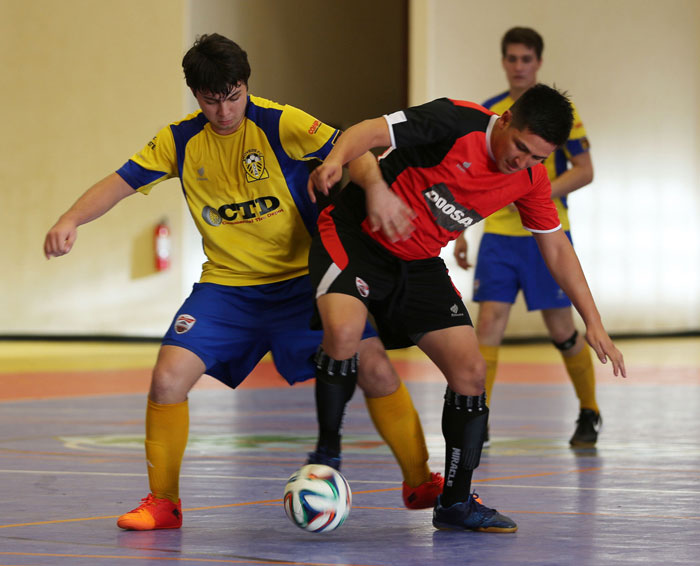 26 Dec

Men's Futsal Playoffs Set After Regular Season Play

The Southern Cobras clinched the final playoff spot of the Budweiser Futsal League with a 12-3 win over the Ambassadors in Round 8 play at the Guam Sports Complex Gym, but a 6-6 draw with the Paintco Strykers in Round 9 kept them in the fourth place spot moving into playoff action Sunday.

In the Cobras' Round 8 win, Donovan Reyes led all scorers with a double hat trick and teammate Ashton Surber scored twice. Antonio Prieto, Nick Roberto and Jason Miller also scored. The Cobras other goal came on an Ambassadors own goal. Vasin Jungtrakoolchai, Ezra Valdez and Michael Sypien scored for the Ambassadors.

In the Cobras' Round 9 match, a goal from the Strykers' Christian Dickson with a little over three minutes left in the contest kept his team in the third-ranked spot moving into the playoffs. Min Sun Choi led the Strykers with two goals and Hiro Asoshina, Marcus Lopez, Caleb Barretto scored the team's other goals. Reyes led all scorers with a hat trick for the Cobras and Surber scored twice. Roberto scored the Cobras' other goal.

In other matches, No. 1 Rovers City finished the regular season undefeated moving into the playoffs with a 22-2 win over the Crushers FC in Round 9. Ian Mariano led Rovers City with eight goals, followed by five from Jonahan Romero. Jason Cunliffe and Vinicius Rodriguez each had a hat trick in the win and Robert Putko put in two. Yaw Antwi-Agyei scored Rovers City's other goal. Kevin Tainatongo scored both goals for Crushers FC.

In Rovers City's Round 8 match, Mariano finished 12 goals to lead his team to an 18-4 victory over Guam Shipyard. Romero finished with a hat trick and teammates Cunliffe, Rodrigues, and Putko also scored. Takefumi Inoue scored twice for Shipyard and teammates Dominic Gadia and Kristian Cruz also scored.
No. 2 Quality Distributors FC defeated the Crushers FC 10-4 led by Mark Chargualaf's four goals in Round 8. Scott Spindel finished with a hat trick and teammates Jan-Willem Staman, Scott Leon Guerrero and Paul Long also scored. Joshua Pangelinan scored twice for the Crushers FC and teammates Tainatongo and Jon Odell also scored.

Rovers United defeated Guam Shipyard 7-5 in Round 9 to leapfrog their opponents and finish in fifth place in final standings, led by two goals each from Shawn Spindel, Natsuki Recella and Kyle Legozzie. Sisank Kotwal also scored. Andre Gadia led Shipyard with two goals. Donald Weakley, Kaito Inoue and Kaito's father, Takefumi Inoue, also scored for Shipyard.

Rovers United defeated Doosan FC 13-3 in Round 8 led by Legozzie's four goals. Recella finished with three and Spindel and Eric Redona scored twice. Kotwal and Justin Gera also scored. Cheyne Robles scored twice for Doosan and Dustin Alger added one.

The Ambassadors finished the season on a winning note with an 8-7 victory over Doosan FC. Sypien, Valdez, and Jungtrakoolchai each scored twice for the Ambassadors. Richard Delgado and Nayel Jones also scored. Matthew Robles led Doosan FC with a hat trick and teammate Anthony Manibusan scored twice. Doosan FC's other goals came from Luis Quichocho and an Ambassadors own goal.

Mariano claimed the league's Golden Boot award, netting 40 goals for the season. Surber, who had led the race for three rounds, finished in second with 33 goals in eight matches.

Playoffs begin at 3 p.m. Sunday with No. 1 Rovers City playing against No. 4 Southern Cobras, followed by No. 2 Quality taking on No. 3 Strykers.

There is no admission fee to watch the matches at the Guam Sports Complex Gym.