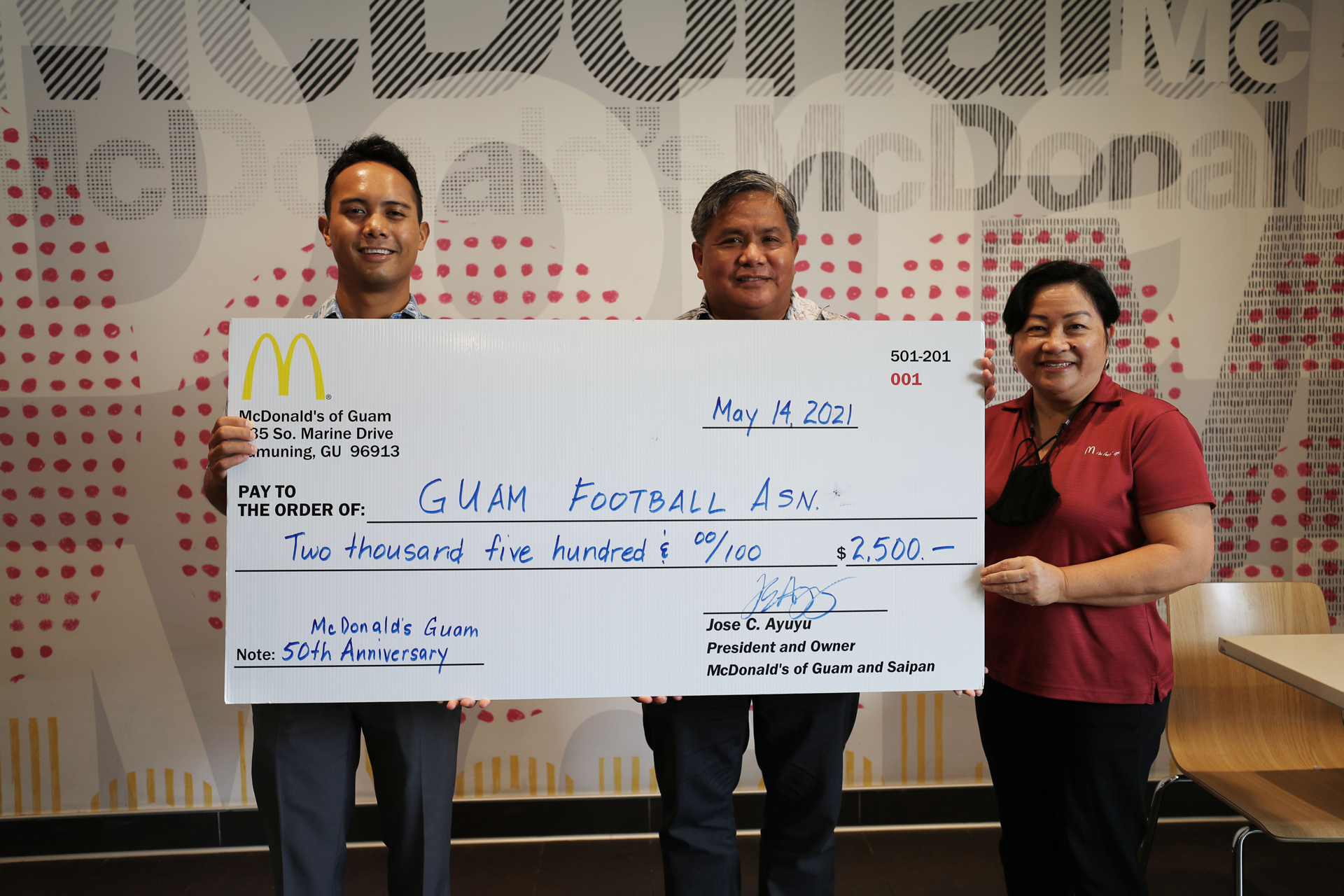 18 May

McDonald's Guam celebrates 50 years; donates to GFA

[May 14, 2021 – Tamuning, Guam] McDonald's of Guam selected Guam Football Association as one of various community organizations receiving a cash donation as part of its celebration of its Tamuning restaurant's 50th anniversary during a presentation event Friday morning.

Guam Football Association received $2,500 to assist in the sports organization's upcoming return to play activities welcoming back the local community to soccer leagues.

"Congratulations to McDonald's of Guam celebrating the 50th anniversary of its first restaurant in Guam," said Tino San Gil, GFA President. "On behalf of GFA, I would like to sincerely thank McDonald's of Guam for its continued support of football in Guam. GFA would not be what it is today without the generous assistance from local business partners like McDonald's of Guam over the years. We look forward to the continued success of McDonald's of Guam in the community and also working with their team in realizing opportunities for our local athletes through GFA programs and events."

Vice President of McDonald's of Guam and Saipan Joe Ayuyu, Jr. officially presented a check for $2,500 to GFA at the Tamuning restaurant. Also present at the presentation event was Marketing Director for McDonald's of Guam and Saipan Divina Evaristo.

"As McDonald's of Guam celebrates 50 years of friendships on Guam, we would like to recognize and support the Guam Football Association and their continuing efforts to promote the sport of soccer especially to our youth," Ayuyu said.

The GFA Competitions Department is targeting the weekend of June 19 to restart four domestic leagues after over a year hiatus due to the COVID19 pandemic. The four leagues planned to begin this summer are the Budweiser Futsal League, the Bud Light Women's Futsal League, the Budweiser Soccer League Masters Division, and the Docomo Pacific Soccer Moms League.