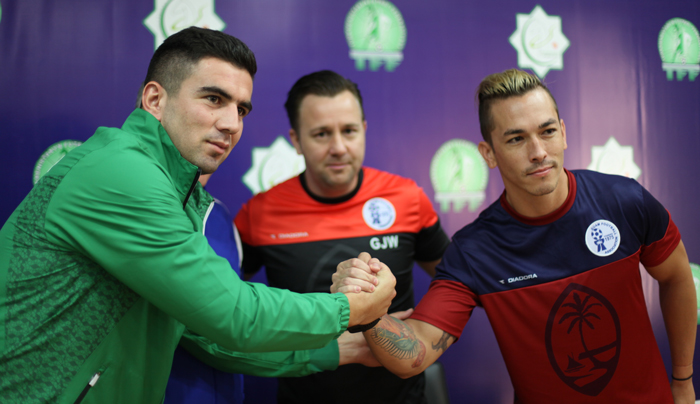 08 Mar

Matao ready for World Cup qualifier match vs Turkmenistan

[October 13, 2015 – Ashgabat, Turkmenistan] The Matao have arrived safely in Ashgabat and completed their final pre-match preparations ahead of the crunch World Cup qualifier with Turkmenistan this evening.

Spotlessly clean with wide-open streets that are eerily empty in parts, the country is one of the more unique that the national team has visited during their path to qualification for both the 2018 FIFA World Cup and 2019 AFC Asian Cup.

The locals are certainly expected to turn out in force though for the visit of the Matao with more than 20,000 set to watch the match at the Kopetdag Stadium.

With a solid training camp in Qatar under their belts Guam are raring to go in a match that Head Coach, Gary White, called the biggest of their campaign thus far.

"Upon arrival in Turkmenistan every member of the squad and staff could feel the expectation and hype for this upcoming match."

"Turkmenistan's national team is as much of a mystery as this wonderful country is to the rest of the world."

"The environment for our preparation has been first class and although we won't underestimate the local side there will be no excuses or hiding place for this team, we are ready."

National captain, Jason Cunliffe, agreed with those sentiments when asked by local media pre-match for his thoughts on what this game means.

"This is a key match for our country and our people; the Matao were the highest level of Chamorro society and that's what we are and what we're representing and we're going out in this match to show our identity and just what football on Guam has become and is all about."

The match kicks off at 23:00, Guam time.