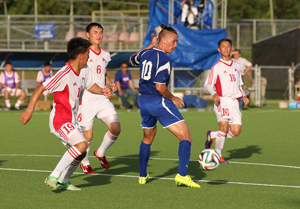 08 Mar

Matao move into first in EAFF tourney with 2-0 win over Mongolia

The Matao, Guam men's national team is in prime position to take EAFF East Asian Cup Round 1 championship, following its 2-0 shutout of Mongolia at the Guam Football Association National Training Center.

"I had every confidence in the team going into the match against Mongolia because I know the quality we've got and it all came together tonight," said Matao head coach Gary White after the match. "Though I am very happy with the win, I'm not surprised."

Ryan Guy led the way for the Matao with a shot following a corner kick play in the 16th minute and later, a header for goal off of a Shane Malcolm cross in the 75th minute. Following his first goal, Guy made a display of his acrobatics, taking a few flips before celebrating with his teammates who rushed to him in excitement.

"With that first goal, I felt like a weight had been lifted off of me," Guy said after the match. "There were so many emotions coursing through my veins, as well as the other guys, and that celebration was a show of our excitement. Going into the match I had this vision of a wall with goal-goal-goal-goal written all over it and for the lack of a better word, that was my goal for the game. I had great support from the team, sending me some great balls throughout the match. I was fortunate enough to break the seal and get a couple of goals for Guam.

"It's always a privilege to play in front of a home crowd. At the end of the day, we're all doing this because we're proud to be Chamorro – proud to be playing for Guam and I hope we did Guam proud tonight," Guy added.

Guy, who accepted his first call up to the Matao just a little over a year ago, now has three goals for Guam and an assist to his credit.

Guam's final opponent of the tournament is the Northern Mariana Islands, a nation that made history by winning its first-ever international match Wednesday, defeating Macau 2-1. Guam will face off against NMI Friday beginning at 5:30 p.m.

"With the win against Mongolia, we've got to now stay professional and focused to win the tournament," White said. "NMI is always a big derby for us. I think that they're better than they've ever been and seem better organized, better prepared, and, they've got a good goalkeeper as we know. We just have to keep to our game plan and finish off the tournament.

"With all the support we've been given from the GFA – from GFA President Richard Lai, all the executives all the way to all of our supporters watching the matches – it's going to be an exciting game," White added.

In the earlier NMI-Macau match, Macau struck first with Pang Chi Hang finishing his shot in a goalmouth scramble early in the match. Moments later, NMI's Joel Fruit sent a through pass to Jonathan Takano, whose shot was tapped up off the crossbar by Macau keeper Ho Man Fai. In the ensuing corner kick play, NMI's Nicolas Swaim leveled the match with a header for goal. Kirk Schuler later scored the eventual game winner in the second half, also off a header, erupting cheers from a squad of visiting NMI supporters in the stands.

Macau had one more chance in the final seconds of play, but a key save from goalkeeper Johann Noetzel, one of a handful in the match, kept the contest in NMI's favor through to the final whistle.

As it stands, Guam is in the frontrunner position with one win and one draw, followed by Mongolia with one win and one loss. NMI is in third, also with one win and one loss. Macau is fourth with one loss and one draw in two matches.

The NMI women's team will square off against Macau's women's team in the final match of the EAFF Women's East Asian Cup Round 1 tournament. Regardless of the result, the Guam Masakada have already advanced to the semifinal round in Chinese Taipei in November.

The men's sides return to action Friday with Macau playing Mongolia at 3 p.m., followed by the Matao taking on NMI at 5:30 p.m.

There is no admission fee to watch the matches. As an extra incentive for spectators, GFA will be raffling off autographed Guam national team replica jerseys each day of the tournament. Dave Bush won the jersey Wednesday evening.