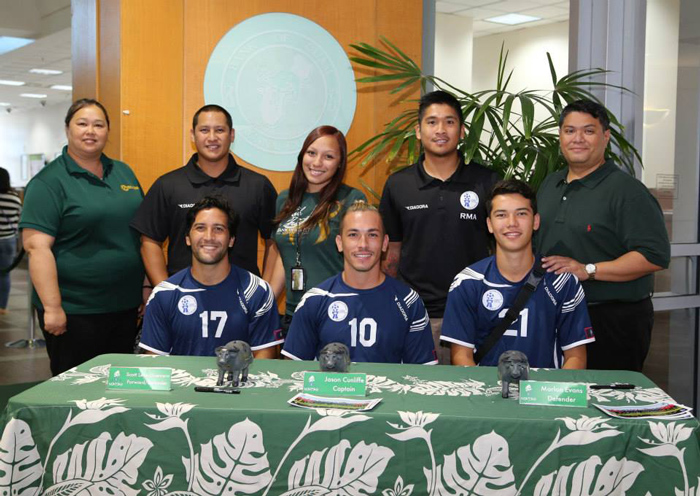 08 Mar

Matao make special appearance at Bank of Guam

[June 28, 2015 – Hagåtña, Guam] The Matao, Guam men's national football team, made a special appearance at the Bank of Guam Hagåtña headquarters Saturday for a meet and greet with the local community following the team's back-to-back wins in FIFA World Cup Qualifier matches held earlier in the month.

The event, coordinated by the Bank of Guam Employee Club, began at 10 a.m. and concluded at noon in the bank's first-floor lobby. All who attended will received a limited edition Bank of Guam Carabank, as well as a 2015 team photo card.

The Matao recently made history for Guam, winning its first two 2018 FIFA World Cup Russia and AFC Asian Cup UAE 2019 Joint Qualification Round 2 matches, unparalleled by most countries in Asia, including the continent's top two countries, I.R. Iran and Japan, that began their FIFA World Cup campaign with draws against Turkmenistan and Singapore, respectively. The Matao's two wins over Turkmenistan and India earlier this month catapulted Guam to the top of Group D standings, an unprecedented feat since Guam joined FIFA in 1996.

The Matao will next play Sept. 3 against I.R. Iran in Tehran and after, return to Guam to play against Oman Sept. 8 at the Guam Football Association National Training Center.