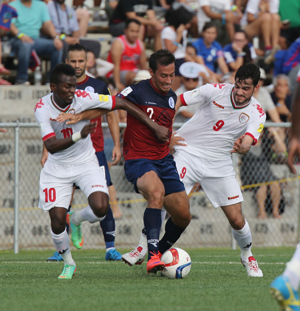 08 Mar

Matao looks ahead to next World Cup Qualifier matches

[September 21, 2015 – Harmon, Guam] Guam continued its undefeated streak at home with a scoreless draw against Oman, ranked No. 100 in the FIFA/Coca-Cola World Rankings, at the Guam Football Association National Training Center Sept. 8 in a match of the 2018 FIFA World Cup Russia and AFC Asian Cup UAE 2019 Preliminary Joint Qualification Round 2.

"First of all, I would like to thank Oman for a very competitive game," said Gary J. White, head coach of the Matao, Guam men's national team, in the post-match press conference. "I think it really was a game of two halves – we started out very well, we controlled the first half well. We had chances when we should have scored then, and in the second half, (Oman) really came at us, so you can see why they are a top 100 team in the world.

"I'm pleased with the performance of the players and I saw some great character during the match. We learned a lot from the Iran game and our stadium here has really become a fortress – we haven't lost a match here," White added.

The Sept. 8 match was played exactly five days after Guam played against I.R. Iran at Azadi Stadium in Tehran, in front of 90,000 spectators. Guam – Group D leaders after its first set of qualification matches in June – dropped its first match in the round against Asia's top country. The team then traveled back to Guam over a course of two days with as many days to prepare for the match against Oman. Likewise, Oman played against Turkmenistan on Sept. 3 in Muscat and traveled a similar distance to play its next match in Guam.

"We lacked efficiency in the match," said Paul Le Guen, head coach of Oman in the post match press conference. "We should have scored a goal at least in the second half. I think that legs went heavy after a long trip following our home match against Turkmenistan and we lost two points today.

"I do want to congratulate the Guam team for the match today – they did well, they defended against us well, and they were very well-organized," Le Guen added.

The Sept. 8 fixture – Guam's third FIFA World Cup Qualifier match at home – drew in thousands of spectators at GFA, as well as those around the world via Internet live stream or television broadcast. In Guam's two previous home matches, the team defeated Turkmenistan 1-0 and India 2-1 on June 11 and June 16, respectively.

"After the first two wins in June, we really put Guam on the map in terms of a beautiful island to come to visit that has a team that can also play really good football," White said. "Now it's not just a flash in the pan – we've played three games at home and we haven't lost. For us, with our small population, to be competing at this high level with this success is a fantastic achievement for everyone in Guam and at the GFA – the coaching staff, the players, the executives, and everyone that works so hard to put on an event like this in Guam – GFA President Richard Lai, LOC Chairman Joe Cepeda, General Secretary Tino San Gil, GFA Executive Director Cheri Stewart – everybody works so hard behind the scenes.

"We'll be traveling to Turkmenistan next and will play in a very hostile environment on the 13th of October. Naturally, we are focusing on getting a full three points in Turkmenistan, but we know it's won't be an easy game – Iran went there and drew 1-1. They're going to have their backs up there since we beat them here in Guam. Every game in this group will be difficult for us, but the fact that after four games, we're joined at the top with Iran and Oman really says a lot about our current program," White added.

I.R. Iran, Oman, and Guam are all currently tied for the top spot in Group D based on points, with seven each. Guam will next play Turkmenistan in Ashgabat on Oct. 13, before flying to Bangalore to face India on Nov. 12. Guam will play its final home match of the qualification round on Nov. 17 against I.R. Iran. The Matao will close out the round with an away match against Oman scheduled for Mar. 24 next year.