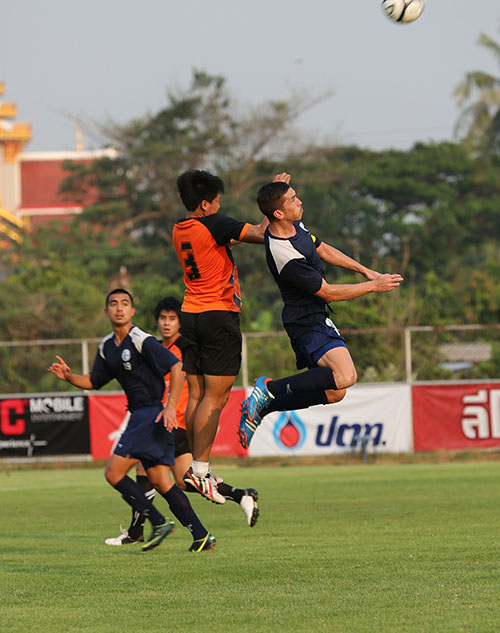 07 Mar

Matao in Bangkok to prepare for AFC tournament in Myanmar

The Matao, Guam men's national football team, have a few more training sessions to show head coach Gary White that they deserve a spot in the team's starting eleven in the upcoming AFC Challenge Cup qualifier in Myanmar.

The team currently is in a training camp in Bangkok, Thailand and recently played a training match against Samutprakan Customs United FC, a professional football team in Thailand.

"The main purpose of the training match was firstly to establish who the strongest 11 will be," White said after the match. "Second, it was an opportunity to watch some of the new players and to get more familiar with them in game scenarios. Last, it was an opportunity to try players in different positions, which you don't usually get the freedom to do in international competitions because of the substitution rule.

"The coaching staff also was able to look at changes we would make in different game scenarios – what to do if we're down a goal, what to do if we're up; we worked on game management a bit," White added.

The match against the Thai professional team, played at 4 p.m. under a hot, blistering sun also prepared the team to play in weather conditions similar to Myanmar. Players rotated in and out of different playing positions, including regular faces in the defensive line instead as midfielders or attacking forwards.

Newcomer John Landa scored the game-equalizing goal in the third period of the training match, launching a shot on frame from a Scott Leon Guerrero assist from the right side.

"All in all, it was a really important game for us," White said. "It was good for the players from Europe and the U.S. to acclimate themselves to the requirements for playing in hot weather conditions. We also looked at the opposition – the Thai pro club team plays similarly to Myanmar – so it was a way for the team to adjust and adapt to these types of players in training."

Missing from the game were Ryan Guy, who flew into Bangkok after the match, and goalkeeper Dallas Jaye, who will arrive in Bangkok a day before the team leaves to Myanmar for the AFC tournament. In Myanmar, the Matao the will play against the host country, India and Chinese Taipei for a spot in the final round of the tournament next year in the Maldives.

In addition to Landa, Leon Guerrero, Guy and Jaye, Guam's traveling squad members are captain Jason Cunliffe, goalkeeper Douglas Herrick, Ian Adamos, T.J. Atalig, Mark Chargualaf, Zachary DeVille, Dominic Gadia, Marcus Lopez, Ian Mariano, Dylan Naputi, Sean Navarro, Shawn Nicklaw, Travis Nicklaw, David Nussbaum, Micah Paulino, Jonahan Romero, Christian Schweizer, and Jorge "Lolo" Valenzo. Of the 22 traveling squad members, Landa, Navarro, Nussbaum and Valenzo join the Matao for the first time.