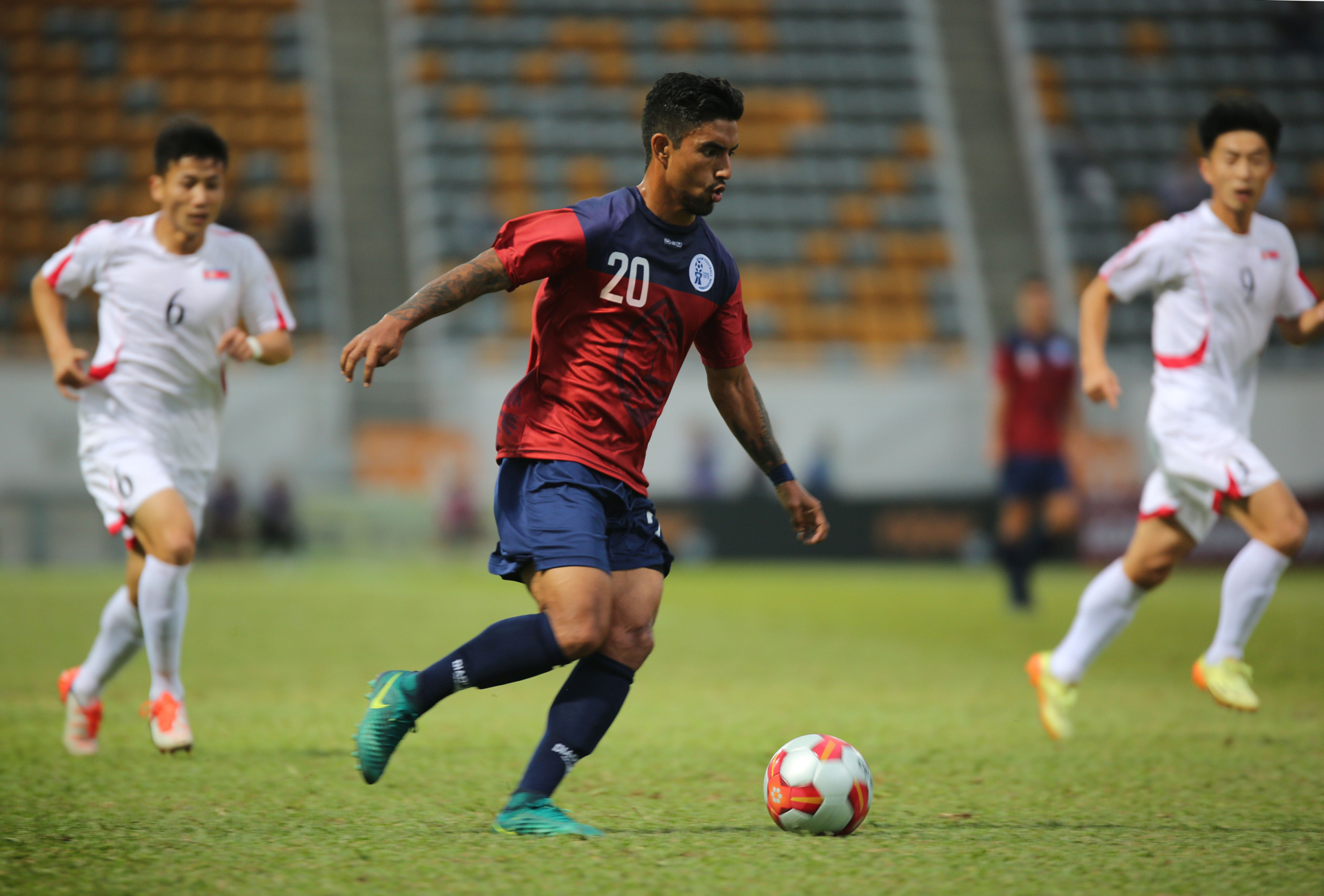 11 Mar

Matao aim for win in final EAFF tourney fixture Saturday

[November 11, 2016 – Hong Kong] The Matao, Guam men's national football team, won't accept anything less than a full three points from regional rival Chinese Taipei in the sides' final fixture of the EAFF E-1 Football Championship Round 2 Hong Kong set for Saturday at Mong Kok Stadium.

As it stands, Guam has the edge over Chinese Taipei in the tournament's standings after Day 2 matches based on goal differential, with Guam's narrow 3-2 loss to Hong Kong on opening day of the men's competition and a heartbreaking 2-0 loss to DPR Korea Wednesday evening, the smallest scoring margin between the two sides to date.

"I'm proud that the guys fought and that they're learning – they're better today than they were two days ago," said Darren Sawatzky, Matao head coach, during the post-match press conference following the team's match against DPR Korea. "Our goal is always to win games. That's what you do at this level so we expect to go out and beat Chinese Taipei (on Saturday)."

In Guam's match against DPR Korea, the Matao played a highly organized, explosive brand of football that kept the North Koreans off their game for close to 70 minutes. Guam's opponents patiently worked to counter the Matao's attacking plays and were rewarded in the 67th minute after So Hyon Uk managed to connect on a volley in a high-pressure situation near the goal box. Later, Pak Kwang Ryong, who had joined the team from Switzerland, doubled DPR Korea's advantage with a goal off a free kick in the 86th minute for the final score.

The win adds to DPR Korea's 2-0 win over Chinese Taipei in the sides' opening match of the tournament. Both DPR Korea and Hong Kong completed the first two match days with wins and will play Saturday evening for a coveted spot in the final round of the EAFF tournament.

Hong Kong first edged Guam 3-2 Sunday evening and next defeated Chinese Taipei 4-2. In Guam's match against Hong Kong, captain Jason Cunliffe scored the team's first goal off a header, assisted by Micah Paulino, who headed a Shane Malcolm throw-in toward Cunliffe. Malcolm later scored Guam's second goal, connecting on a free kick from Cunliffe.

"The Guam team – their defense was very good," said Kim Jong Min, acting DPR Korea head coach, through a translator after the team's match against Guam. "The team had to play very calmly and then they were able to play according to our original tactics and strategies against Guam.

"Our players are very good, in terms of physical strength and tactics and psychological preparation, so I'm confident that we can win this tournament and go to the final in Japan," added Kim, who was filling in for DPR Korea head coach Jørn Andersen, who had been ejected from the team's opening day match against Chinese Taipei and suspended for the match against Guam.

On the final day of the men's competition, Guam will take on Chinese Taipei at 3 p.m. Hong Kong time (5 p.m. Guam time) Saturday, followed by Hong Kong against DPR Korea at 6 p.m. Hong Kong time (8 p.m. Guam time) at Mong Kok Stadium. Both matches will be live streamed on www.eaff.com

The Masakåda, Guam women's national team, will look to bounce back from a Day 1 loss to Korea Republic. The team will play against Chinese Taipei Friday and Hong Kong on Monday. The full schedule of matches is online here. The women's matches also will be live streamed on the EAFF Web site.