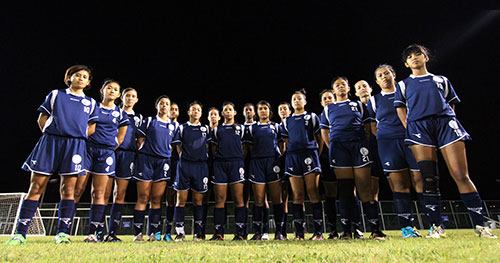 15 Mar

Masakada to Be Outfitted in Jerseys Made Out of 100% Post-Consumer Recycled Plastic

The Masakada, Guam women's national football team, gets a green card for sustainability efforts.

With several choices of styles, cuts and fabrics by Diadora, apparel partner of Guam's national teams, the Masakada have chosen to wear the Terra Verde line of jerseys for its training gear. The Terra Verde collection is made from post-consumer recycled P.E.T., or Polyethylene Terephthalate. P.E.T. is the type of recyclable plastic used to make a hefty percentage of consumer plastic bottles, the Natural Resources Defense Council Web site states.

"The women's program is excited to support Guam Football Association's sustainability efforts with the new eco-friendly (uniforms) from Diadora," said Grace Martinez, GFA women's committee administrator. "We hope that this initiative by the women's team will inspire others in the community to continue to look for additional ways to incorporate environmentally friendly practices in their daily routines."

The durable and lightweight fabric has brilliantly kept up with the team's near-daily, vigorous training sessions for the past few months. The team has been training for the East Asian Football Federation Women's East Asian Cup preliminary competition at Leo Palace Resort Guam beginning July 17. The team will compete against the CNMI on opening day and against Hong Kong on July 21. Both matches begin at 4 p.m. at the Yona resort's main field.

Next week's tournament is a qualifying competition for the semifinal round in China in late October. The final leg of the tournament – which already features top women's team from the region including 2011 Women's World Cup winners Japan, will be played in early 2013 and will include the winner of the semifinal round.

"We needed to purchase new (training) uniforms anyway, so why not ones that help preserve the environment we live in?" said Kristin Thompson, a member of the Masakada. "The eco-friendly feature of the kits we have from Diadora is an added bonus to the style and comfort of the uniforms.

"The uniforms are actually super comfortable and they breathe well," added Thompson, who has represented Guam at the top women's level for about 10 years in various international competitions.

Diadora introduced the Terra Verde line in February 2010. The kit is made of 100 percent recycled polyester from used soft drink and water bottles. Each jersey is made from 14 recycled plastic bottles and was the first of its kind in the U.S. market, according to the Diadora Web site. Other clothing manufacturers also have begun to feature eco-friendly jerseys in their collections for the U.S. market. The 2012 red and white striped U.S. national soccer team jerseys, introduced in April, also are made from recycled polyester, the U.S. Soccer Web site states.