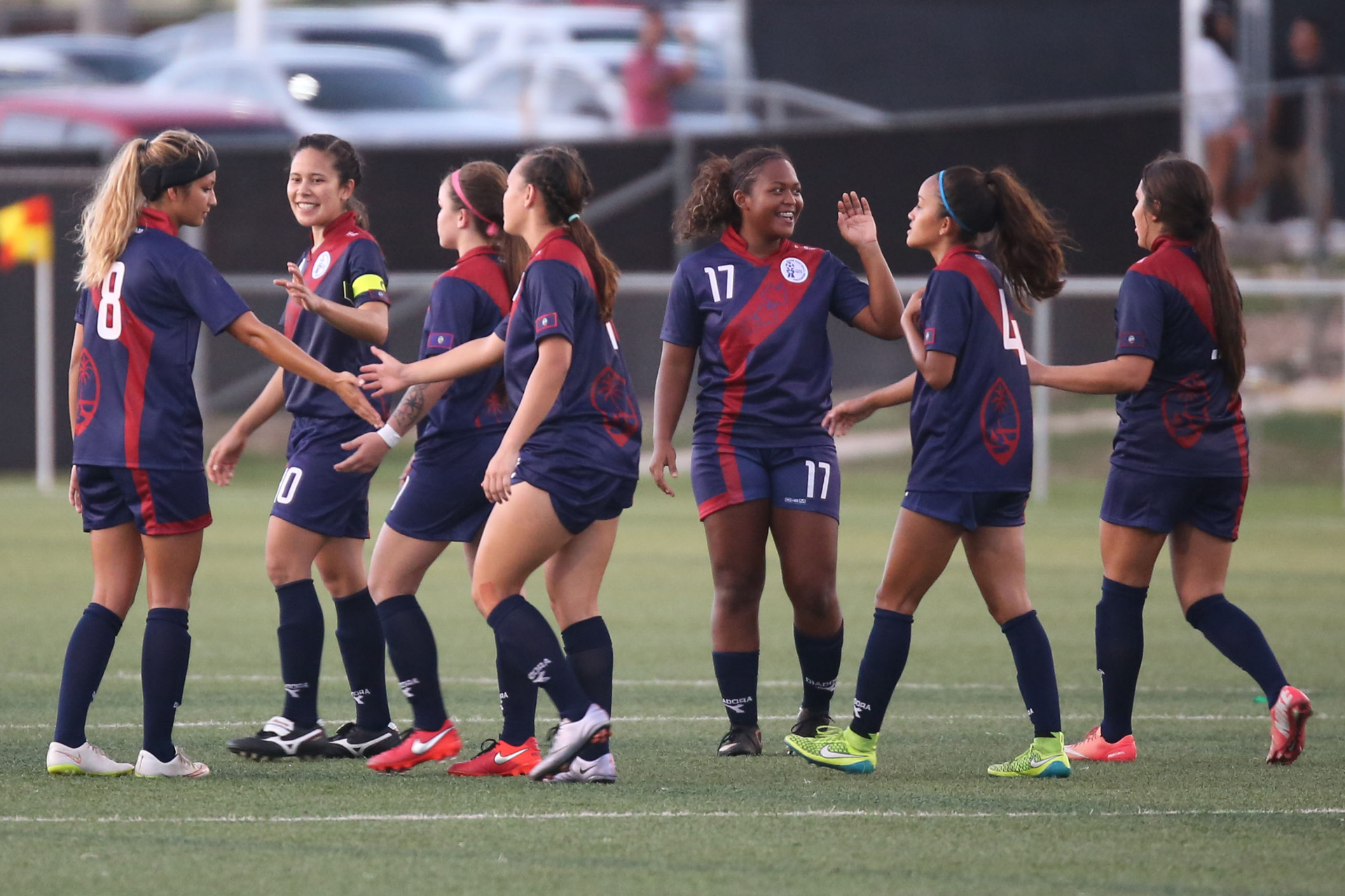 18 Mar

Masakada Roster Released for EAFF Tourney in Hong Kong

[November 2, 2016 – Harmon, Guam] – Guam Football Association officially released the names of players listed on the final Masakåda roster for the women's competition of the EAFF E-1 Football Championship Round 2 in Hong Kong beginning next week.

The Masakåda, Guam women's national football team, are the reigning champions of the EAFF tournament's first round held earlier this year at the Guam Football Association National Training Center and earned a spot to play in Round 2 against Korea Republic, Chinese Taipei and Hong Kong. The teams will be competing for a spot in the tournament's final round set for next year in Japan. Already in the final round are former FIFA Women's World Cup champions Japan, DPR Korea, and China, P.R.

"Based on film footage I've watched, the biggest difference from Round 1 to Round 2, will be the intensity of games – they'll definitely be played at a higher intensity in Round 2," said Belinda Wilson, listed as the team's Head Coach for Round 2.

"The other aspect will be the opposition's preparations. Korea Republic is a world-class opponent – they're in the top 20 in the world at the moment and have got a lot of experience from the youth level all the way to their senior team. They're going to be very organized and be playing with a high level of intensity. Chinese Taipei and Hong Kong will be similar in terms of organization and the way they play. They may not have as much experience as Korea Republic, but they still have a vast history in the game. They're constantly building their women's programs, so I expect those matches to be at an even higher level than what we'd seen in Round 1.

"What we're looking for in the Masakåda is a disciplined approach in the way we play – for me, it's focusing on creating that discipline around the group so we do the little things right and take care of the details (on and off the pitch). Discipline is the real key for us to be able to achieve some positive outcomes from this tournament," added Wilson, former head coach of the Brisbane Roar women's team, a professional team in the Westfield W-League in Australia.

Captain Anjelica Perez leads the field of 20 players including goalkeepers Sophia Garrido and Chyna Ramirez. Other players on the traveling roster are Alyssa Cruz, Gabrielle Evaristo, Olivia Flores, Jalana Garcia, Kaycee Hoover, Riley Hoover, Shea Hoover, Skyylerblu Johnson, Samantha Kaufman, Koharu Minato, Colleen Naden, Andrea Odell, Inyssa Perez, Erica Quichocho, Sarah Schiff, Paige Surber, and Danielle Zavala. Alternates named to the team are goalkeeper Kalila Kim, Spenser Jaye, Sabrina Kenney, Kimberly Sherman, and Kaeliana Taitano.

Of the 20 players, just about half play in the Bud Light Women's Soccer League including Naden, 2016 Fall season Golden Boot winner, Johnson, and Perez, all from defending champions Personal Finance Center Lady Crushers. Other players in Guam's league are Garcia, Surber, and Ramirez from Quality Distributors, Flores and Quichocho from Hyundai, and Minato from the Bank of Guam Lady Strykers.

The Masakåda will play its tournament opener on Nov. 8 against Korea Republic at 11:30 a.m. at the Hong Kong Football Club stadium, followed by its match against Chinese Taipei at 2:30 p.m. on Nov. 11. The team plays its final match of the tournament on Nov. 14 at 11:30 a.m. against Hong Kong. All times listed are Hong Kong time. All tournament matches will be live streamed on the EAFF Web site, www.eaff.com

Wilson is supported by Team Manager Krystiana Martinez, Assistant Coach Maggie Phillips, Team Physiotherapist Alexis Grambrell, Team Trainer Nichole Paulino, Equipment Manager Erlissa Delfin and Media Officer Jill Espiritu.

The Guam-based team members leave Friday morning to Hong Kong.