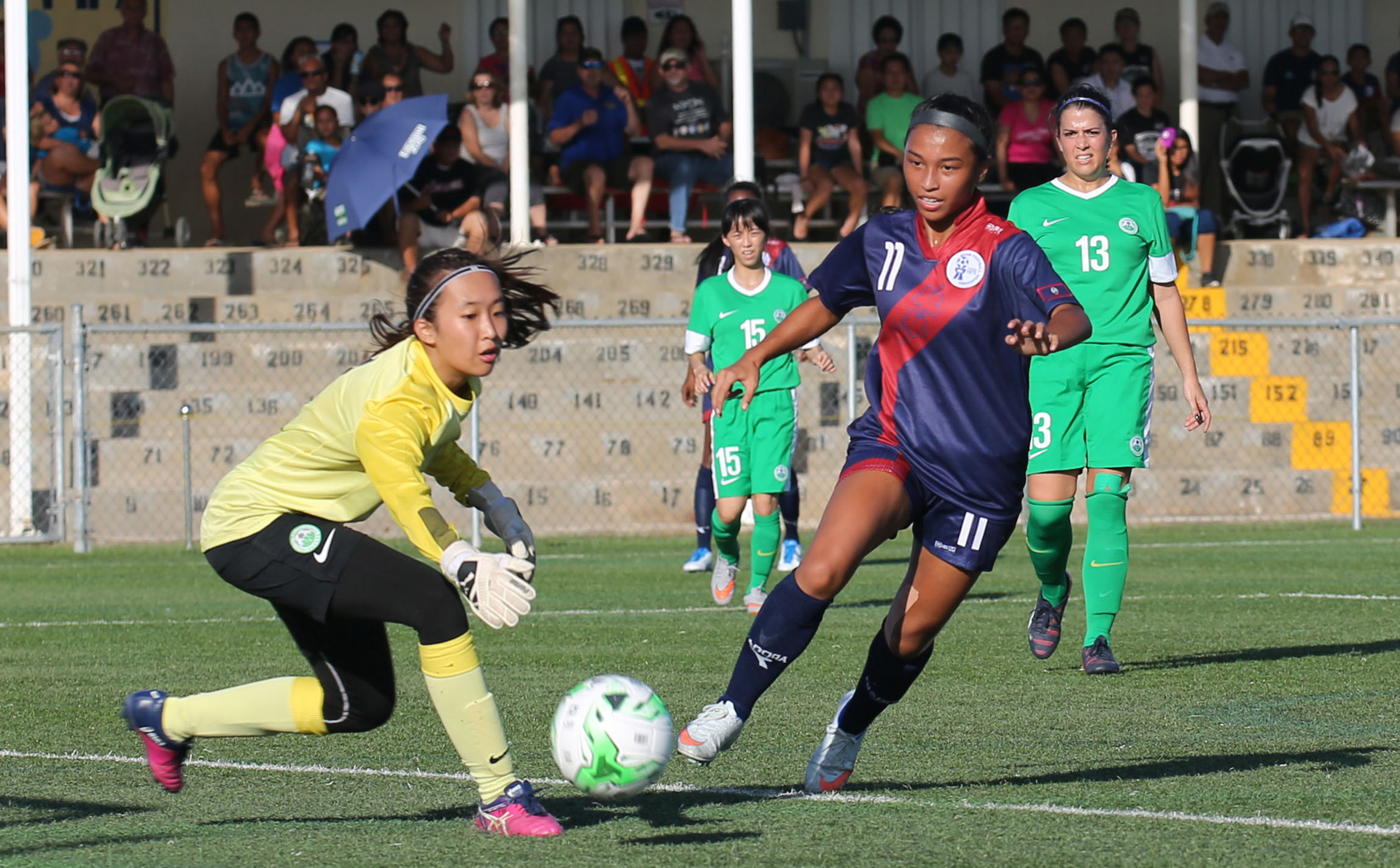 18 Mar

Masakåda Open EAFF Tourney With Win Over Macau-China

[June 30, 2016 – Harmon, Guam] – The Masakåda, Guam women's national team, opened the EAFF E-1 Football Championship Round 1 Guam with a strong 5-0 victory over Macau-China early Wednesday evening at the Guam Football Association National Training Center.

Despite a highly defensive formation utilized by the visiting team, Guam managed to set the pace of the match and find spaces for shots. Skyylerblu Johnson, IIAAG Girls High School Soccer League All-Island MVP, broke the scoring ice for Guam, finishing a cross from Inyssa Perez. Next, 2014 Round 1 MVP Samantha Kaufman put Guam ahead by two with a header off a corner kick play. 2014 Round 1 Top Scorer Paige Surber and team captain Anjelica Perez also scored in the first half for the 4-0 halftime score.

Macau-China's defense tightened in the second half and allowed just one other goal for Guam from Kaufman.

Read EAFF's full report below, written by Cesare Polenghi:

Guam and Macau Women's teams opened the EAFF E-1 FOOTBALL CHAMPIONSHIP ROUND 1 GUAM in front of a crowd of about 400 spectators at the GFA National Training Center in Guam.

Despite a very hot afternoon, with thermometers close to 35c, both teams gave their outmost in a very hardly-fought 90 minutes.

It was however one-way traffic from the very beginning with the Masakada supported by their local fans controlling the game and smoothly winning the contest 5-0.

Macau's resistance was broken in the 12th minute, when a cross by Inyssa Perez was not controlled by Macau's goalkeeper Tsz Wai Chao, and Skylerblu Johnson managed to tap the ball into the net.

Guam's predominance was also reflected in the number of corner kicks they earned, and on the fifth attempt Kaycee Hoover delivered a perfect cross that was headed home by Samantha Kaufman in the 18th minute.

Four minutes later the Masakada made it three with a beautiful combination that saw Anjelica Perez send Paige Surber deep into the penalty area, where the striker did not miss from close range.

Right before the end of the half Anjelica Perez added one more goal for the home side. Again from a corner kick, her first attempt was saved by Chao, but on the rebound Guam's captain was quick to find the way to the back of the net.

Three minutes into 2nd half, Kaufman notched her brace with yet another neat header from a corner kick; however, after this fifth goal the Macau team tightened-up their defending and manage not to concede until the final whistle.

It was a convincing performance for Guam, while there were clear signs of improvement for Macau as well.

Macau will meet the Northern Mariana Islands on July 1, while the closing match of the Women's tournament will see Guam meeting Northern Mariana Islands in a Pacific Islands derby on July 3.

COMMENTS:

Macau – On Na Chan(#12, captain)

"Our team showed a great fighting spirit until the very end. When we played in the previous edition of this tournament, we lost [to Guam] 11-0, but today it was only 5-0 – that is less than half of the goals we have conceded in our previous match. I believe every player did her utmost best.

"We all have jobs back home, and so we usually practice at night. It was incredibly hot when the match started, and we struggled a bit. But it got better as the game went on, and I think we defended much better in the second half

"We are really proud of representing Macau in this tournament. Women football is not yet a very popular sport in Macau, but our families and friends have very big expectations. This is only our third year of activity. So, this is only the beginning."

Macau – Iau Meng Vong (Coach)

"The players performed very well, and they met my expectations. We knew that Guam players are very aggressive. It took us some time to get into the game, but we improved during the match.

"We have one more game, and we hope to win it, and if that doesn't happen, at least to draw it".

Guam – Samantha Kaufman (#5, scored two goals)

"I am very happy to be back here in Guam and representing the Masakada. I flew in last night from Los Angeles, but overall I felt good throughout the match

"I thought we did a good job, it is not easy for girls coming from different parts of Guam and the world to come together and play together and it wasn't easy to get into a rhythm, since there were quite a few little injuries that resulted into a lot of wasted time. Moreover, it was very hot, but that's just part of the game. In the end we kept going forward and we were in control.

"I am happy about my goals, I have scored a few in previous tournaments, but I don't remember how many. Surely it was fun to score two headers!

"I think we have used this game to get into our rhythm and to familiarize ourselves with some of the new girls in the team, and we are ready to go, we are focused on the next match now.

Guam – Mark Chargualaf (Coach)

"This was my first game as head coach, and this is the first time I coach women so obviously I was a bit nervous, but more than that I was excited. We prepared a lot for this, and finally game-day has come, and it was great to see the girls playing.

"We wanted to score more goals, but some of the girls have just started to fit into their positions, so we need to work on more attacking options and we must become more deadly in front of the goal.

"I am happy with the win, this is what we came here for, and I got valuable information on what we need to fix moving forward into the next game, which will surely be harder

"I know that the Northern Mariana Islands team has been putting a lot of effort and preparation into this tournament, but we too prepared a lot, and now we have this game under our belt. We are neighbors and thus rivals, it will be a great game".