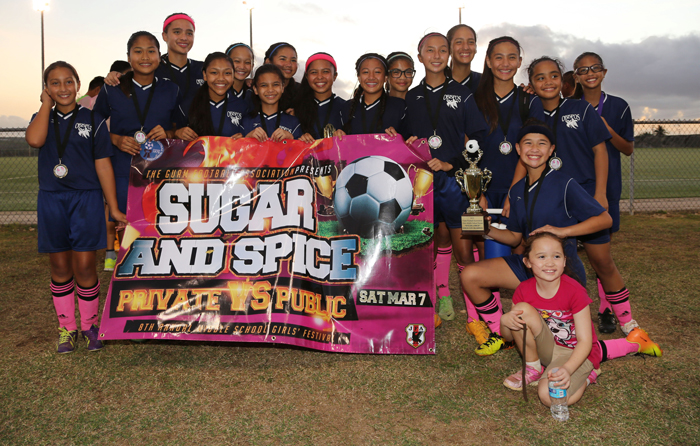 05 Mar

Lady Obispos win 8th Annual Sugar and Spice tourney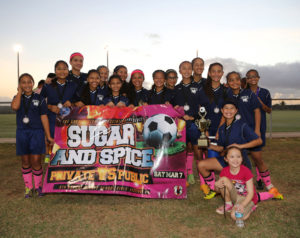 [March 8, 2015 – Harmon, Guam] The Bishop Baumgartner Memorial School Obispos survived a penalty kick shootout in the championship match of the 8thAnnual Sugar and Spice Middle School Girls Soccer Festival and defeated defending champion Luis P. Untalan Middle School Wildcats 1-0 at the Guam Football Association National Training Center.
The festival championship win adds to the team's IIAAG Middle School Girls Soccer League title earlier this year.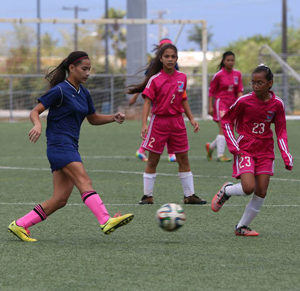 "We've been working hard since day one, working together as a team to keep our lead going during the league and it paid off in the end," said the Lady Obispos' Hannah Cruz, who was named festival championship match MVP and overall Golden Boot Winner. "Since our leagues are separated, we never had the opportunity to play against (the Wildcats) until today. It took belief in ourselves and faith to pull through against our tough competitors. For some of us, this was our last opportunity to play middle school soccer together for our school, so winning both the league title and the festival title felt that much better.
"I appreciate not only what our coaches have taught us, but also the support of our parents and what the entire team has done all season to get us this far," added Cruz, who also plays for the Guam Shipyard Wolverines in the Triple J Auto Group Robbie Webber Youth Soccer League.
Cruz scored the festival-winner in the penalty shootout as the second shooter for her team. Other shots missed the mark or were saved by the respective teams' goalkeepers.
At the conclusion of the final match, the Lady Obispos were awarded the first-place trophy and winners' medals in an awards ceremony. The Wildcats took home the second-place trophy and the Vicente S.A. Benavente Roadrunners took home the consolation bracket winners' trophy.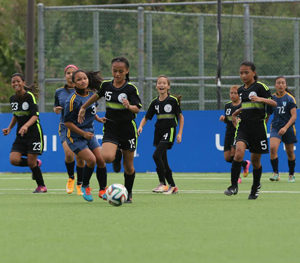 This year's Sugar and Spice Middle School Girls Soccer Festival, supported in large part by Japan Football Association, officially kicked off Guam's celebration of the first-ever Asian Football Confederation (AFC) Women's Football Day, which has been set for March 8 every year to coincide with International Women's Day.
"I am delighted to see that the inaugural AFC Women's Football Day has triggered activities in dozens of countries around Asia," said Moya Dodd, AFC Vice President and AFC Women's Committee Chairperson. "Girls' grassroots days, women's football festivals and carnivals, seminars, female referee workshops and various other activities will take place today around the continent. It's a credit to our Member Associations and their commitment to make football accessible for girls and women.
"This is a historic moment for football, as the AFC is the first confederation to have such an event. I hope today opens new opportunities for greater participation, recognition and advancement for women in football across Asia," Dodd added.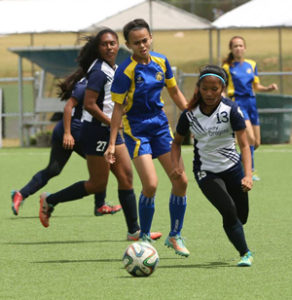 GFA will continue Women's Football Day Sunday with matches in the Bud Light Women's Soccer League beginning at 3:30 p.m. with Quality Distributors taking on Southern Heat followed by the Doosan Lady Crushers against Guam Shipyard. The Lady Rovers take on the Lady Strykers beginning at 7:30 p.m. On United Airlines Field 2, teams in the GFA Women's Intermediate 7-A-Side Recreational League play a trio of matches beginning at 4:15 p.m.
Schedules for both leagues are available for download at www.GuamFA.com