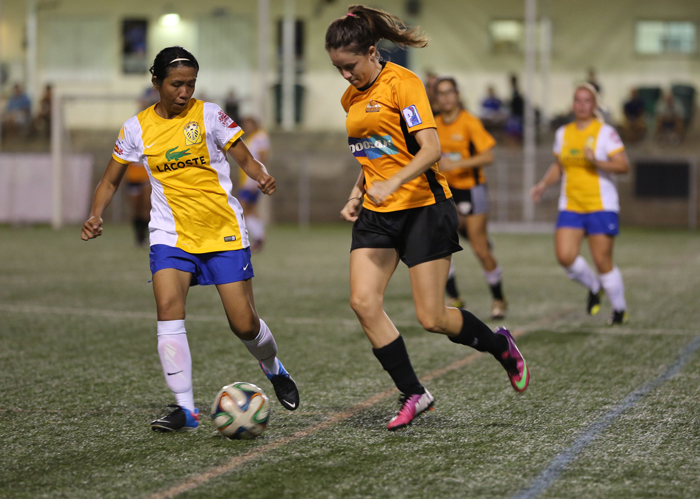 22 Nov

Lady Crushers Win Title; Teams to Fight for 2nd in Women's Soccer

The second and third-place spots will be determined in rescheduled matches from Week 7 of the Bud Light Women's Soccer League Sunday at the Guam Football Association National Training Center.

The current No. 3 Paintco Lady Strykers (5-1-3) can move up for a silver finish with a win against No. 1 Doosan Lady Crushers (7-1-1) paired with a Lady Rovers draw or loss against Guam Shipyard in the late match; however, if the No. 2 Lady Rovers (4-4-1) win, all bets are off and standings remain as is. The Lady Rovers lead the Lady Strykers in head-to-head competition with a win and a draw from earlier regular season matches.

The Doosan Lady Crushers secured their three-peat in women's soccer notching a 1-1 draw against the Lady Rovers in a Week 10 match Nov. 2. After the Lady Rovers gained a 1-0 advantage with an Eileen Flanagan goal in the 22nd minute, the Lady Crushers' Katie Mills equalized in the 64th minute after heading a Caylani Estoy free kick up and over Lady Rovers goalkeeper Leodith Abinales.

In other Week 10 matches, the Lady Strykers secured a top 3 finish with a 6-3 win against Hyundai. The Lady Strykers' Dausha Magalhaes led all scorers with four goals and teammates Kimberly Sherman and Hannah Tyquiengco also scored. Taylor Crisostomo, Shana Spindel, and Jalana Garcia each scored for Hyundai.

Quality Distributors defeated Guam Shipyard 5-1 with all five goals coming in the first half. April Talledo scored twice for the winning team and teammates Ginalynn Naburn, Alisia Barcinas, and Franshay Shippey also scored. Quality (4-1-4) finishes in fourth place, followed by Guam Shipyard (2-2-5) in fifth place, regardless of results from Sunday's matches.

The schedule of matches are available online at http://www.guamfa.com/all-leagues-womens-regular-results. The league standings will determine the final bracket for the upcoming Women's GFA Cup, scheduled to begin Nov. 16.

In the league's Golden Boot race, the Lady Crushers' Skyylerblu Johnson still leads with 19 goals despite not being available for her team's final two matches, as with second-place teammate teammate Colleen Naden who scored 17 in eight matches. Both players have been called up to the Masakada, Guam Women's national team, for the first time, for the EAFF Women's East Asian Cup semifinal round, scheduled for Nov. 12 – 18 in Chinese Taipei. The league's top two scorers are among the youngest members of the team, with Johnson just 14 years old and Naden, who had just turned 15 years old in June this year. The pair currently is with women's league teammates Simie Willter, captain of the Masakada, and Maria Abbey Iriarte, as well as two others from the Lady Strykers, Koharu Minato and Yae Kawauchi, in a training camp in Chinese Taipei with other members of the women's national team from abroad. Kawauchi is the youngest player on the women's team.

In addition to the Guam-based players, EAFF Women's East Asian Cup Round 1 MVP, Samantha Kaufman, as well as Round 1 Top scorer, Paige Surber, will be playing for Guam in the tournament's semifinal round. Other players on the roster are Arisa Recella, Cassandra "Cici" Kobinski, Inyssa Perez, Haley Flores, Lauren Valla, Maria Amezola, Gabrielle Evaristo, Melanie Strudthoff, Alyssa Cruz, Kristin Thompson, Dani Zavala, and Aubrey Posadas.