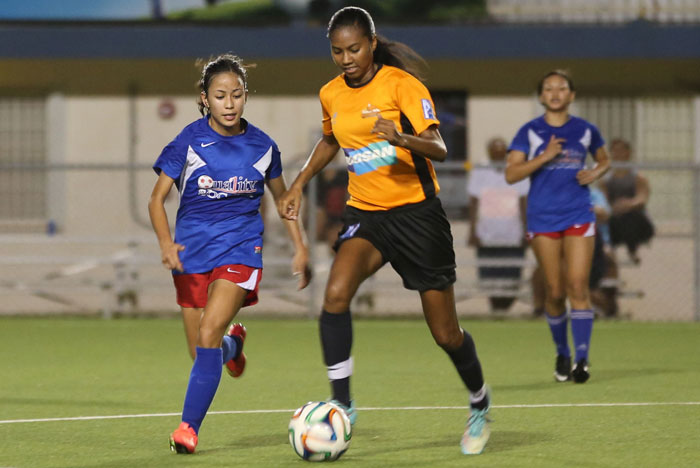 18 Dec

Lady Crushers to Take on Lady Rovers in Cup Final

After the team's successful bid for a three-peat in the Bud Light Women's Soccer League last month, the Doosan Lady Crushers now have the opportunity to sweep all outdoor titles in the final of the Women's GFA Cup Sunday beginning at 6 p.m. at the Guam Football Association National Training Center.

Women's soccer league fall season Golden Boot winner Skyylerblu Johnson led the Lady Crushers with three goals in the team's 7-2 victory over Quality Distributors in a semifinal match of the tournament Nov. 30. Teammate Maria Abbey Iriarte scored twice and Colleen Naden and Simie Willter contributed one goal each in the win. Zoe Surber scored both of Quality's goals in the contest.

The Lady Crushers will next play the Lady Rovers for the tournament championship title, after the No. 2-ranked team clipped the Lady Strykers 3-2 in the other semifinal match. The Lady Rovers managed to hold the lead for the majority of the match until a long-distance strike from the Lady Strykers' Ashley Besagar in the 88th minute momentarily knotted the match at 2-2. The Lady Rovers top scorer, Catherine Kendall, later denied a comeback by the Lady Strykers with a goal in stoppage time for her team's win. After teammate Rhoda Bamba blocked a ball-clearance attempt by the Lady Strykers, Maggie Phillips took possession of the ball and sent it to Kendall, who maneuvered around opposing defenders for a one-on-one with goalkeeper Gesualda Gonzalez for the game-winner.

The Lady Strykers earned its spot in the semifinal by first defeating Hyundai 3-2 in the tournament's first round with goals from Besagar, Koharu Minato, and Richelle Magalhaes. Olivia Flores and Jalana Garcia scored for Hyundai. Quality defeated Guam Shipyard 9-0 in the tournament's first round to play the Lady Crushers in the semifinal. Surber and April Talledo each finished with a hat trick, Ginalynn Naburn scored twice, and Vanessa Quinata scored Quality other goal.

The Lady Strykers will next play Quality at 4 p.m. Sunday for third place, followed by the final between the Lady Crushers and the Lady Rovers.

In fall season head to head matches, the Lady Crushers hold the edge with one win and one draw, outscoring the Lady Rovers 8-2 in two matches.

The Women's GFA Cup tournament was last held in 2012 and featured the Lady Crushers and Hyundai in the final. The Lady Crushers won that year with a 3-2 edge in extra time.

The Lady Strykers' Koharu Minato sends a pass to a teammate facing defensive pressure from the Lady Rovers' Catherine Kendall during a semifinal match of the Women's GFA Cup at the Guam Football Association National Training Center. The Lady Rovers slipped past the Lady Strykers 3-2 for a spot in the tournament final.