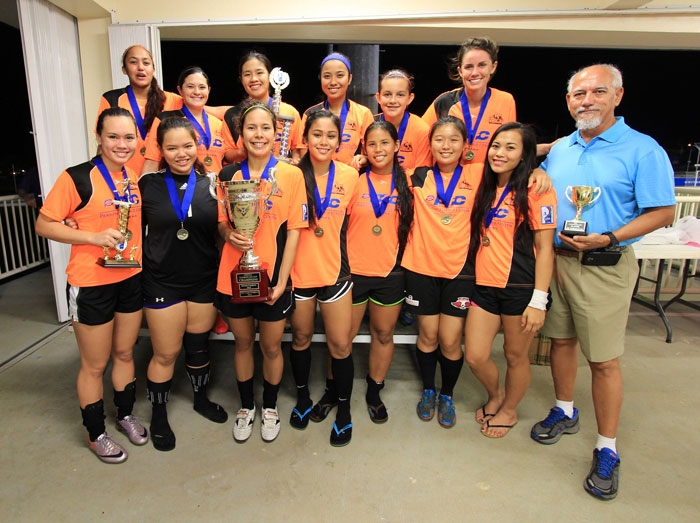 18 Dec

Lady Crushers Three-peat as Women's GFA Cup Champs

[December 20, 2015 – Harmon, Guam] – The Personal Finance Center Lady Crushers won the team's third consecutive Women's GFA Cup championship, defeating the Isla Paint and Roofing Supply Lady Strykers 3-1 in the 2015 edition of the single-elimination tournament Dec. 20 at the Guam Football Association National Training Center.

Championship match MVP Anjelica Perez scored twice for the Lady Crushers and Katie Mills also scored. Erica Alejandro scored for the Lady Strykers.

Also featured during the awards ceremony were Quality Distributors FC, winners of the Fall Season of the Bud Light Women's Soccer League, and Colleen Naden, Golden Boot winner of the league.

In the photo are, front row from left to right, Colleen Naden, Mya Sanchez, Anjelica Perez, Kaeliana Taitano, Maria Abbey Iriarte, Hinako Ito, Kim Tupaz and GFA Executive Committee member Gian Tenorio. In the back row, from left to right, are Nieves Cabreza, Carla Haddock, Caylani Estoy, Ariya Cruz, Sabrina Kenney, and Katie Mills.