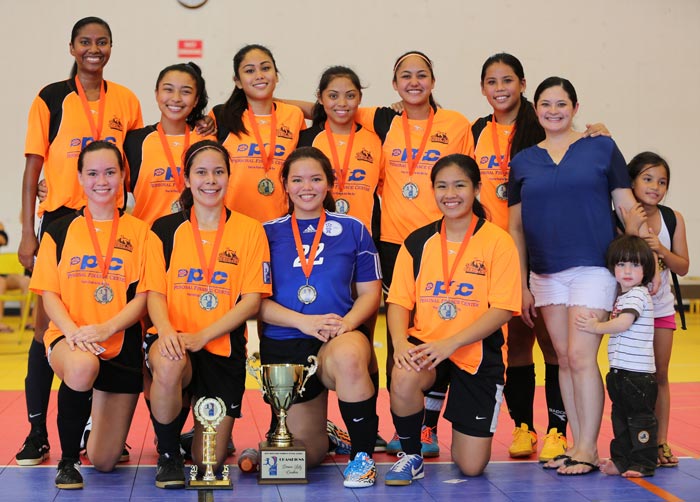 08 Jan

Lady Crushers Regain Bud Light Futsal Crown

[September 6, 2015 – Harmon, Guam] – The Lady Crushers did just enough this season to regain the Bud Light Women's Futsal League crown it most recently garnered in 2012.

The Lady Crushers defeated 2014 champions Lady Rovers 7-6 in the championship match. Simie Willter led the winning team with four goals and the league's co-Golden Boot winner, Anjelica Perez, scored twice. Maria Abbey Iriarte scored the team's other goal. Catherine Kendall scored for the Lady Roversand teammates Maggie Phillips and Rhoda Bamba also scored.

In the third place game, 2013 champions Quality Distributors FC defeated Hyundai 6-0. Paris "Mames" Blas scored a hat trick and teammates Alisia Barcinas, April Talledo, and Savannah Camacho also scored.

The Lady Crushers pose for a photo with the championship trophy of the 2015 Bud Light Women's Futsal League following its victory over the Lady Rovers in the league's final. In the photo are, front row, left to right: Colleen Naden, Anjelica Perez, Mya Sanchez, and Caylani Estoy. In the back row, from left to right, are: Simie Willter, Skyylerblu Johnson, Kaeliana Taitano, Brittany Meno, Nieves Cabreza, Maria Abbey Iriarte, team manager Carla Haddock, Gregorio Haddock and Olivia Haddock.