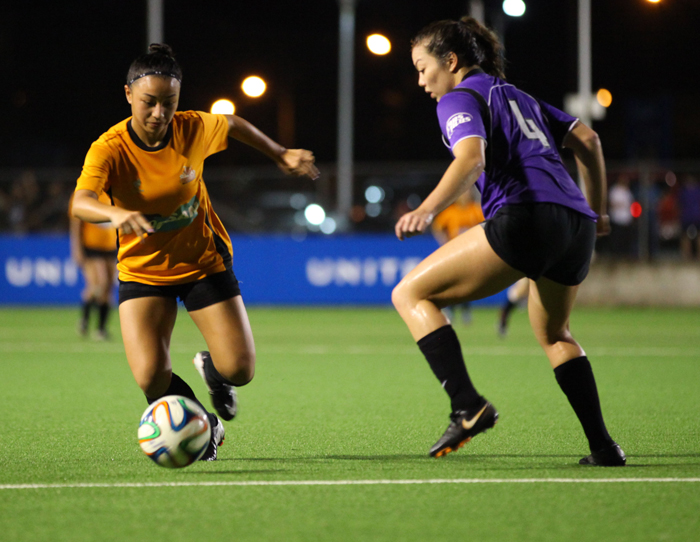 22 Nov

Lady Crushers Close in on Three-peat in Women's Soccer

Thanks to a Week 9 scoreless draw between the Lady Rovers and Quality Distributors FC, two-time defending champions Doosan Lady Crushers can clinch the 2014 Bud Light Women's Soccer League fall season championship title as early as Sunday with a win or draw against the Lady Rovers at the Guam Football Association National Training Center.

In Week 9 matches, the Lady Crushers earned their seventh win of the season with an 8-1 win over Hyundai. The league's current Golden Boot race leader, 14-year-old Skyylerblu Johnson, led the Lady Crushers with five goals and teammates Colleen Naden, Mya Sanchez, and Nieves Cabreza also contributed in the win. Shania Spindel scored Hyundai's lone Week 9 goal.

With the league's best 7-1 record, the Lady Crushers only need a draw in either of their final two matches to clinch the women's soccer title for a third consecutive season without having to go through the league standings' tiebreak process to determine the champions. The No. 2 Lady Rovers (4-3-1) are the only team still with a chance to take the title away from the Lady Crushers; however, it would require a scoring barrage by the Lady Rovers in two straight wins to overcome the Lady Crushers' 50-goal differential, coupled with two-straight blowout losses by the Lady Crushers.

In other Week 9 matches, No. 3 Paintco Lady Strykers (4-1-3) defeated Guam Shipyard 7-1. Dausha Magalhaes finished with a hat trick and teammates Richelle Magalhaes, Yae Kawauchi, and Ashley Besagar also scored in the win. The Lady Strykers' other goal came on a Guam Shipyard own goal in the 35th minute. Aubrienne Pangindian scored Guam Shipyard's lone goal in the contest.

Week 10 matches will pit the Lady Crushers against the Lady Rovers at 5:30 p.m. on United Airlines Field 2 and Quality Distributors against Guam Shipyard on United Airlines Field 1, also at 5:30 p.m. The evening's late match will feature the Lady Strykers against Hyundai on United Airlines Field 1, kicking off at 7:30 p.m.

All six teams have two matches left in the season before the return of the Women's GFA Cup tournament, which is set to begin Nov. 16. The Women's GFA Cup was last played in 2012, with the Doosan Lady Crushers winning in the final against Hyundai.