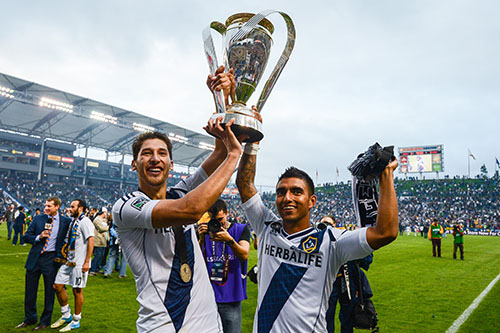 07 Mar

L.A. Galaxy's A.J. DeLaGarza officially commits his international future to Guam

When L.A. Galaxy's starting central defender A.J. DeLaGarza plays internationally, he will have Guam's flag on his jersey sleeve.

"Choosing to play for Guam gives me a chance to play against top competition in the Asian Football Confederation, including the likes of Japan, China and Australia among others," DeLaGarza said via E-mail from Los Angeles. "I'm looking forward to the challenge, as are my teammates. Guam is a part of me and I'm honored to be able to represent (the island).

"I am looking forward to learning under Coach Gary White and helping the Matao progress as a competitive national team," the 25-year-old added.

DeLaGarza, who is eligible to play for Guam through his father's side of the family, is currently in his fifth season with the L.A. Galaxy, four-time MLS Cup winners. The L.A. Galaxy star-studded roster also includes Landon Donovan, the all-time leader in goals and assists with the United States national team and Irish forward Robbie Keane according to the L.A. Galaxy Web site. In previous seasons with the Los Angeles-based team, DeLaGarza played alongside David Beckham, former captain of England's national team.
"I'm excited with the direction that Guam's national program is going," said Richard Lai, president of Guam Football Association. "The Matao has already achieved so much for Guam in the just the past year and now with A.J. selecting to join the team for international competition, Guam's team will become even stronger against our regional opponents.

"The success that the Matao is building now will help create more opportunities for our young elite football athletes who look up to them," Lai added.

Late last year, DeLaGarza had agreed to be included in the Matao's preliminary roster for the semifinal round of the EAFF East Asian Cup, but had not fully confirmed that he would be in Hong Kong to play for Guam at that time. The Hong Kong tournament coincided with the MLS Cup, the MLS' season-ending tournament, in which the L.A. Galaxy won its second consecutive championship, and fourth overall. Since then, DeLaGarza had been contemplating on his international playing options. Now, with his decision made, DeLaGarza may play for Guam as early as October for the second edition of the Philippines Football Peace Cup.

"This is exciting news for the Matao and for Guam," said White. "The Matao still has much more to achieve internationally and A.J. will play a big role alongside the other members of the team in this pivotal point in Guam's football history.

"We're very fortunate to have A.J. choose to play for Guam and I look forward to having him on the team. This is definitely another big step in the development of our national program," White added.
DeLaGarza joins fellow MLS player Ryan Guy on Guam's national team. Guy, who plays for the New England Revolution, made his first appearance for Guam on Sept. 25, 2012 in a match against the Philippines.

Other professional athletes who officially play for Guam include goalkeeper Doug Herrick who has suited up for the Seattle Sounders as a backup keeper to Marcus Hehnemann. Hehnemann played for more than a decade in the English football league, including a few seasons on different teams in the Premier League, before returning to Seattle in 2012.

Additionally, captain Jason Cunliffe, Ian Mariano, Marcus Lopez and Jonahan Romero all play in the United Football League in the Philippines, John Landa Matkin plays for United Sikkim FC in India's I-League, and Shawn Nicklaw, formerly with HB Koge in Denmark, now plays for the Wilmington Hammerheads in the USL PRO League.

GFA's National Team staff continues to search for all elite athletes with Guamanian family heritage who feel they can contribute to the Guam national team program either as a youth international or for the Men's or Women's senior national teams.

DeLaGarza is the son of Adolph "LA" and Linda DeLaGarza and currently resides in Los Angeles with his wife, Megan. DeLaGarza's family still resides in Guam, including his grandmother from Barrigada and an aunt and cousin from Mangilao, he said.