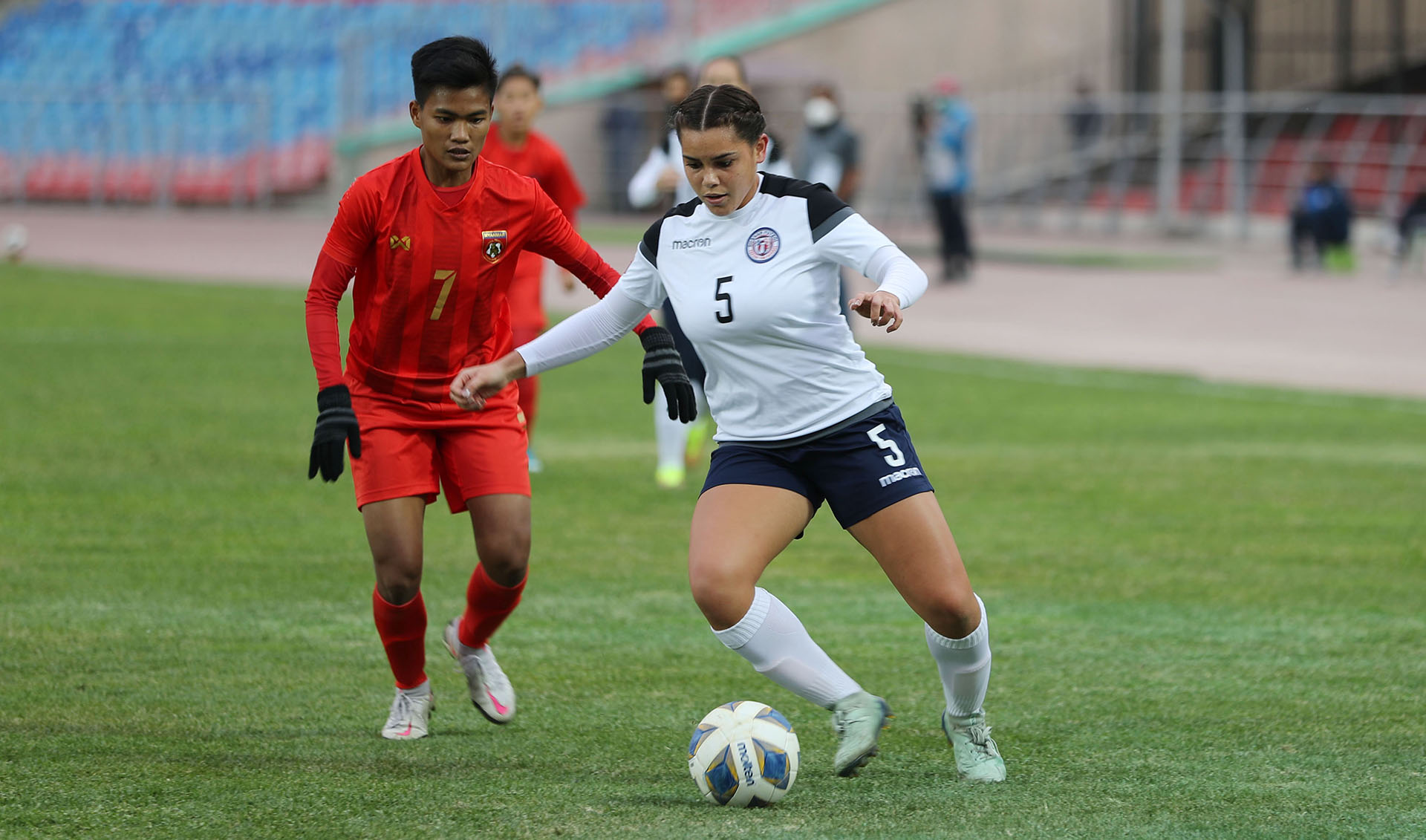 02 Jul

Kenney commits to play intercollegiate soccer for The King's College

[July 2, 2022 – Harmon, Guam] Guam National Program standout Samantha Kenney continues to reach new heights following her commitment to The King's College intercollegiate women's soccer team beginning later this year in New York City's Financial District.

"Training under professional coaches who have helped develop my soccer IQ has been my No. 1 game-changer," Kenney said. "Being a player with not only skill, but the with the ability to understand and predict the game has built up my confidence to play college soccer.

"Playing professionally is always the dream, but for right now, I'm focusing on my academics. While I'm in New York City, I'm hoping to play not only for my college, but to also discover other outlets of playing soccer. I still hope to represent Guam in future international tournaments for as long as I can," the 2022 Harvest Christian Academy graduate added.

Kenney first entered the Guam National Program following selection to the United Airlines Guam Football Association National Academy when she was eight years old. Kenney's commitment and drive to succeed naturally earned her selection to Guam's youth national teams, and ultimately, the Masakåda, Guam Women's National Team in 2021 for the AFC Women's Asian Cup Qualifiers during her senior year of high school. In addition to selection to the teams, Kenney also has donned the captain armband for most of her youth national team selections.

"Samantha is a humble leader within the women's national program," said Ross Awa, Guam Football Association Assistant Technical Director and incoming Head Coach of the Guam Women's National Team. "She takes responsibility of herself and the team, as she actively coaches her teammates during training and matches.

"Samantha is highly motivated to learn and spends time analyzing games to enhance her football knowledge of modern trends," added Awa, who also was Head Coach of the Guam U20 Women's National Team and interim Head Coach of the Women's National Team during the AFC tournament in 2021.

After receiving several offers for different programs in the U.S. and abroad, Kenney ultimately selected The King's College because of its Christian values, rigorous academics, its intentional mission to prepare students for life after college, and internship opportunities, Kenney said. The King's College Lions play in the Hudson Valley Intercollegiate Athletic Conference of the United States Collegiate Athletic Association.

"Bringing someone onto a collegiate program of the caliber of Samantha, who has the personality, background, and individual value, will contribute much to the community of The King's College and to the team as a whole," said Bracey Fuenzalida, Head Coach of the The King's College women's soccer team, via WhatsApp. "Her reputation from all that she has done, testimony of her parents, and her body of work speaks volumes and I look forward to seeing her realize her potential in the big metropolis of the Big Apple."

Rising through the UA GFA National Academy ranks, Kenney earned a spot on Guam's team for the AFC U14 Girls' Regional Championship in China in 2016 as a 12 year old. The following year, she captained Guam's U15 Girls National Team at the EAFF U15 Girls Tournament. In 2018, Kenney played in both the AFC U16 Women's Championship Qualifier and the AFC U19 Women's Championship Qualifier in Sri Lanka and Kyrgyz Republic, respectively, as a 14-year-old. She also played in the 2018 Marianas Cup tournament in Saipan in the U19 Women's category. In 2019, Kenney traveled to Singapore with the Guam U15 Women's National Team to compete in the UEFA-FAS International U15 Girls Development Tournament. The COVID19 pandemic halted most international tournaments through 2020 and most of 2021.

In 2021, Kenney was called up for a Guam U20 Women's National Team Training Camp at the Chula Vista Elite Athlete Training Center and named team captain under then Head Coach Ross Awa, joining the team from England, where she took part in Macclesfield FC's residency program that summer. The same year, Kenney made her debut for the Masakåda, Women's National Team, at the AFC Women's Asian Cup Qualifiers in Bishkek, Kyrgyz Republic. Kenney started and played in all of Guam's matches at the qualification tournament.

Kenney was recently called up for a Masakåda, Guam Women's National Team, and U20 Women's National Team Training Camp in Shizuoka, Japan. The team leaves to Japan July 8.

Off the pitch, Kenney was one of four selected youth national program players for the AFC-Aurora eGoal Programme in 2020, a first-of-its-kind virtual social responsibility program that linked over 60 youth players across Asia. The eGoal Programme was created through a partnership with AFC and AFC's Dream Asia Foundation and was "based on Aurora's Model for Youth Development and aims to educate young players on the social and moral foundations of sports, equip them with the necessary skills to lead social change, and offer them a platform through which they can advocate for ethical and responsible program," according to the Aurora Web site. From her participation in the eGoal Programme, she was selected as one of ten AFC Youth Social Responsibility Ambassadors and Youth Social Responsibility Council members from across Asia and presented at Generation Amazing's online virtual workshop. Generation Amazing is one of the legacy projects of the FIFA World Cup Qatar 2022™.

Domestically, Kenney was named 2022 MVP of the IIAAG Girls High School Soccer League and played for the Bank of Guam Lady Strykers in the Bud Light Women's Soccer League. At the youth level, Kenney also played for the Crushers FC.

Kenney is the daughter of Frank and Josephine Kenney and has one older sister, Sabrina, who currently plays for Gordon College's intercollegiate women's soccer team, defending champions of the Commonwealth Coast Conference in Division III of the NCAA. Samantha Kenney plans to major in Politics, Philosophy, and Economics.