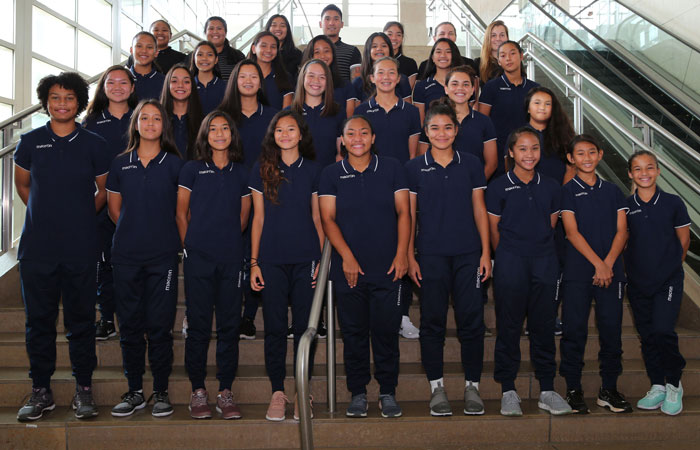 18 Feb

Junior Masakada to Compete in AFC Tourney in Sri Lanka

[September 13, 2018 – Harmon, Guam] – The Guam U16 Women's National Team, the Junior Masakåda, departed Wednesday afternoon to Sri Lanka to compete in the AFC U16 Women's Championship Qualifier Group A with matches against China PR, Uzbekistan, Jordan, and Sri Lanka.

The team will play its opening match Saturday against the host country at 3 p.m. Sri Lanka time (7:30 p.m. Guam time). Guam will next play against China, PR Monday at 11 a.m. Sri Lanka time (3:30 p.m. Guam time) before facing off against Uzbekistan on Sept. 19 at 11 a.m. Sri Lanka time (3:30 p.m. Guam time). The team's final match will be against Jordan on Sept. 23 at 11 a.m. Sri Lanka time (3:30 p.m. Guam time).

Only top teams from each group, as well as the top two second-place finishers among all groups, will advance to the next round. In 2012, that year's Junior Masakåda team became the first and only national team from Guam to qualify on its own merit to the final round of an AFC tournament to date. The team finished in second place behind Chinese Taipei in the tournament's Group D qualifier round robin played in Guam.

For the current edition of the tournament, a total of 30 teams from across Asia will be competing in the first round of qualifiers. In Group B, Mongolia will host Laos, India, Hong Kong, and Pakistan. In Group C, Tajikistan will host Thailand, I.R. Iran, Northern Mariana Islands, and Singapore. In Group D, Kyrgyz Republic will host Australia, Chinese Taipei, Palestine, and Indonesia. In Group E, Nepal will host Philippines, Myanmar, Malaysia, and Syria. In Group F, Bangladesh will host Vietnam, United Arab Emirates, Bahrain, and Lebanon.

All matches in Sri Lanka will be streamed on www.thepapare.com/live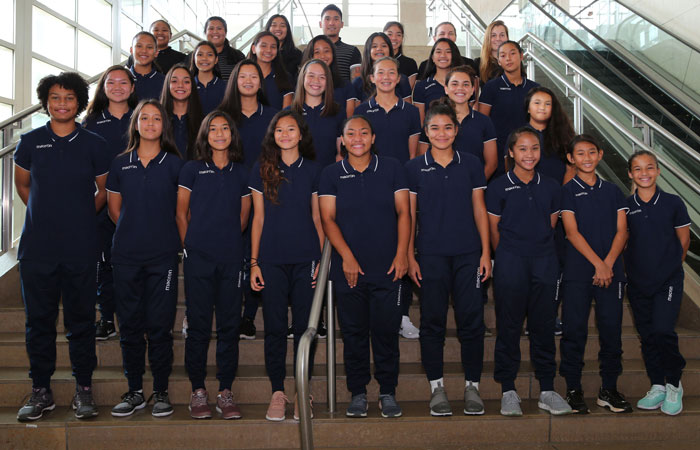 In the photo, from left to right on the bottom row: Kiarra Hutcherson, Gabrielle Moser, Olivia Leon Guerrero, Yasmeen Lopez, Jinae Teria, Lauren Phillips, Kini Arroyo, Cassandra Kido, and Olivia Haddock. In the second row, from left to right, are: Samantha Santos, Annika Almario, Jadyn Palomares, Rylee Guzman, Kaia Malakooti, Samantha Kenney, and Anna Jones. In the third row, from left to right, are: Haley Salas, Lola Martin, Isabella Clement, Jada Han, Maria Taitano, Danni Jo Santos, and Candie Cura. In the back row, from left to right, are: Team Manager Chyna Ramirez, Assistant Coach Ashley Besagar, Equipment Manager Erlissa Delfin, Goalkeeper Coach Ross Awa, Head Coach Kimberly Sherman, Technical Advisor/Analyst Belinda Wilson, and Team Physiotherapist Hannah Hallor.