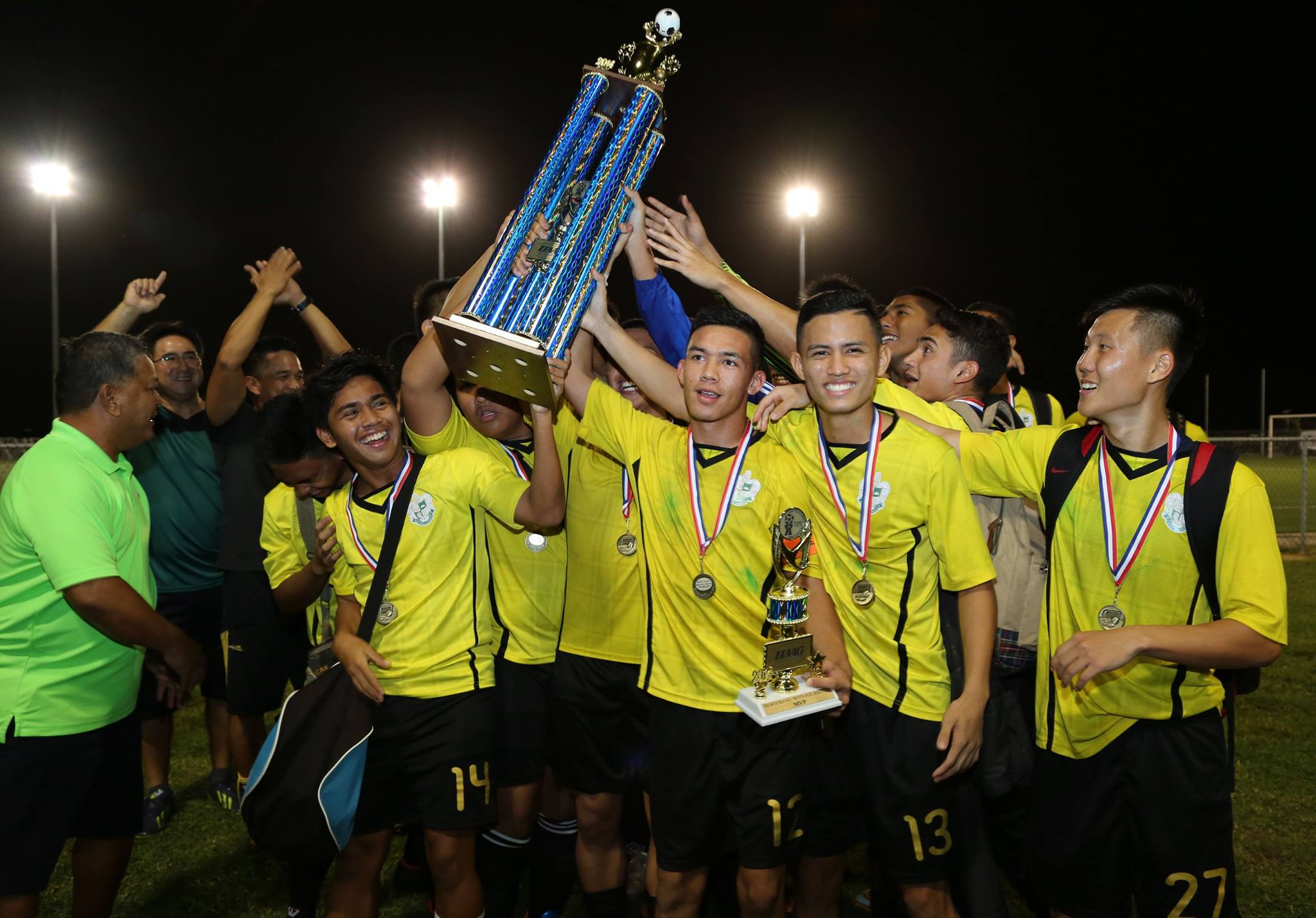 05 Mar

JFK crowned as IIAAG Boys HS Soccer League champions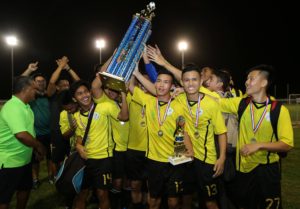 The John F. Kennedy High School Islanders saved their gold game kits for a gold finish in the IIAAG Boys High School Soccer League championship match at the Guam Football Association National Training Center.
After being denied in last year's final, the Islanders savored their championship win, a 2-0 victory over regular season league leaders Harvest Christian Academy. Sora Recella scored for the Islanders in the 26th minute, following up on a shot initially stopped by Harvest goalkeeper Sean Evans.
Four minutes later, Agustin Choi intercepted a pass from Harvest's back line, sending the ball to captain Phillip Ogo, who took a long-distance strike that found the back of the net for the 2-0 advantage.

Harvest, ranked No. 1 in the regular season, continued to try to find ways to move through the JFK defense, but each shot on frame was stopped by Islanders' keeper Wayne Jesus.
In the consolation match, the Father Duenas Friars defeated the George Washington HS Geckos 4-1 with goals from Philip Au, Brandon Flores, Joseph Quan, and Joshua Lujan. Tevin Santos scored GW's lone goal in the 75th minute on a penalty kick.
During the evening's awards ceremony, JFK's Phillip Ogo was distinguished as the championship match's MVP. Also recognized was the IIAAG Boys High School All-Island team: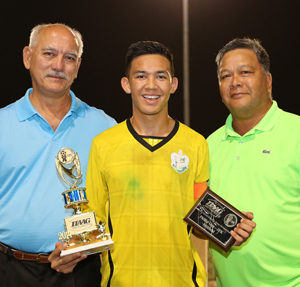 MVP – Jestin Ecobar FD (11)
FIRST TEAM
Goalkeeper – Sean Evans Harvest (10)
Defender – Nicolas Cabuhat JFK (12), Aljurrell Grape JFK (11), Shane Healy FD (11), Jake Herring GW (9)
Midfield – Justin Johnson FD (12), Isaiah Lagutang Harvest (12), Philip Ogo JFK (12), Kaito Inoue JFK (12)
Striker – Jesting Escobar FD (11), Marlon Evans Harvest (12)
Utility – Xavier Naputi GW (9)
SECOND TEAM
Goalkeeper – Wayne-Michael Jesus JFK (12)
Defender – Scottie Angoco St. John's (11), Keita Yoshida FD (12), Ben Weigand Harvest (12), Tevin Pangelinan FD (10)
Midfield – Shashikant Kotwal Harvest (11), Joseph Quan FD (12), Ryan Quitugua GW (11), Leon Bamba Guam High (10)
Striker – Gen Fudo St. John's (12), Ricky Katsumata Harvest (11)
Utility – None chosen
Honorable Mention
Goal Keeper – None Chosen
Defender – Ryan Ledger Harvest (11), Christian Martinez GW (12), Napu Topasna Southern (11)
Midfield – Daniel Kim St. Paul (10)
Striker – Agustin Choi JFK (12), Jake Benito FDMS (11)
Utility – None Chosen