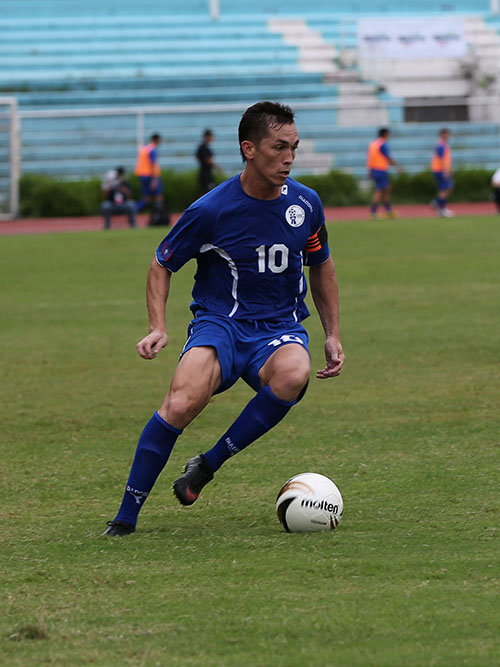 07 Mar

Jason Cunliffe joins professional ranks

Matao captain Jason Cunliffe is scoring goals professionally now.

Not long after he signed a contract to play with Pachanga FC, a professional team in the United Football League in the Philippines, Cunliffe scored a goal in his team's 3-0 win over Mendiola FC in the UFL Cup.

"I hope to contribute to the team in every single facet of the game – I am willing and able to do it all," said Cunliffe before he departed on a plane to Manila. "Playing soccer professionally is the only thing I've ever wanted to do. I've been playing since I was five years old and it grew into my passion. I've never wanted to do anything else."

Cunliffe scored in the 71st minute on a penalty kick in his debut with the professional team. Pachanga FC, the newly promoted UFL Division I team, is pooled in Group C of the UFL Cup with four other teams: Loyola Meralco Sparks, Nomads Auction Manila, Laos and Mendiola FC.

Pachanga FC next plays Thursday at 7 p.m. Manila time against the Sparks. Notably on the Sparks' roster are familiar members of the Azkals, including brothers Phil and James Younghusband, Andres Gonzales, and backup goalkeeper Ref Cuaresma; however, the four players are slated to travel for FIFA-friendly matches against Bahrain and Kuwait, according to Philippine media sources.

In addition to receiving support from his family, friends and fans, Gemkell Corporation also assisted in helping Cunliffe move toward his dream of playing soccer professionally.

"We wanted to help Jason achieve his dream to further his skills," said Richard Hawes of Gemkell Corporation via E-mail from London. "We also wanted to show youngsters that playing professional soccer is possible from Guam."

Gemkell's support of men's soccer in Guam also includes a partnership with Matao head coach Gary White and the national team in its travels. Gemkell's portfolio of brands include Lacoste, Alfred Dunhill, Chloe, Marc by Marc Jacobs, Marc Jacobs, and Balenciaga.

The Matao's most recent competition abroad was the Philippines Football Peace Cup last month, where the team played close matches against the Philippines and Chinese Taipei and blanked Macau 3-0 for a second time this year. The Matao has one more tournament – the semifinal round of the East Asian Cup – before the end of the year in Hong Kong in December. The team won the July preliminary competition of the EAFF tournament and will be competing against Chinese Taipei, Hong Kong, DPR Korea and Australia. Cunliffe assumed captain duties of the team under White.

"The way he keeps in shape and his desire to play is second to none," White said. "He's played the game at high levels and his IQ of the game is very high.

"He definitely deserves this opportunity (to play professionally). It's the start of something good – I still think there's more for Jason to do in the game," White added.

Cunliffe is one of two members of the Matao, the Guam men's national team, who plays professionally in the Philippines. Jonahan Romero, a midfielder with the Matao, will enter his second season with Kaya FC, last season's Division I runner-up.

When asked if he looked forward to the upcoming rivalry between his team and Romero's team, Cunliffe said, "Absolutely! Jonah is like my little brother and you can guarantee I'll have that date marked on my calendar."

Cunliffe will have a wait a bit longer for that match up as Kaya FC is pooled in Group B of the UFL Cup. In two games played, Kaya FC leads the group with one win and one draw. The final match of the UFL Cup is scheduled for mid-November. Even with his professional duties, Cunliffe said he will be available to re-join the Matao for the EAFF tournament in December.

Cunliffe's road to professional soccer started with the youth league in Guam. From there, he played for the Houston Texans and won two youth national championships with the team. He also played for the Santa Clara University Broncos NCAA Div. I men's soccer team. In 2003, the Broncos reached the NCAA Final Four, but fell in its bid to eventual champion Indiana 1-0 in extra time.

It may have taken some time for Cunliffe to reach the professional stage, but he has since officially reached his goal.

"This applies not just to soccer, but for anyone who wants to obtain something that other may see as unobtainable – stay focused," Cunliffe said. "It's going to take hard work and discipline and along the way, you are going to have time where you may become distracted. It is in those times, when you're faced with tough decisions and adversity, that your goal will be made or broken.

"You will have to sacrifice a lot of things that other people don't have to and it may seem unfair. But, you made the decision to be great and in doing so, you must act extraordinarily," Cunliffe added.