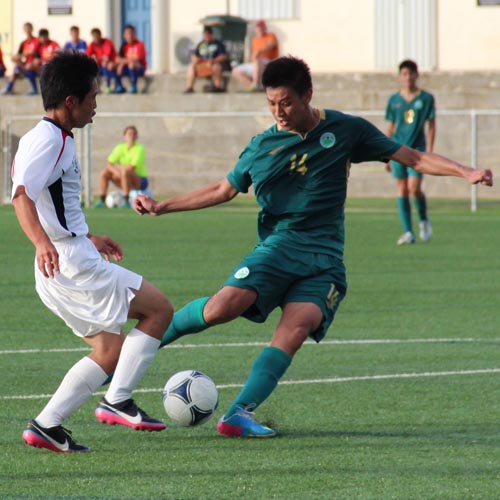 19 Mar

Hong Kong, Chinese Taipei Remain in Top Spots of EAFF U18 Tournament

Hong Kong and Chinese Taipei remain as the only undefeated teams in the EAFF U18 Youth Tournament moving into the final days of competition at the Guam Football Association National Training Center. Guam grabbed a 1-0 lead 15 minutes into the match when Michael Benito gained control of the ball near the 18 yard line, eluded Chinese Taipei defender Wang Kuan Ju and sent in his shot to the opposite post erupting cheers from hundreds of local fans.

About four minutes later, Chinese Taipei's Chen Chao An leveled the match after following up on his initial header that hit the right post. Tsai Meng Cheng and Li Jin Cyuan also scored to gain the advantage moving into the second half.

Despite the deficit, Guam kept its energy level high in the second half against a physical Chinese Taipei team in the tournament's pivotal match that saw three yellow cards. Guam had opportunities to score throughout the second half, including on a breakaway by Gen Fudo that kept Chinese Taipei on high defensive alert.

In other matches, DPR Korea's Hong Jang Song scored the eventual game-winning goal in the 40th minute against Macau.

Hong Kong had a relatively easier match, looting the Northern Mariana Islands for 14 goals – eight coming in the second half.

Yiu Ho Ming, the tournament's current top scorer with five, scored a hat trick against NMI as did teammate Tsang Tsz Hin. Wong Chun Yin, Chung Wai Keung, Lai Hau Hei, Law Hiu Chung, Yip Ching Fung, Wu Chung Ming and Wong Chun Hin also scored for Hong Kong. Hong Kong's first goal of the match came on an NMI own goal in the second minute of play.

Currently, Hong Kong sits at the frontrunner position of the tournament based on goal differential over Chinese Taipei, although both teams are credited with three wins. DPR Korea slips into third place following its 1-0 edge over Macau.

Matches continue Sunday with Hong Kong taking on DPR Korea and Chinese Taipei playing against NMI. Both matches will kick off at 5:15 p.m. Guam plays the day's late match at 7:30 p.m. against Macau. The teams will play its final matches Monday, with Hong Kong taking on Chinese Taipei and NMI playing Macau at the 5:15 p.m. time slot. Guam's final match will be played at 7:30 p.m. Monday against DPR Korea. All matches will be played at the Guam Football Association National Training Center. There is no admission fee to watch the matches. The community is invited to support Team Guam in its matches. Food and drinks will be sold at the tournament's concession stand, a fundraiser organized by the Guam U16 Women's national team. Replica jerseys, Guam items and noisemakers also are available for purchase at the tournament's Fan Zone.