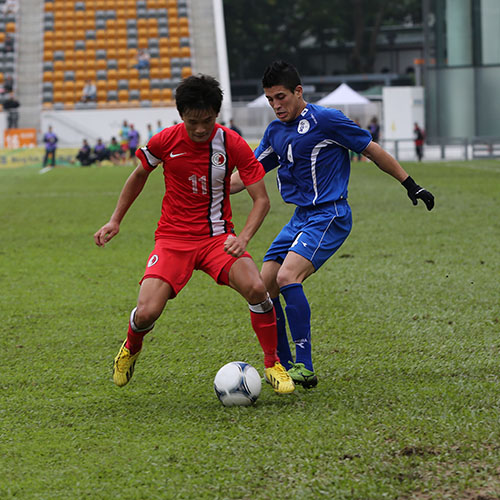 07 Mar

Hong Kong barely survives 2-1 contest against Guam

The Matao, Guam men's national football team, forced Hong Kong into survival mode in the opening match of the East Asian Cup Round 2 tournament, keeping the host nation desperately holding on to its 2-1 lead through to the final whistle at Mong Kok Stadium Saturday.

"The message that was said today was that you cannot take anybody at the international level – if (they're) structured and organized – easy; there are no easy games if the teams are ready," said Matao head coach Gary White at the post-match press conference. "What our boys did today was earn the respect of the fans as you could see after the game, and hopefully of the other teams we now face.

"It's been a big turnaround for us – the last time we played Hong Kong, we lost 12-0. So, to be in a game right into the end and lose narrowly by 2-1, it says a lot about what the program is trying to achieve under (Guam Football Association president) Richard Lai. We're very aggressive about being competitive," White added.

The soft ground at Mong Kok Stadium aided Hong Kong's Chan Siu Ki in the second minute, as he took advantage of a split-second opportunity to shoot on frame around a defender who had slipped. Chan later scored again 15 minutes later, heading in a cross from Jaimes McKee.

Guam stayed in attacking mode despite conceding the early goals. Ian Adamos created one of the Matao's best chances to score in the first half, winning the ball from a header and taking it toward the goal around a second defender. Adamos' right-footed shot attempt in the 36th minute hit the crossbar, prolonging Guam's quest to get on the scoreboard.

The Matao's attacking efforts were finally rewarded in the 56th minute. Ryan Guy broke loose from a Hong Kong defender and sprinted with the ball toward the goal, attracting two other defenders and drawing out Hong Kong's goalkeeper. Swarmed near the goal, Guy sent the ball to Elias Merfalen who scored Guam's lone goal of the game with a shot to the bottom left corner of the goal.

"I think that Guam has developed very well," said Hong Kong head coach Kim Pan-Gon during the post-match press conference. "This was a totally different game than last time – especially mentally and physically, Guam is very much improved.

"Thanks to Chan Siu Ki, if he didn't finish two times, we would be really struggling. My plan today was I didn't want to give him more than 45 minutes, but the situation was not good," added Kim.

Guam's next test will be against DPR Korea Monday evening. DPR Korea defeated Chinese Taipei 6-1 in the tournament's other opening day match. Ri Myong-jun scored twice for DPR Korea and teammates An Il-bom, Pak Song-chul, Ri Kwang-hyok, and Pak Nam-chul each scored once. Chinese Taipei's lone goal came from Chen Hao-wei in the 79th minute.