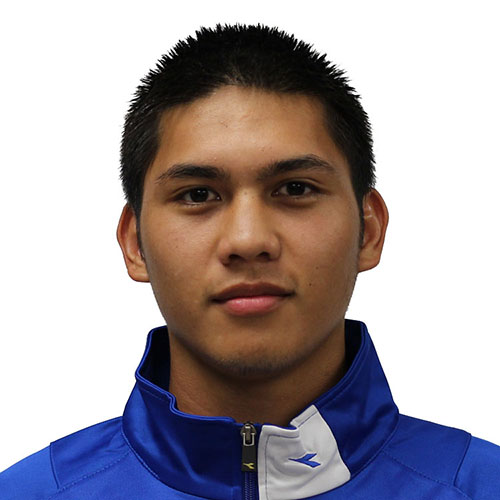 07 Mar

Guam's Micah Paulino will bring NCAA Division I men's soccer tournament experience to the Matao

When Micah Paulino re-joins the Matao, Guam men's national football team, in Hong Kong for the semifinal round of the East Asian Cup, he will bring with him valuable championship-caliber collegiate soccer experience.

Paulino, a midfielder for the Niagara University Purple Eagles, made big contributions to the team's first-ever Metro Atlantic Athletic Conference championship title and earned a spot on the MAAC Men's Soccer All-Academic Team. He then continued his championship-caliber level of play in the university's first-ever appearance in the NCAA Division I Men's Soccer Championship tournament. Though the Purple Eagles lost in its maiden bid in the NCAA tournament to the University of Michigan on Nov. 15, Paulino helped his team take a 1-0 lead before the Wolverines made their comeback.

"I'm still soaking it all in," Paulino said via telephone from New York. "Playing in the NCAA tournament was a great learning experience – that's how I treat all my endeavors in the sport. I learn as I go; I want to constantly progress. There's always room for improvement, and the result (Nov. 15) proved that.

"I feel I can always do more – I always look for that which can help me grow in the sport," the college sophomore added.

Paulino first played organized soccer when he was three years old, playing for the Wolverines in Guam's youth soccer league. His love for the beautiful sport and talent at a young age eventually opened doors for him, including playing for various Guam youth national teams and later, the Guam men's national team. Paulino also played for the Father Duenas Memorial High School Friars prior to his acceptance to Niagara University. In 2012 alone, Paulino started in all of the Matao's tournament and friendly matches, including Guam's two shutout wins over Macau in a span of just two months.

"We at Guam Football Association are very proud of Micah's collegiate achievements thus far," said Matao head coach Gary White. "His success at the NCAA Division I level will greatly help the Matao in the upcoming semifinal round of the East Asian Cup. We look forward to him contributing even more to Guam's success."

Paulino looks forward to rejoining his Matao teammates in Hong Kong, he said. He will take about a week off from classes to play in the tournament and will return to New York following Guam's matches. Guam will play host Hong Kong Dec. 1 at 2:30 p.m. Hong Kong time at Mong Kok Stadium in its tournament opener. Guam will next play DPR Korea Dec. 3, followed by Chinese Taipei Dec. 5. Guam's final match will be against Australia Dec. 7 at Hong Kong Stadium.

"First of all, I would like to thank God who provides me with all the opportunities for constant development," Paulino said. "Next, I'd like to thank my whole-hearted grandparents, influential parents and supportive family. I'd also like to thank the Guam Shipyard Wolverines, the Shipyard men's team, Father Duenas Memorial School, Niagara University players, coaches and staff, GFA president Richard Lai, GFA, the Matao, Matao coaches, staff and their families.

"I believe that with the jump start of the GFA youth academies, upcoming players such as Shaun Paul Martinez and Shyann Roberto will be given the chance to excel at the sport and compete against other players from around the world like I have," Paulino added.