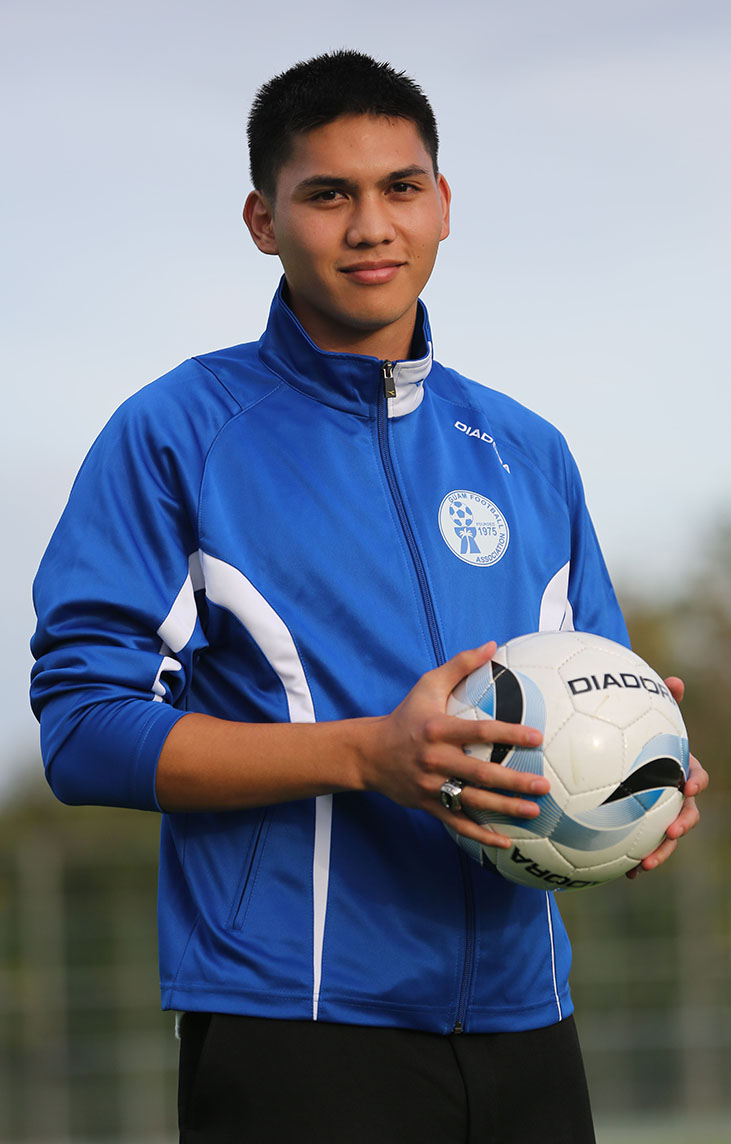 07 Mar

Guam's Micah Paulino earned MAAC Championship ring with Niagara University Purple Eagles

With the steady progression of the sport of soccer in Guam, earning a spot on a university's team is starting to become less of a gauge of the island's athletic development – now it's a measure of one's notable contributions to the school's program.

For 20-year-old Micah Paulino, it's a championship ring – with his named etched onto it – and a watch given to him as a member of the Niagara University Purple Eagles soccer squad, that constantly reminds him of the school's Cinderella season in 2012 and his contribution to the team that won its first-ever Metro Atlantic Athletic Conference final. As conference champions, the team automatically earned a berth in the NCAA Division I Men's Soccer Championship – the first time ever in the university's 43-year history, the Purple Eagles Athletics Web site states. Paulino assisted several goals, including the game-winning goal in extra time in the MAAC final, according to the MAAC Sports Web site. Individually, Paulino also was honored as part of MAAC's 2012 Men's Soccer All-Academic team, an honor bestowed on MAAC university athletes maintaining a grade point average of at least 3.2, the MAAC Web site states.

"I couldn't have gotten to where I am without the Guam Football Association family, starting from the very top with Richard Lai," Paulino said. "With more soccer players from Guam getting onto college teams, we're blazing a trail for the island's upcoming youth players who aspire to bring their game to the next level.

"First and foremost, going to college should be about academics. With GFA's technical department continuing to gain more connections to colleges for athletic scholarships through technical director Gary White, there will be even more future opportunities for young athletes. Athletes still must work hard to earn and maintain the scholarships. They won't be given easily and young athletes looking to earn them should keep driven all the time – academically and athletically," Paulino added.

Paulino first played soccer for the Guam Shipyard Wolverines when he was just three years old. He later made Guam's youth national teams and eventually the Matao, men's national team. He played in the IIAAG Boys High School Soccer League for the Father Duenas Memorial School Friars, helping the team earn a championship title in December 2009. Paulino, a senior that season, earned championship game MVP honors on top of an All-Island First Team pick as midfielder. His long list of soccer accolades up to that point helped secure scholarships to Niagara University in Buffalo, New York and a spot on the Purple Eagles roster as an attacking midfielder.

Paulino will enter his third season with the Purple Eagles later this year and wants to help the team make history again.

"I hope to help the team progress even further than last season – hopefully advancing past the first round of the NCAA tournament," Paulino said. "Every time I play or train, it's always a learning experience – there's always going to be room for improvement. I believe in that, and I try to keep myself in that mindset."

Paulino's teammates were presented the coveted rings and watches – only reserved for champions – during one of the university's basketball game halftime shows, he said. Paulino wasn't able to join his teammates on the floor, as he was miles away in Bangkok, Thailand, training for the AFC Challenge Cup Qualifier with the Matao, Guam men's national team. The team earned its first-ever victory over Chinese Taipei during the tournament, winning 3-0 at Thuwanna Stadium in Yangon, Myanmar.

"Micah's accomplishments at the collegiate level speaks volumes of his personal drive to succeed and of his commitment to development as a player growing up right here in Guam," said Gary White, head coach of the Matao, Guam men's national team. "Micah serves as a great role model for young athletes here in Guam aspiring to achieve what he has and to even exceed his accomplishments. Micah didn't have the GFA National Academy to further develop his skill and technique at a young age, so the potential of the current youth players in the Academy is that much greater."

Paulino, in Guam for summer break, will return to New York mid-August. Paulino is the son of Maj. Gen. Benny Paulino, adjutant general of the Guam National Guard, and Bernadette Paulino.