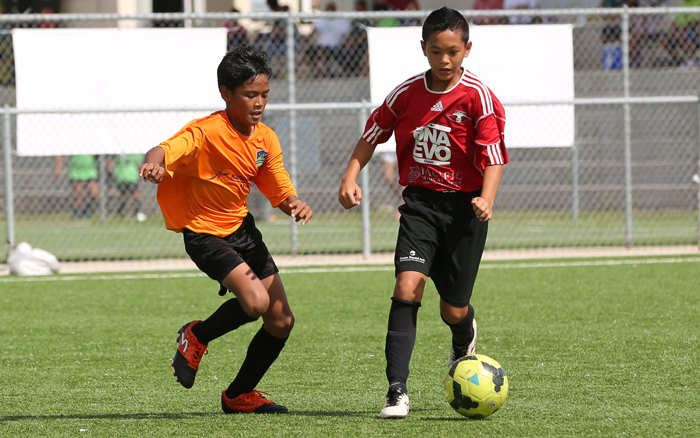 06 Mar

Guam youth clubs play in friendly matches with Saipan teams

Competing in friendly matches with Guam's youth soccer teams through the weekend was an enriching experience for many first-time traveling athletes from the Northern Mariana Islands.

"I really enjoyed the experience in Guam, it's been so much fun," said 12-year-old Sebastien Manabat of Kanoa FC's U12 team in the NMI. "It's my first time out of Saipan, so I was really excited to see what kind of competition we'd face. I was thinking the matches we had would be very, very hard, but many of the teams we faced were at a similar level.

"I'd like to compete in more matches outside of Saipan like the friendlies in Guam for the challenge and also to make new friends," added the sixth-grader at William S. Reyes Elementary School in Saipan.

Kanoa FC, a fairly new youth club in Saipan founded about two years ago, played in four matches over three days against teams primarily from Guam's Triple J Auto Group Robbie Webber Youth League's U12B division at the Guam Football Association National Training Center. Another club from NMI, Tan Holdings FC, also competed in four total matches, except squeezed into just two days.

Kanoa FC dropped its first match to the United Airlines GFA National Academy U12, but won its next three matches, including one-goal edges over the Orange Crushers and Wing Black. Manabat had the golden boot for his club, averaging close to two goals per match.

"The kids just love to play soccer and we wanted to give them the opportunity to gain experience from matches outside of Saipan," said Christy Villaflor, general secretary of Kanoa FC. "For many of them who've never traveled outside of Saipan before, this also is a life-changing experience for them. We hope that with the experience in Guam, they continue to improve and work to play at higher levels.

"Although it is a U12 team, many of the players are just 9 and 10 years old, with a few at the upper age range. They all worked really hard to make this trip to Guam happen – they did many fundraising activities, like car washes, lunch plates sales, and others just to come here to play. I know they all had fun, win or lose," added Villaflor.

Tan Holdings FC, a more established club in NMI's soccer leagues, went home Sunday evening winning three matches and settling for a draw in its final match against the Guam Shipyard Wolverines. Thaiphi Austria earned his team's golden boot, averaging over two goals per game. In the team's draw against the Wolverines, Austria scored twice. Tan Holdings FC's other goal came on a Wolverines own goal. For the Wolverines, Shaun-Paul Martinez led his team with two goals and teammate Nolan Sablan scored once.

Guam's youth players will next play in another series of friendly matches with Seoul Youth United, a visiting U13 team from Korea Republic, beginning 5 p.m. Friday. Local youth club teams slated to play are the ASC Trust Islanders Betde, Paintco Strykers White, the Tigers, Wings, and an all-star U13 team.

Following the friendly matches, GFA will play host to a 3v3 Grassroots Tournament for teams in the U8, U10, and U12 divisions scheduled for Dec. 6. Registration still is open for all divisions with a small fee of $20 per team. For tournament rules, visit http://www.guamfa.com/all-leagues-youth-tournaments-rules

For details about the upcoming friendly matches and tournaments or for more information about youth soccer initiatives at GFA, call the GFA Main Office at 637-4321.