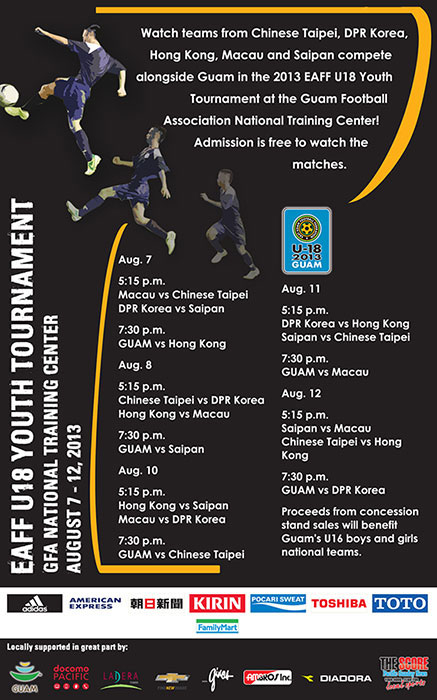 19 Mar

Guam U18 National Team Ready to Compete

The result of months of training by Guam's U18 national soccer t eam will culminate this week beginning Wednesday during the 2013 EAFF U18 Youth Tournament at the Guam Football Association Training Center.

From over 30 training squad members, 18 of the top players were selected to represent Guam in matches against DPR Korea, Hong Kong, Chinese Taipei, Macau and the Northern Mariana Islands. "We have prepared this group to play exciting attacking football, a great contrast to our playing style a couple of years ago," said Dominic Gadia, Guam U18 national team head coach. "The GFA and our island have labored hard to get to this point of our football history and we now find ourselves in a tournament with expectations to win. This is a fantastic experience for our team because it means we now have standards to uphold."

"Success in this tournament will forever remain with these players and coaches. I hope this inspires our island to become an even more competitive footballing nation," Gadia added. The team will first play Hong Kong at 7:30 p.m. Wednesday, followed by the island's match against northern neighbors NMI Thursday at 7:30 p.m. After a one-day rest, teams resume competition Saturday. Guam plays Chinese Taipei at 7:30 p.m. Saturday followed by the island's match against Macau Sunday at 7:30 p.m. Guam's final match will be played 7:30 p.m. Monday against DPR Korea.

The 18 selected to the team are Reed Meyer, Isiah Lagutang, Gen Fudo, Thaddeus Atalig, Cedric Sevilla, Keith Surber, Donovan Reyes, Austin Cruz, Dylan Naputi, Ricky Katsumata, Edwin Wong, Michael "Jake" Benito, Nathan Camacho, Marlon Evans, Kristian Cruz, Gideon Tyquiengco, Joseph Cho and Nathan Legozzie. Meyer and Cho are the team's goalkeepers. Meyer was the IIAAG Boys High School Soccer League MVP. Naputi and Atalig, recent graduates of George Washington High School and St. John's School, respectively, also play for the Matao, Guam men's national team. Naputi has three international goals to his credit – one against American Samoa during the 2011 Pacific Games in Noumea, New Caledonia, one against Macau during the 2012 Philippines Football Peace Cup in Manila, Philippines, and his most recent against Chinese Taipei in the semifinal round of the EAFF East Asian Cup Tournament in Hong Kong in December last year.

Assisting Gadia are coaches James Okuhama, Mark Chargualaf and Joseph Laanan. The team's equipment manager is Julius Campos."As the host nation of this tournament, Guam has a fantastic opportunity to showcase the development of football in our island," Gadia said. "We are one of the fastest developing football nations in Asia and have experienced some of our best achievements in the last two years. This tournament will give us the opportunity to showcase a new generartion of Guamanian football players. These players will set the standard for the continued development of football in Guam. "This team of players, coaches, and staff must realize that success in this tournament is bigger than just a trophy. For the players who make a positive impact in the tournament, they have the opportunity to go onto play football in college, professionally, and a call-up to the Matao," Gadia added. There is no admission fee to watch the games. Other than Guam's 7:30 p.m. matches, other teams in the tournament will play at 5:15 p.m. on both the upper and lower turf pitches. Food and drinks will be available at concession stands. Funds raised through concession stand sales will benefit the U16 Boys national team and the U16 Women's national team, both set to compete in regional tournaments next month.

For more information about the tournament, call the GFA Main Office at 637-4321.

U18 Team Photo.jpg: The U18 National Team training squad currently on island recently posed for a team photo: Kneeling (left to right): Gideon Tyquiengco, Nathan Camacho, Napu Mesa, Ryan Quitugua, TJ Atalig, Scott Angoco, Chris Cawili, Austin Cruz. Second row (left to right): Assistant Coach James Okuhama, Goalkeeper Coach Joseph Laanan, Dominic Bascon, Ricky Katsumata, Leon Bamba, Derrick Cruz, Donovan Reyes, Keith Surber, Dylan Naputi, Joseph Cho, Equipment Manager JR Campos, Assistant Coach Mark Chargualaf, Head Coach Dominic Gadia. Back row (left to right): Isiah Lagutang, Jake Benito, Nathan Legozzie, Marlon Evans, Shane Healy, Kristian Cruz, Christian Schweizer, and Phillip Au. Not pictured are Reed Meyer, Gen Fudo, Cedric Sevilla, and Edwin Wong.