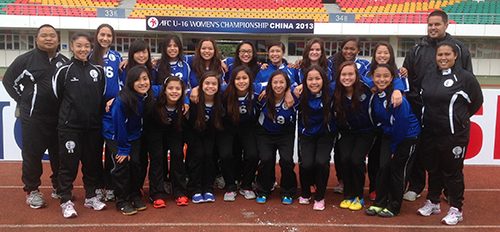 13 Mar

Guam U16 women complete championship play in Nanjing

The Guam U16 Women's National team created several scoring opportunities against I.R. Iran in the second match of its first-ever AFC U16 Women's Championship appearance, but time expired before the team could find the back of the net.

Guam goalkeeper Mya Jade Sanchez was chosen as MVP of the match by AFC officials after having effectively stopped shots or directed Guam's defenders to limit opportunities by I.R. Iran. Guam and its opponent played to a scoreless deadlock until two minutes into injury time in the first half on a goal by Fatemeh Rayatsarokolaei. Zahra Khodabakhishi doubled Iran's lead in the 58th minute on a free kick that just sailed over Sanchez for the final 2-0 score.

"I was proud of the team being able to pick itself back up and prove that they weren't willing to go out without a fight, especially after the heavy defeat to Japan," head coach Brett Maluwelmeng said. "Ultimately, I think the girls corrected most of their mistakes from our first match and did as well as I could have asked of them – especially after conceding the second goal. If we had another chance at playing Iran, I'd like to think the girls would be more than willing to get the sour taste of defeat out of their mouths."

Guam had a flurry of shot opportunities in the second half. Skyylerblu Johnson managed the get through two defenders for a chance against goalkeeper Kimiya Noori, but Noori deflected her attempt away. Moments later, Franshay Shippey started a play buildup resulting in Johnson sending a long pass to Colleen Naden on the right wing, whose perfect stride with the ball pushed the Guam forward to a one-on-one with Noori. Noori was able to block the shot, despite giving up a corner kick to Guam.

Later, after a Guam trio was able to beat an offside trap, Noori made a gutsy play to approach the ball well past the penalty box and nearly paid for it, but was able to retreat enough to send the ball out of bounds. Iran's defensive desperation to Guam's offensive plays was evident in four yellow card cautions – all in the second half.

"If I were to pick our player of the tournament, it would be Skyylerblu Johnson," Maluwelmeng said. "Despite being two years younger than her opponents and sometimes half their size, she outworked and outmuscled many of them to win and more importantly, keep the ball. She will be one to look out for in the next edition of the tournament, for which she will still be eligible.

"As for this maiden finals experience, I would like to thank my coaching staff of Sam San Gil, Ashley Besagar and Kim Sherman for their hard work and dedication over the past four months. I'd also like to thank our manager Lucy Johnson who has been spectacular in making sure the team gets everything they need, both before and during the tournament. Without a doubt, I'd like to thank the parents of the players as they have shown the support and drive needed to give the girls the best possible experience. And finally, thanks to Guam Football Association – from the executive committee to the grounds staff, for all their hard work in helping provide the avenue to create our Masakada stars of tomorrow. Last, if this team – which had just four top-age players and five players that represented Guam at the (AFC U14 Girls Regional Championship) in Beijing earlier this year – can stay together over the next few years, I'd say the future of the Masakada looks very promising. It is up to them to fulfill that promise," Maluwelmeng added.

The Guam U16 Women's National Team and coaches pose for a photo at the Jiangning Sports Centre in Nanjing, China. From left to right, front row, are: Kalila Kim, Raven Aguon, Mellanne Rasmussen, Kaeliana Taitano, Paris "Mames" Blas, Hopemary Calip, Colleen Naden and Skyylerblu Johnson. Back row, from left to right, are: Asst. Coach Samuel San Gil, Asst. Coach Kim Sherman, Sabrina Wiegand, Hinako Ito, Maria Abbey Iriarte, Mya Jade Sanchez, Erlissa Delfin, Caylani Estoy, Kayla Kinney, Franshay Shippey, Yae Kawauchi, Head Coach Brett Maluwelmeng, and Asst. Coach Ashley Besagar.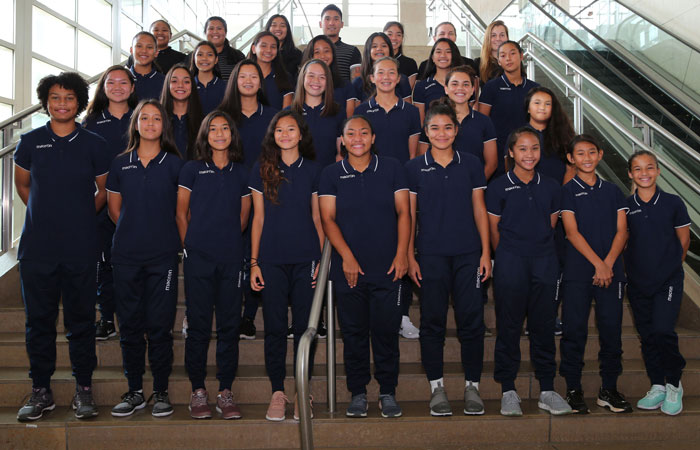 In the photo, from left to right on the bottom row: Kiarra Hutcherson, Gabrielle Moser, Olivia Leon Guerrero, Yasmeen Lopez, Jinae Teria, Lauren Phillips, Kini Arroyo, Cassandra Kido, and Olivia Haddock. In the second row, from left to right, are: Samantha Santos, Annika Almario, Jadyn Palomares, Rylee Guzman, Kaia Malakooti, Samantha Kenney, and Anna Jones. In the third row, from left to right, are: Haley Salas, Lola Martin, Isabella Clement, Jada Han, Maria Taitano, Danni Jo Santos, and Candie Cura. In the back row, from left to right, are: Team Manager Chyna Ramirez, Assistant Coach Ashley Besagar, Equipment Manager Erlissa Delfin, Goalkeeper Coach Ross Awa, Head Coach Kimberly Sherman, Technical Advisor/Analyst Belinda Wilson, and Team Physiotherapist Hannah Hallor.