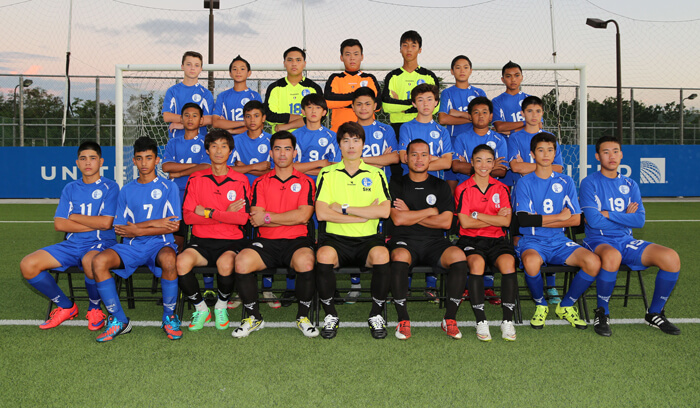 15 Mar

Guam U14 Boys national team to play in China

[September 5, 2015 – Harmon, Guam] The Guam U14 Boys national football team will fly to China, P.R. to compete in this year's AFC U14 Boys Festival of Football at the National Training Center in Xianghe.

All 10 member nations from the East Asia region – Japan, Korea Republic, DPR Korea, China, P.R., Guam, Hong Kong, Chinese Taipei, Mongolia, Macau, and the Northern Mariana Islands – are entered in the festival, with matches scheduled up until Sept. 13.

The team had been training for a few months together under head coach Dominic Gadia, also the director of the United Airlines National Academy. Assisting the team are coaches Joseph Laanan and Sung Wook Choi.

Pictured from the training squad are, front row from left to right: Joshua Calvo, Alan Thomas, coach Sung Wook Choi, head coach Dominic Gadia, Guam Football Association assistant technical director Sang Hoon Kim, coach Joseph Laanan, team manager Kimberly Sherman, Ryan Kent, and Samuel Quan. Middle row from left to right are: Micah Hennegan, Robert Niu, Anthony Moon, Noah Bamba, Shane Larkin, Sho Meyar, and Kainoa Ferguson. Back row from left to right are: Benjamin Sweeney, Mark Iseke, Dorian Teria, Kaito Atsuta, James Lee, Matthew Iseke, and Shaun-Paul Martinez. Not in the photo is Noah Jaye.