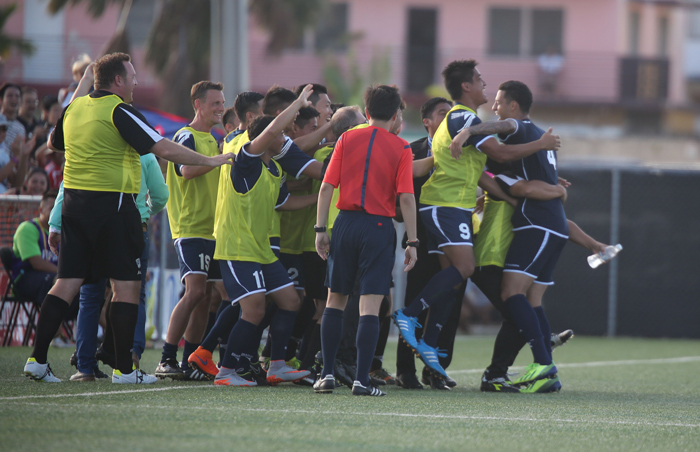 08 Mar

Guam tops Group D in 2018 FIFA World Cup Qualifiers in Asia

[June 17, 2015 – Harmon, Guam] After winning its first-ever FIFA World Cup Qualifier match Jun. 11, the Matao came back an even stronger team to win its second-straight, catapulting the team to the top of Group D standings after two matches.

The Matao played to a 2-1 victory over India in front of a capacity crowd at the Guam Football Association National Training Center Tuesday after having beaten Turkmenistan 1-0 five days earlier. In addition to Turkmenistan and India, Guam also leads I.R. Iran, Asia's top country, and Oman in the same group.

"If I said we're not surprised (that we are on top of Group D), I would sound arrogant, but that was the plan," said Guam head coach Gary White in a post-match press conference. "We knew that these first two games were important to get going. We knew that we had the home crowd and home field advantage. We knew that this would be a difficult place for anyone to come to play so we had to get maximum points. That's what we set out to do.

"I thought the Indian team really pushed us, and that it was a very competitive game. Right now, we're just very pleased to be on the top of Group D," White added.

Brandon McDonald notched his first-ever international goal for Guam off a header from a long throw by Ryan Guy in the 37th minute to put Guam ahead 1-0 going into halftime.

A little over 15 minutes into the second half, Guam took a commanding 2-0 lead when Travis Nicklaw received a long pass from older brother Shawn, maneuvered around an Indian defender and launched a shot into the near post that sent the home crowd into a frenzy.

India's captain Sunil Chhetri salvaged a goal in stoppage time, connecting on header off an early cross by teammate Rino Anto that sailed into the upper left corner of the goal as a consolation for his team in the 2-1 contest.

"It feels good, and as the Gaffer had said, we wanted to get the full six points from these matches," said Matao captain Jason Cunliffe in a post-match press conference. "We beat Turkmenistan and turned right around to prepare for this match. We came out and played the game plan to a T, so I'm very happy, but I'm definitely disappointed that we gave up that late goal. We didn't want that to happen, but moving forward, we'll be going to Iran in September and we'll try to get a point there."

With its second-straight loss in as many matches, India, a country of 1.2 billion people, falls to the bottom of Group D rankings. India earlier lost at home to Oman 2-1 at Kanteerva Stadium in Bengaluru. In other Group D matches held in June, I.R. Iran settled for a 1-1 draw with Turkmenistan.

"Firstly, I would like to congratulate my friend Gary from Guam – I think Guam deserved to win," said Stephen Constantine, India's head coach. "We are obviously very disappointed (with the result) but today I think you saw the difference between a group of players who have football education – I think 75, 80 percent of the Guam players are playing or are born in the U.S. … and that makes a huge difference.

"We are still in a learning process, shall we say, in India, although we've been playing for a long time. I think we lacked football intelligence in key moments of the game and Guam deserved to win the game. Really, I don't think we caused them too many problems – that said, it's time to go back to India and re-evaluate and reassess what we have been doing in the past and what we need to be doing going forward," Constantine added.

Five days before Guam's 2-1 victory against India, the Matao emerged with a 1-0 win over Turkmenistan, with a goal off of another long throw from Ryan Guy in the 12the minute of play.

"(Compared to the game against Turkmenistan), we were sharper against India," White said. "We had a game under our belts and we got a lot of the cobwebs out. That was the first game we played together against a very strong Turkmenistan team and against India, the team expressed themselves a little bit more because they knew each other better, they had better ideas of where people were moving, what their strengths and weaknesses were and they were just fantastic."

Guam will next play its first away match of the Matao's 2018 FIFA World Cup Qualifier campaign against Asia's top-ranked I.R. Iran Sept. 3. The team will next play Oman five days after. All five countries in the group will play eight home and away matches in Round 2 of the 2018 FIFA World Cup Russia and AFC Asian Cup UAE 2019 Joint Qualification. Only the top teams in each group, as well as the top four second-place teams of all eight groups, will advance to the next round on the road to Russia for the FIFA World Cup.

Souvenir items – dri-fit shirts and other promotional items – are on sale at the GFA Main Office. Call 637-4321 for more details.