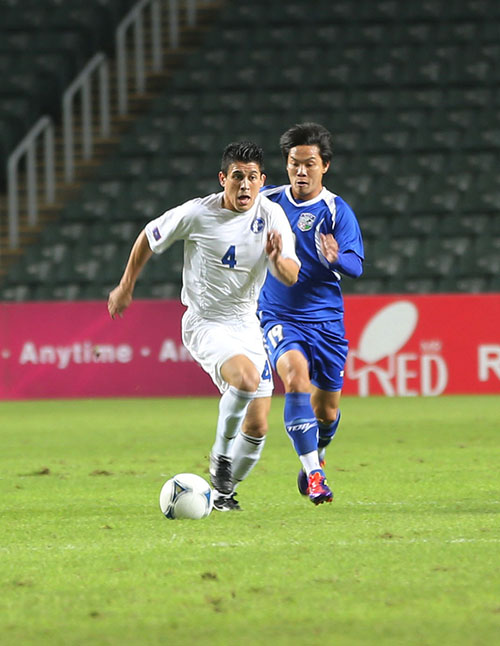 07 Mar

Guam settles for 1-1 draw with Chinese Taipei

An organized performance by the Matao kept Chinese Taipei frantic for over 90 minutes as the latter needed stoppage time to pull together a 1-1 draw against Guam in a match of the East Asian Cup Round 2 tournament at Hong Kong Stadium.

The draw with Chinese Taipei is the first in Guam's football history, as the men's national team had suffered defeat in seven previous occasions since 1996, according to the FIFA.com Web site. The largest score margin happened in 2007, when Chinese Taipei battered Guam for 10 goals. Guam has since been closing the gap against its higher-ranked opponent.

"We in Guam have the desire since I came in February to change the mentality of how people look at Guam in terms of football," said Matao head coach Gary White in the post-match press conference. "Our president, Richard Lai, is very aggressive as we have said before about being competitive. I think what you're seeing out there is hard work and sweat, doing the right things, organizing the team tactically and correctly, and getting the most out of what you've got.

"Those players have really given everything they've got because they want to be part of the program. So I think it's just good leadership from (Guam Football Association) and also from the coaching staff," White added.

Both teams had an array of opportunities to score goals – from free kicks just outside the penalty box to a botched Chinese Taipei penalty kick – but it would be the Matao's 17-year-old Dylan Naputi to open scoring in the 67th minute. As teammates Ian Adamos and Joshua Borja battled for headers against Chinese Taipei defenders in the penalty box from a long Ryan Guy throw-in, Naputi made his way into the box and scored off of a beautiful volley that shocked Chinese Taipei's goalkeeper Pan Wen-Chieh and awed spectators waiting for the replay on the big screen.

The Matao held on to the lead until close to the end of stoppage time, when Chinese Taipei's Chen Hao-Wei found a gap in Guam's defense to send Lo Chih-An toward the goal. Guam goalkeeper Doug Herrick diverted the initial shot on goal, but Chinese Taipei's Chen Po-Liang was able to send the ball back to Lo, who managed to score the tying goal.

"We feel that Guam is getting better and better in this tournament, especially in its second game when the team played DPR Korea," said Chinese Taipei head coach Chiang Mu Tsai through a translator. "They played really well and probably felt inspired by that game, so (Chinese Taipei) had to play a very difficult game (against Guam). Guam really pressured us, especially when we missed the penalty kick – the pressure increased a lot then.

"During the game, we missed a lot of chances (to score) so we upped our offense, risking our defense. We paid for it, but it's very fortunate that we were able to get a goal in additional time," Chiang added.

In the day's late game, Australia and DPR Korea also battled to a 1-1 draw. Archie Thompson scored for Australia three minutes into the game and An Yong-hak scored the equalizer in the 64th minute for DPR Korea following a scramble in front of the goal.

Guam's next and final match of the tournament is scheduled for Friday at 5:50 p.m. Hong Kong time. The Matao will face the Socceroos of Australia at Hong Kong Stadium.