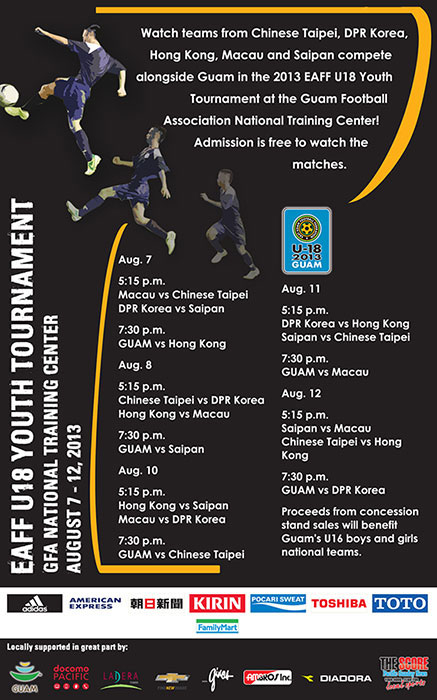 19 Mar

Guam Moves Up to 3rd After 7-0 Drubbing of NMI

Guam moves up to third place in the EAFF U18 Youth Tournament standings following a 7-0 drubbing of island rival Northern Mariana Islands Thursday at the Guam Football Association National Training Center.

Guam exploded in the first half, slamming in six goals before the halftime whistle. Ricky Katsumata initiated Guam's scoring haul in the 7th minute and about 15 minutes later, Edwin Wong, Keith Surber and TJ Atalig each scored once in a span of only three minutes. Katsumata added another goal in the 36th minute and Surber scored again one minute later, to the delight of home fans ringing bells and blowing stadium horns.

With the match staying mostly in Guam's attacking half, Guam head coach Dominic Gadia managed to exhaust all of the team's seven substitutes in second half, allowing all 18 players on the roster to earn playing minutes.

Guam scored its final goal in the 74th minute, following a free kick from captain Dylan Naputi. NMI's goalkeeper leaped to catch the ball, but let it slip through his gloves. An alert Austin Cruz then took his shot from close range to add to Guam's scoring tally.

In other matches, Hong Kong assumed the tournament's frontrunner position with a 3-0 shut out of Macau. In the very physical game between the two rivals, Macau defender Hun Seng Kuai was sent off in the 54th minute following two yellow card cautions. Marco Wegener opened scoring for Hong Kong with a goal in the 15th minute. Wong Chun Hin and Yiu Ho Ming each added a second-half goal for the winning team's final tally.

Chinese Taipei's 3-1 win over former tournament leader DPR Korea sent its opponents down to fourth place in the tournament standings. Chinese Taipei took a quick 2-0 lead in the first 12 minutes of play with goals from Chen Yih Yan and Chen Chao An. DPR Korea prevented a clean sheet for Chinese Taipei goalkeeper Tsai Shuo Che with a penalty kick from Hong Jang Song.

Liu Sheng Yi scored Chinese Taipei's lone goal in the second half for the final score. Matches continue Saturday with Hong Kong playing against NMI and Macau taking on DPR Korea. Both matches will begin at 5:15 p.m.

Guam's match against Chinese Taipei is scheduled to kick off at 7:30 p.m. The community is invited to support team Guam. Concession stand food and drink sales will directly benefit the Guam U16 Women's national team. Spirit items, replica jerseys, and noisemakers are available for purchase at the tournament's Fan Zone. There is no admission fee to watch the matches.