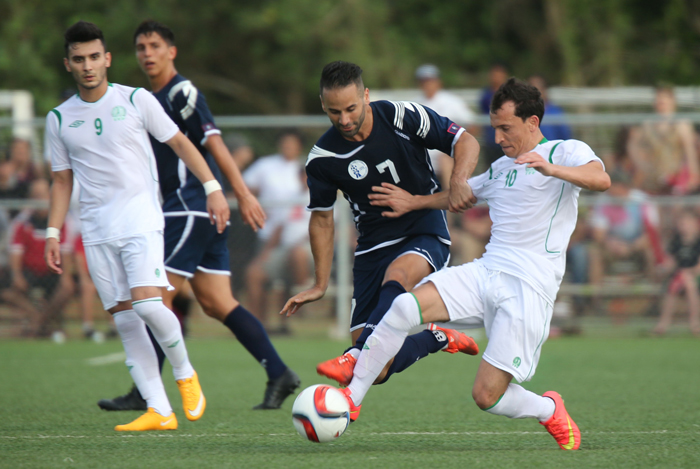 08 Mar

Guam Matao notches historic World Cup Qualifier win

[June 12, 2015 – Harmon, Guam] Thousands of fans mobbed players from the Matao for photos and autographs after its historic, first-ever FIFA World Cup Qualifier win in Guam Thursday at the Guam Football Association National Training Center.

Guam defeated visiting Turkmenistan 1-0 to open the team's 2018 FIFA World Cup Qualifier campaign, which includes seven other group-stage matches extended to March of next year. The match also was the first-ever FIFA World Cup Qualifiers event held in Guam.

"It's a great feeling to be part of Guam's first-ever victory in FIFA World Cup Qualifiers, and it's an even greater feeling to achieve this feat in front of a home crowd that continues to support the team," said Gary J. White, Matao head coach. "The structure, the organization, the passion that our players have has never been questioned. We looked like we were a team that has been together for a long time – that gives you an idea of how close we are as a family.

"As for Turkmenistan, I'll give it to them that they have some players, but they just couldn't break us down. We were sharper when we won possession – I'm very happy with the result," White added.

Guam showed its prowess early, with Ryan Guy sending Shane Malcolm for a shot opportunity within just two minutes of the opening whistle. Ten minutes later, an own goal by Turkmenistan off a Guy throw-in further rattled the team's defense and kept the visiting team on its back heels for the majority of the match.

"Our team was just scratching the surface of what we can really do," said Jason Cunliffe, captain of the Matao. "Going back to training for our next match, there are a couple of things to work out, but come against India, you'll see an even better Guam football team.

"I think for this being our first World Cup Qualifier together, we did absolutely outstanding – but we still haven't peaked. There's still a lot of room for improvement, but it's a good start. We got three points from this match – we did exactly what we wanted to do and now we're going to come out and try to get three more from India," Cunliffe added.

Guam will next play India on Tuesday, kicking off at 4:15 p.m. at the GFA National Training Center in another Group D match of the 2018 FIFA World Cup Russia and AFC Asian Cup UAE 2019 Joint Qualification Round 2.

Before Tuesday, fans and supporters will have a chance to meet the team members in a Meet the Matao Day event Sunday at 4:30 p.m. at the LeoPalace Resort Guam main field, sponsored by Triple J Auto Group and Kia. Attendees will be given a soccer ball while supplies last.

Tickets still are on sale at the GFA Main Office for Tuesday's match against India. Souvenir items also will be on sale at the GFA Main Office during office hours and at the event's concession area on match day.

For more information, call the GFA Main Office at 637-4321.