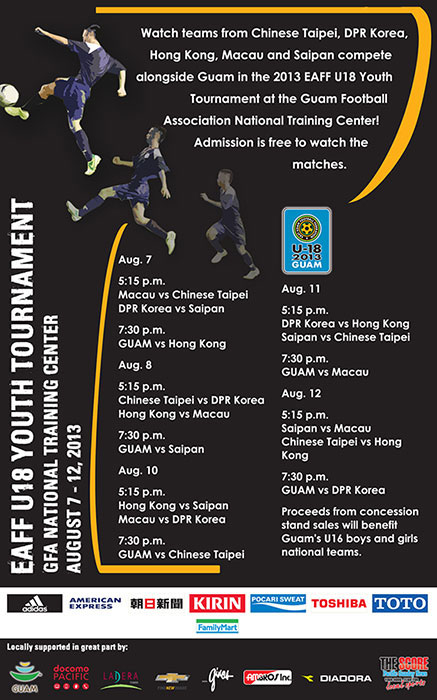 19 Mar

Guam-Macau Match Ends in Scoreless Draw at Eaff U18 Tournament

Guam had Macau on its back heels for most of its match, but its East Asian opponents managed to hold on to force a 0-0 draw during a Day 4 match of the EAFF U18 Youth Tournament at the Guam Football Association National Training Center.

Guam came dangerously close to scoring in the first half with wing plays from both sides of the field. Guam's Michael Benito had several runs down the right flank and into the penalty box, drawing two Macau defenders on him most times, but the team was unable to finish shots.

Guam continued its aggression on offense well into the second half, even as a heavy downpour halted the match for a few minutes because of low visibility. In the closing minutes of the match, Benito took a strike during a scramble in front of the goal and sent his shot past Macau keeper Lo Weng Hou, but the goal was rescinded as assistant referee Kuo Chan Yu made an offside call.

Guam had additional chances to score on corner kick plays, but time expired before any goals were scored.

In other matches, Chinese Taipei racked up its goals with an 18-0 defeat of the Northern Mariana Islands. Lai Chih Hsuan tallied four goals and teammates Ko Yu Wei and Li Jin Cyuan each contributed hat tricks. Tsai Meng Cheng and Jiang Sin Long scored two goals each and teammates Liu Sheng Yi, Chen Kai Wen, Chen Yih Yan and Chen Chao An also scored.

Hong Kong blanked DPR Korea 4-0. Lau Hau Hei, Chung Wai Keung, Yip Ching Fung and Yiu Ho Ming each scored once in the contest.

Final matches on Monday will feature Chinese Taipei taking on Hong Kong in the battle of the undefeated teams on GFA's lower pitch and NMI facing Macau on the upper pitch, both at 5:15 p.m. Guam plays DPR Korea at 7:30 p.m. on the upper pitch.

There is no admission fee to watch the matches. The community is invited to support Team Guam in its matches. Food and drinks will be sold at the tournament's concession stand, a fundraiser organized by both the Guam U16 Men's national team and the Guam U16 Women's national team. Replica jerseys, Guam items and GFA logo noisemakers also are available for purchase at the tournament's Fan Zone.

Chinese Taipei's Chen Kai Wen looks to pass the ball facing defensive pressure from Northern Mariana Islands' John Masga (No. 23) and David Yang (No. 28) during a Day 4 match of the EAFF U18 Youth Tournament at the Guam Football Association National Training Center. Chinese Taipei shut out NMI 18-0.