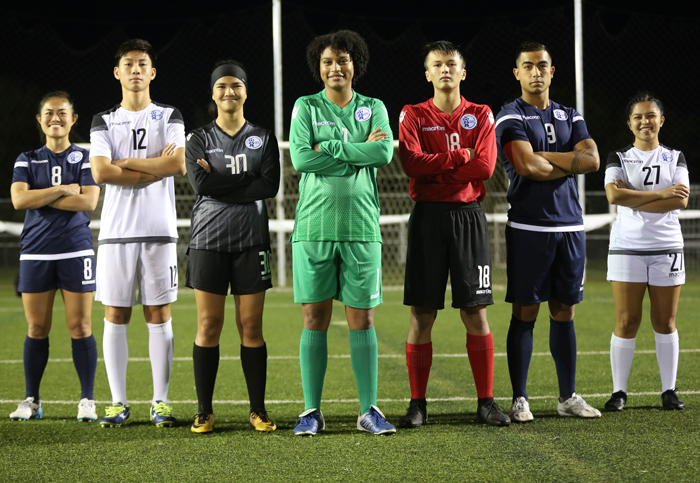 11 Mar

Guam FA ink partnership with Macron for national teams

[September 1, 2018 – Harmon, Guam] Beginning this month, Guam's national teams will officially be outfitted in match and training kits by Macron, following the signing of a three-year partnership naming the Bologna, Italy-based sports apparel and equipment company its "Official Technical Kit Supplier".

"We are very excited with this new partnership with Macron to outfit our national teams," said Tino San Gil, Guam Football Association President. "For a large, emerging high-quality international brand to support Guam, this is telling of the consistent progress we've made in football and the goals we still have yet to achieve that continues to attract positive attention internationally."

The Matao will debut its new kits at the EAFF E-1 Football Championship Preliminary Competition Round 1 in Mongolia Sunday when the team takes on the Northern Mariana Islands and on Monday, the Masakåda will play against Macau in its new Macron kits.

Called up to the Matao for the EAFF tournament are goalkeepers Dallas Jaye and Sean Evans, and field players Mark Chargualaf, Jason Cunliffe, Dominic Gadia, Kyle Halehale, Shane Healy, Ricky Katsumata, Isiah Lagutang, Justin Lee, Nate Lee, Marcus Lopez, Shane Malcolm, Devan Mendiola, Eddie Na, Shawn Nicklaw, Travis Nicklaw, and Zarin Santos.

Called up to the Masakåda for the EAFF tournament are goalkeepers Jena Cruz and Angelyn Sobrevilla, and field players Ariya Cruz, Hannah Cruz, Celine Doronila, Kaycee Hoover, Riley Hoover, Yae Kawauchi, Jordyn Matthews, Jenna Merrill, Koharu Minato, Phoebe Minato, Colleen Naden, Inyssa Perez Abigail San Gil, Sarah Schiff, Isa Whalen, and Harmony Yatar.

Matches will be available via Internet Live Stream on the EAFF Web site, EAFF.com The tournament's official Web site is https://eaff.com/competitions/eaff2019r1/index.html

Macron, relatively new to the top-level sports landscape, has grown exponentially in recent years. Through its growing portfolio of partnerships, UEFA identified Macron as the third main football brand in Europe behind Nike and Adidas according to the UEFA Web site.

Macron's portfolio includes many professional football clubs, including those from top European leagues: Bologna FC, SS Lazio, Udinese Calcio, Cagliari Calcio, and SPAL from Italy's Serie A, OGC Nice from France's Ligue 1, Sporting Clube de Portugal from Portugal's Primeira Liga, Real Sociedad de Futbol and Levante UD from Spain's Primera Division, FC Union Berlin in Germany's Zweite Bundesliga, and England's Stoke City FC, Nottingham Forest FC, and Millwall FC among others across Europe.

Among Asian Football Confederation member countries, 13 clubs in Australia are outfitted in Macron, including two Hyundai A-League teams, Adelaide United FC and Perth Glory FC, as well as one professional club each from Bahrain, Oman, and Saudi Arabia.

Guam is the first national association in the AFC to be outfitted in Macron.

Guam's Edward Na manages to get the ball around a DPR Korea defender in this file photo from the most recent edition of the EAFF E-1 Football Championship Semifinal Round taken at the Mong Kok Stadium in Hong Kong. Na, and fourteen other players have been called up to a Guam Men's National Team training camp in California beginning Mar. 19. The next tournament for the Matao, the EAFF E-1 Football Championship 2019 Preliminary Competition Round 1 will take place in September.