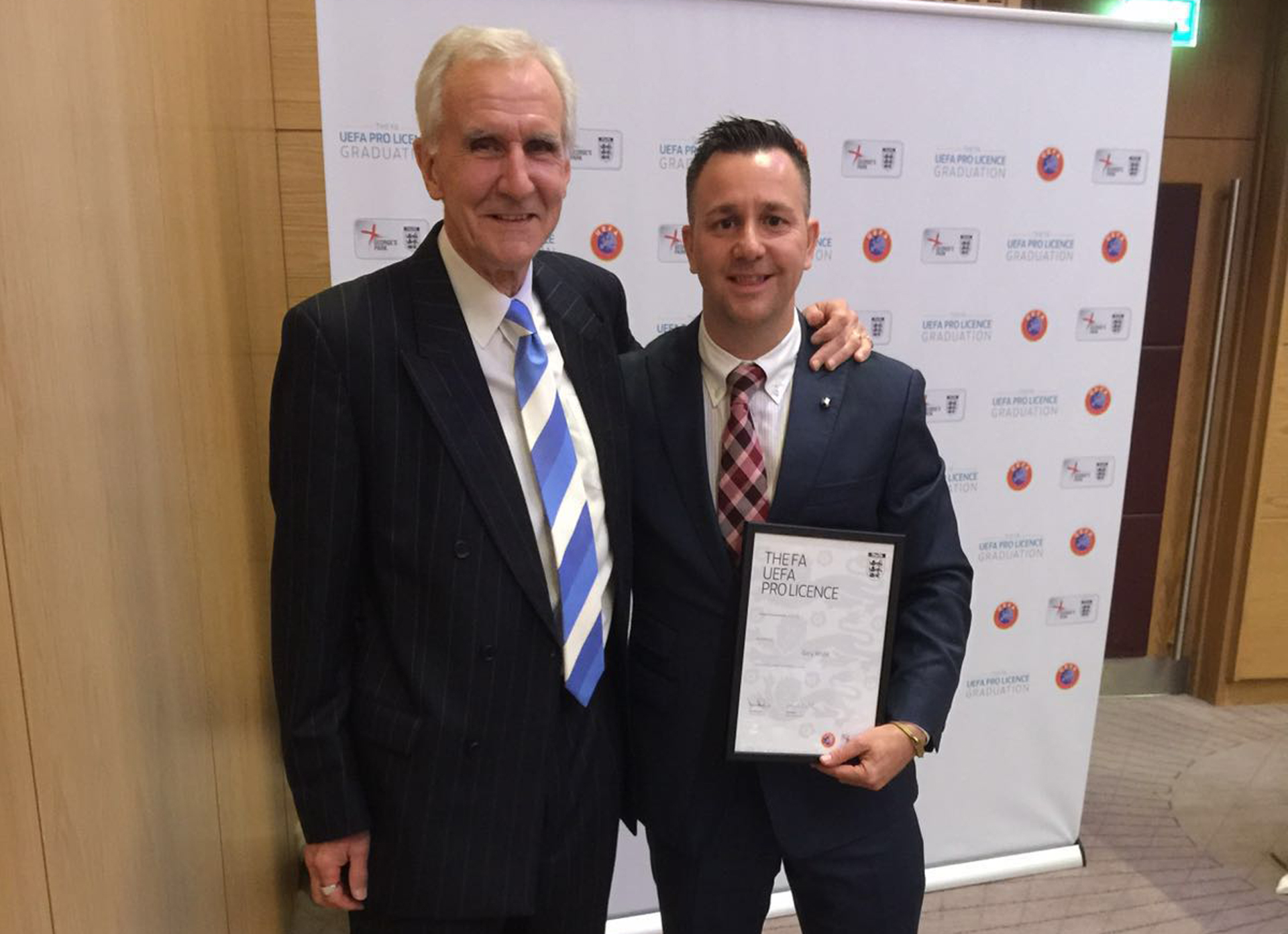 11 Mar

GFA Tech Director Gary White earns UEFA Pro License

[May 15, 2016 – Staffordshire, England] With his newly earned UEFA Pro License from The FA, Guam Football Association Technical Director and Matao head coach Gary J. White is now closer to realizing his dream – to one day manage The Three Lions, England's national football team – while also opening the door to attaining full manager roles for the world's top professional clubs, including those in the Barclays Premier League.

The UEFA Pro License is the second of two Level 5 qualifications White has on his football resume, following The FA Elite Coaches Award License, earned in 2013. White was presented his UEFA Pro License, certified by both The FA Technical Director Dan Ashworth and Head of FA Education, Chris Earle, in England on May 10. Only a couple hundred in the world hold a UEFA Pro License issued by The FA.

"We are very proud of Gary's latest achievement, as he was already considered one of the world's top coaches after earning The FA Elite Coaches Award License back in 2013," said Richard Lai, GFA President. "Gary has worked hard to elevate Guam's status in international football through the Matao's success in recent years. I now look forward to seeing Gary extend this trend across the board in Guam football – from lifting the status and expanding the experience of our homegrown coaches in GFA's development programs through his mentorship to seeing improved results by all of our national teams in international competition.

"We've already seen a tremendous growth in Guam football in recent years and with Gary's qualifications and experience, I am confident that there still is more to come," Lai added.

The FA UEFA Pro License course mainly covers four modules:

• Professional communication

• Leadership, management of self and others

• Performance management

• Football business and finance

In order to be accepted into the course, applicants must first go through a rigorous admissions process with minimum requirements that include holding a UEFA "A" License (priority given to applicants holding the English FA Award), experience in the professional game either as a player, player coach, coach, assistant manager or manager, with priority given to applicants with significant coaching experience with senior players in the domestic professional game, The FA Web site states. The course duration is at least 27 days, with 202.5 guided learning hours, not including additional distance learning and club site visits.

"I'm extremely elated to earn this distinction among other top coaches and managers in the world," White said. "Being awarded The FA UEFA Pro License is one of the highest honors any coach or manager can achieve. The advanced course curriculum really has prepared me further to coach and manage at the highest levels of the game. It required a great deal of organization, discipline, networking, and a true passion for the sport and for coaching to complete the requirements for the course. GFA President Richard Lai and the entire GFA support has been fantastic and I look forward to utilizing the knowledge and experience I've gained to continue improving the level of football in Guam."

White also is a current candidate for the Japan Football Association (JFA) SQ Professional License, where he is only the fourth European ever to be selected to participate in the course.

White joined GFA in February 2012 and within four years, Guam earned its highest-ever FIFA/Coca-Cola World Ranking to date at No. 146, close to 50 spots higher than Guam's average ranking prior to his arrival. Additionally, White created the GFA National Academy, currently presented by United Airlines, for Guam's top elite youth athletes to sustain international success. The Academy is now in its fifth year.

White also devised the GFA National Coaches Mentorship Program, which assists homegrown coaches' development and provides support for top coaching candidates selected to earn esteemed AFC licenses.

Guam Football Association Technical Director and Head Coach of the Matao, Guam men's national football team, Gary J. White poses for a photo after earning the UEFA Pro License from The FA on May 10 at St. George's Park in England. In the photo are, from left to right: Neil Dewsnip, White, Dick Bate, and Alistair Smith. Photo courtesy of Gary White.