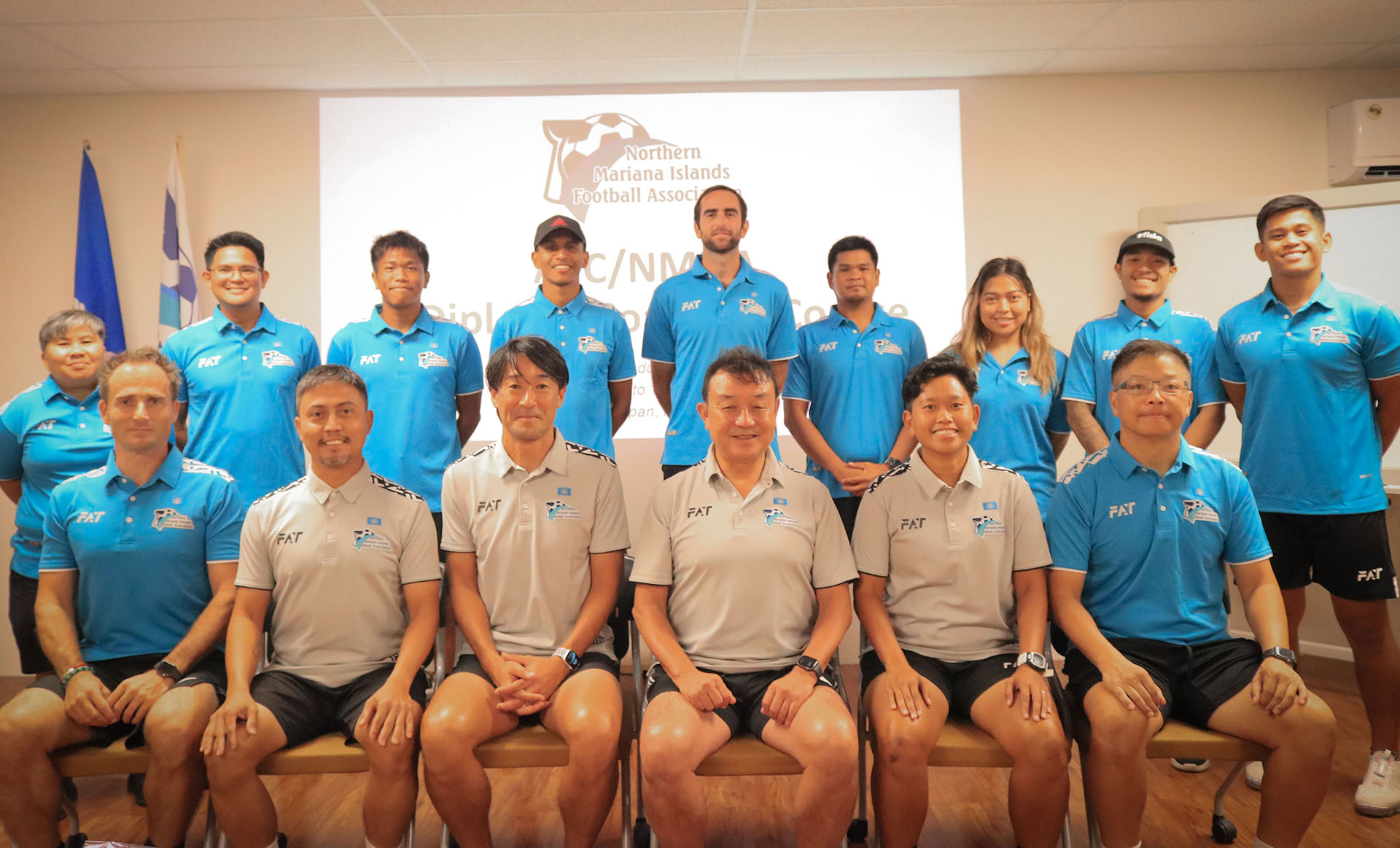 25 Jul

GFA provides support to coaches Awa, Bischoff for NMI B License

[July 24, 2023 – Harmon, Guam] Over a dozen professional development and certification courses have been earmarked for various Guam Football Association coaches and staff for the remainder of the calendar year, starting with coaches Ralph Awa and Jude Bischoff enrolled in the Northern Mariana Islands FA "B" Coaching Course, which opened earlier this month in Saipan.

"Participating in the NMIFA course helps to further my expertise in all aspects of coaching and managing a team," Awa said following the conclusion of the first of three modules in Saipan. "Module 1 of the course was very interesting; it introduced several components that contribute to a team's success. Overall, I enjoyed learning about the difference of mindsets and approaches – it makes the game so much more exciting to be a part of.

"My ultimate objective with coaching is to provide our players with the tools necessary for success at the highest level of the sport," Awa added.

Awa and Bischoff will next take part in the course's second module from Aug. 8 to Aug. 14 in Saipan. The final module is split into two parts – from Dec. 6 to Dec. 12 and then again Jan. 15 to Jan. 24, 2024.

"Ultimately with coaching, I just want to share my experience with young players and I hope that at least one player I've coached one day makes it as a professional player," said Bischoff, who currently also is a player in Guam's National Program. "I think that's the goal for any coach who works with youth players – to help them achieve their goals.

"With this B License Course, it is mostly based on tactical analysis and player/team development. The course is an opportunity to develop your knowledge of how top-level players are taught to play and then breaking it down and creating training programs for any level team," Bischoff added.

As part of GFA's four-year strategic plan "Growth Planning for the Next Generation", GFA intends to implement an annual personal development program for existing qualified coaches and also to eventually conduct educational courses for coaches to obtain AFC certification, among other objectives in the plan's Recruitment, Education, and Development pillar.

There are five levels of coaching licenses beginning with the GFA "D" Coaching Certificate and upwards to a Pro Diploma. The "B" license is the third-highest level for elite coaches and is the minimum requirement for Assistant Coaches for U17 and U20 national teams.

"In order for GFA to achieve sustainable football development, it is crucial to support our coaches in their coaching journey," said Ross Awa, GFA Technical Director. "This can be implemented through mentorship programs, continuous education and training, and providing deserving opportunities for coaching roles within various youth categories and levels. With the right support, our coaches can improve their skill sets, develop their own coaching philosophies, and understand the unique challenges and strengths of Guam's football culture which will eventually lead to better development of young players and a stronger football community.

"Jude and Ralph's ongoing development will continue to enhance their skills and knowledge, enabling them to provide even better coaching to their teams. Through their efforts, the players will have the best possible chances of achieving success on the field and fulfilling their potential as athletes. The importance of coaches like Jude and Ralph in the development of players cannot be overstated," Awa added.

Ralph Awa currently is a coach in GFA's Academy program and Bischoff with the Guam U17 National Team. Both coaches also will be part of the U15 National Team staff, set to compete in the EAFF U15 Men's Championship 2023 in China, PR in September.