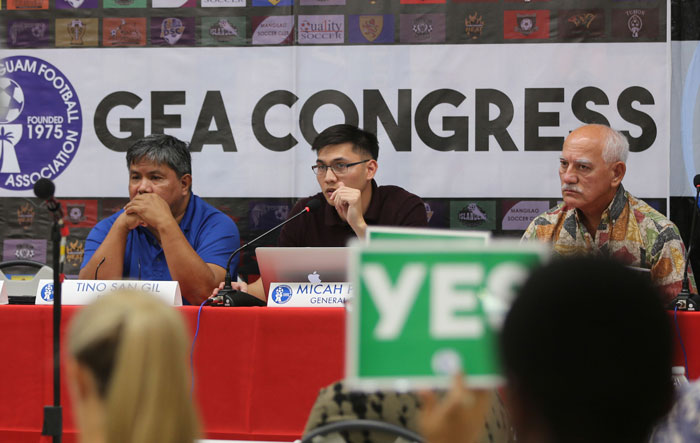 22 Feb

GFA Membership Approve New Electoral Code, Committee

[December 12, 2018 – Harmon, Guam] – The addition of a full Electoral Code into the Guam Football Association Statutes, as well as the selection of four members to the organization's new Electoral Committee were approved by members at an Extraordinary Congress held Monday evening at GFA.

The membership voted in Jack Chan, Frederick Horecky, Hiro Kurashina, and Jeffrey Larsen as part of GFA's Electoral Committee, which will act as an independent body empowered to conduct the sport organization's elections of Executives and Executive Committee members during elective Congress years.

GFA's next election will take place during the 2019 Ordinary Congress set for February next year. Five seats on the organization's Executive Committee will be open for candidates.

"GFA has been working with FIFA Governance and AFC to enhance the existing GFA Statutes which will be presented in 2019 after the election," said Micah Paulino, GFA General Secretary, during the Congress. "It was noted that GFA needed to institute an Electoral Code to further enhance governance, transparency, and integrity of future elections. The proposed Electoral Code was originally presented by FIFA with enhancements to better suit Guam's environment."

The current GFA Statutes, last amended and filed in 2010, had simply called for a secret ballot for elections in Article 26, with cascading procedures for GFA members to select candidates in case of any tie votes. The procedure had been fully accepted and followed by GFA and its members in elective Congress years since the creation of the GFA Statutes.

The newly adopted Electoral Code features 24 separate articles, including the installation of the Electoral Committee.

Per the GFA Statutes in Article 32, "decisions passed by the Congress shall come into effect for the Members ten days after the close of the Congress, unless the Congress fixes another date for a decision to take effect." Following the approval of a new Electoral Code, the revised Statutes will then be filed with the Department of Revenue and Taxation, superseding previous versions.

The intent by an eligible candidate to obtain one of the five seats available via election on GFA's Executive Committee must be received by the GFA General Secretariat at least 45 days before the date of the elective Congress. Details on eligibility of candidates and other timelines are in the current GFA Statutes, available online by scrolling down to the GFA listing of official documents at http://guamfa.com/contact-us/finance-and-governance/official-documents

During the next election, representatives from FIFA and AFC will be present to ensure adherence to the newly adopted Electoral Code.