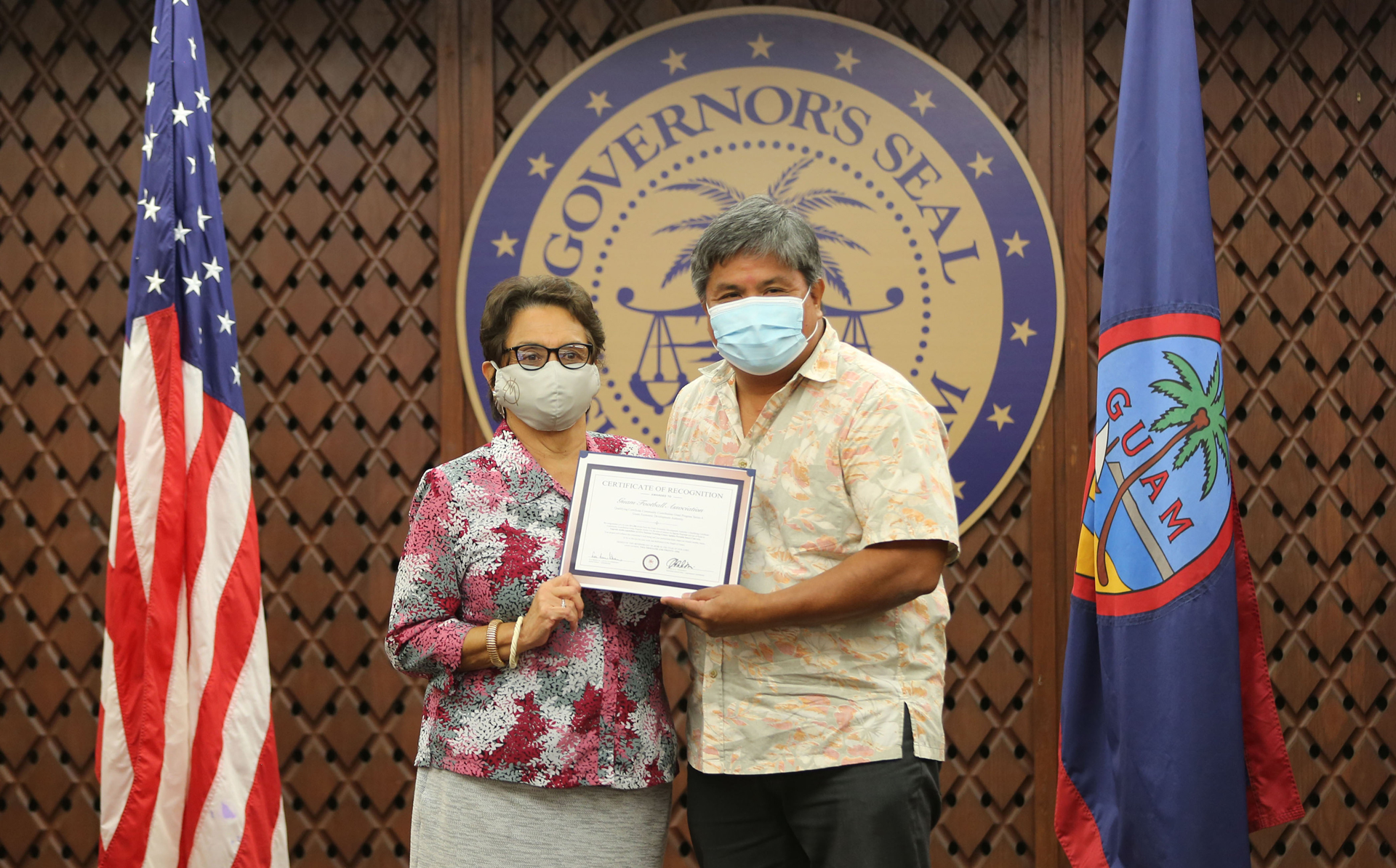 08 Jun

GFA awarded QCCC4 grant for AI-technology system

[June 7, 2021 – Adelup, Guam] Guam Football Association officially was recognized as one of 15 recipients of grant funds from the Guam Economic Development Authority Qualifying Certificate Community Contribution Grant Program Series 4 during a presentation ceremony at the Office of the Governor of Guam Monday afternoon.

GFA applied for the grant money to procure two AI-technology camera systems and for match analysis software from Sweden-based company Spiideo. GFA President Tino San Gil accepted the certificate of recognition and the funds from the Hon. Lou Leon Guerrero, Governor of Guam.

"This equipment and system is another tool to help all Guam national teams improve and move forward," San Gil said.

GFA will be purchasing two Spiideo Portable SmartCam devices and utilizing the company's match analysis software through an annual paid subscription. The Portable SmartCam is an ultrawide 4-angle camera sensor system with built in connectivity to the Internet via Ethernet, WiFi and 4G. The system is powered by AI technology, which is able to track single ball movement, as well as create virtually any angle of the football pitch, eliminating the need for multiple cameras and camera operators. Footage from the cameras are available in real-time and users are able to select preferred angles, zoom into action, tag moments of training and/or matches, and use match analysis editing tools. The equipment and system are used by football associations and professional clubs around the world including the Icelandic FA, Inter Milan, AS Roma, Olympique de Marseilles, and Philadelphia Union, among others. Other than football associations and clubs, notable clients also include the NBA.

The equipment and system will be utilized mainly by GFA's Technical Department for national team training analysis, as well as coach and referee education through features available from Spiideo Perform, both in Guam and abroad during international camps and tournaments. Footage also will be available to players to create highlight reels for college and professional club scouts and coaches, as well as for marketing purposes. The system is also capable of live streaming matches.

According to GEDA CEO and Administrator Melanie Mendiola, close to three dozen organizations and Government of Guam agencies applied for Series 4 grants, and 15 were selected as grant recipients. Equipment and usage specifications were included in GFA's grant application.

Since the start of the QCCC grant program in November 2019, GEDA has distributed over $900,000 to 63 non-profit organizations (NPOs) and Government of Guam departments/agencies, according to a presentation slide by GEDA. This is the second QCCC grant awarded to GFA, with the first from October 2020 to the GFA Women's Football Department to organize "Fana'ayuda I Famalao'an" – a three-part program intended to create and maintain consistent football activities for young girls, classroom sessions emphasizing health and wellness through coaching and officiating, and assistance to youth clubs to establish a consistent all-girls league. The program begins Jun. 11 with close to 20 girls taking part in introductory coaching and officiating seminars. Additionally, GFA has teamed up with Guam Girl Scouts for a summer camp program set to take place in July. Grant funds received by the GFA Women's Football Department were from Series 2 of the QCCC Program.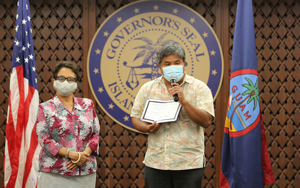 During Monday's presentation ceremony for Series 4 recipients, representatives of top-ranked recipients from current series – the Sinajana Mayor's Office, the Guam Fire Department, the Talofofo Mayor's Office, PBS Guam, and Elim Pacific Ministries dba Oasis Empowerment Center – were invited to present their project proposals. Additionally, each recipient was invited for individual photo opportunities with the Governor of Guam. San Gil took the opportunity to also make an announcement about the Matao, Guam National Team, currently competing in the FIFA World Cup Qatar 2022™ and AFC Asian Cup China 2023™ Asian Qualifiers in the United Arab Emirates and the availability of live streaming of all Guam's matches in the centralized venue competition.
The presentation ceremony also was available via Internet Live Stream on Gov. Leon Guerrero's Facebook page.
Funds for disbursement in Series 4 was made possible from annual community contributions from Guam Regional Medical City (GRMC), which pays GEDA $1.2 million per year as a condition of its tax-break qualifying certificate.
Series 4 Grant Program recipients:
Sinajana Mayor's Office, $25,000
Guam Fire Department, $25,000
Talofofo Mayor's Office, $25,000
PBS Guam, $25,000
Elim Pacific Ministries, $12,421
Farm to Table, $15,586
Breaking Wave Theatre Company, $25,000
the Kosraean Association of Guam, $16,256
the Guam Amateur Baseball Association, $17,706
Junior Achievement Guam, $22,000
Sanctuary Inc., $10,000
the Guam Basketball Confederation, $25,000
Pacific War Museum Foundation, $25,000
Guam Football Association, $11,206
the Micronesia Training and Development Institute, $14,850