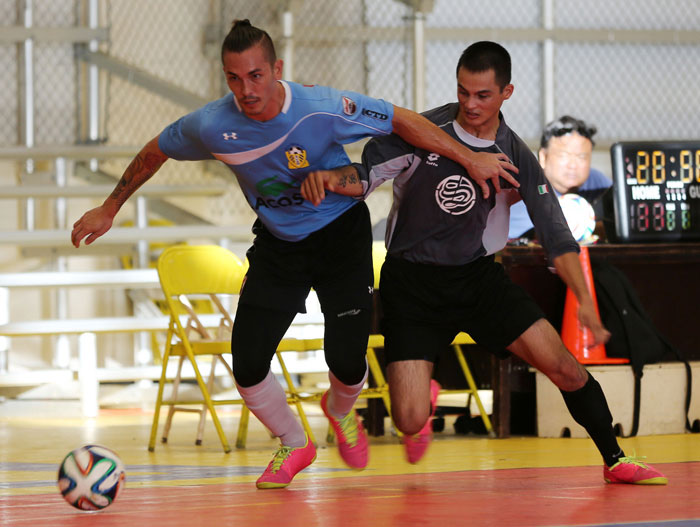 27 Dec

Futsal Continues With Rounds 4 and 5; Surber Takes Top Spot in Golden Boot Race

The Ambassadors picked up their first win of the 2014 Budweiser Futsal League season, a 3-2 nail biter over the Crushers FC in Round 5 action Wednesday at the Guam Sports Complex Gym.

Both teams began with strong defense and misfired shots, but a goal from the Crushers FC's Nicolas Cabuhat after almost 15 minutes of play broke the scoring drought. About seven minutes later, the Ambassadors' Michael Sypien, unmarked on the right side, took a pass from Juan Paredes and with a show of his technical skill on the ball, managed to level the match through to the halftime bell.

The Ambassadors gained the upper hand about a minute into the deciding half after Richard Delgado received a pass from the right corner and sneaked it past Crushers keeper Giacomo Imburgia for the 2-1 score. Five minutes later, an Ezra Valdez free kick made it 3-1 before the Crushers FC called for a timeout.

The physical match then continued with both teams jockeying for possession of the ball. With just a little over two minutes to go, Kevin Tainatongo got his team within one, taking a pass in stride and shooting from the right side, but that was all the team managed. Strong defense and key saves from Ambassadors goalkeeper Dan Velten sealed the team's first win of the season.

In other Round 5 matches, the Southern Cobras ransacked Doosan FC for 23 goals and allowed only six. Ashton Surber led the scoring barrage with 11. Teammates Donovan Reyes shot in five and Nick Roberto four. Riley Taijeron and Austin Cruz also scored for the winning team. The Cobras' other goal came on a Doosan own goal. RJ Salas, Donovan Alger, and Cameron Lunod each scored twice for Doosan.

The Paintco Strykers handed defending champion Guam Shipyard its first loss of the season in a 12-3 contest led by William Kerr and Hiro Asoshina's hat tricks. Caleb Barretto and Christian Dickson scored two each in the win and teammate Francis Chargualaf scored one. The Strykers' other goal came on a Shipyard own goal in the first minute. Kristian Cruz, Dominic Gadia, and Christopher Reyes each scored once for Shipyard.

Quality Distributors powered past Rovers United 10-5 led by Scott Spindel's four goals. Jan-Willem Staman and Joseph Crisostomo each scored twice and teammates Mark Chargualaf and Dylan Naputi also scored. Scott's brother, Shawn Spindel, led Rovers United with a pair of goals. Nathan Sablan, Eric Redona, and Alfred Agahan also scored for Rovers United.

Rovers City continues undefeated with an 18-9 victory over the Cobras in Round 4 play from Sunday. Rovers City's Ian Mariano led all scorers with a double hat trick. Teammates Jonahan Romero and Robert Putko each scored four each and Jason Cunliffe and Ben Young each scored two each in the win. Surber led the Cobras with five goals. Roberto scored twice and Austin Cruz also scored. The Cobras' other goal came on a Rovers City own goal.

In other Round 4 matches, Guam Shipyard battled to a 5-5 draw with the Crushers. Shipyard's Dominic Gadia scored twice and teammates Andre Gadia, Takefumi Inoue and Kristian Cruz also scored. Crushers' Jon Odell led all scorers with a hat trick and Joshua Pangelinan and Derrick Cruz also scored for the Crushers.

Quality Distributors recorded the league's third shutout with a 20-0 victory over Doosan FC. Scott Spindel led all scorers with five goals. Mark Chargualaf finished with a hat trick and teammates Staman, Scott Leon Guerrero, Joe Laanan, Joseph Crisostomo, and Paul Long each scored twice. Bradley Miller and James Bush also scored in the win.

The Paintco Strykers defeated Rovers United 6-2. Ross Awa, Mike Cruz, Dickson, Asoshina, and Kerr all scored for the Strykers. The Strykers' other goal came on a Rovers United own goal. Redona scored both goals for Rovers United.

In the Golden Boot race, Surber takes over the top position with 24 goals in four matches to his credit, followed by Mariano with 17. Scott Spindel's 13 goals has him currently at third place.

Round 6 action continues Sunday with Guam Shipyard taking on Quality Distributors at 2 p.m., followed by the Cobras against Rovers United. The Ambassadors play the Paintco Strykers at 4 p.m., followed by Rovers City taking on Doosan at 5 p.m.