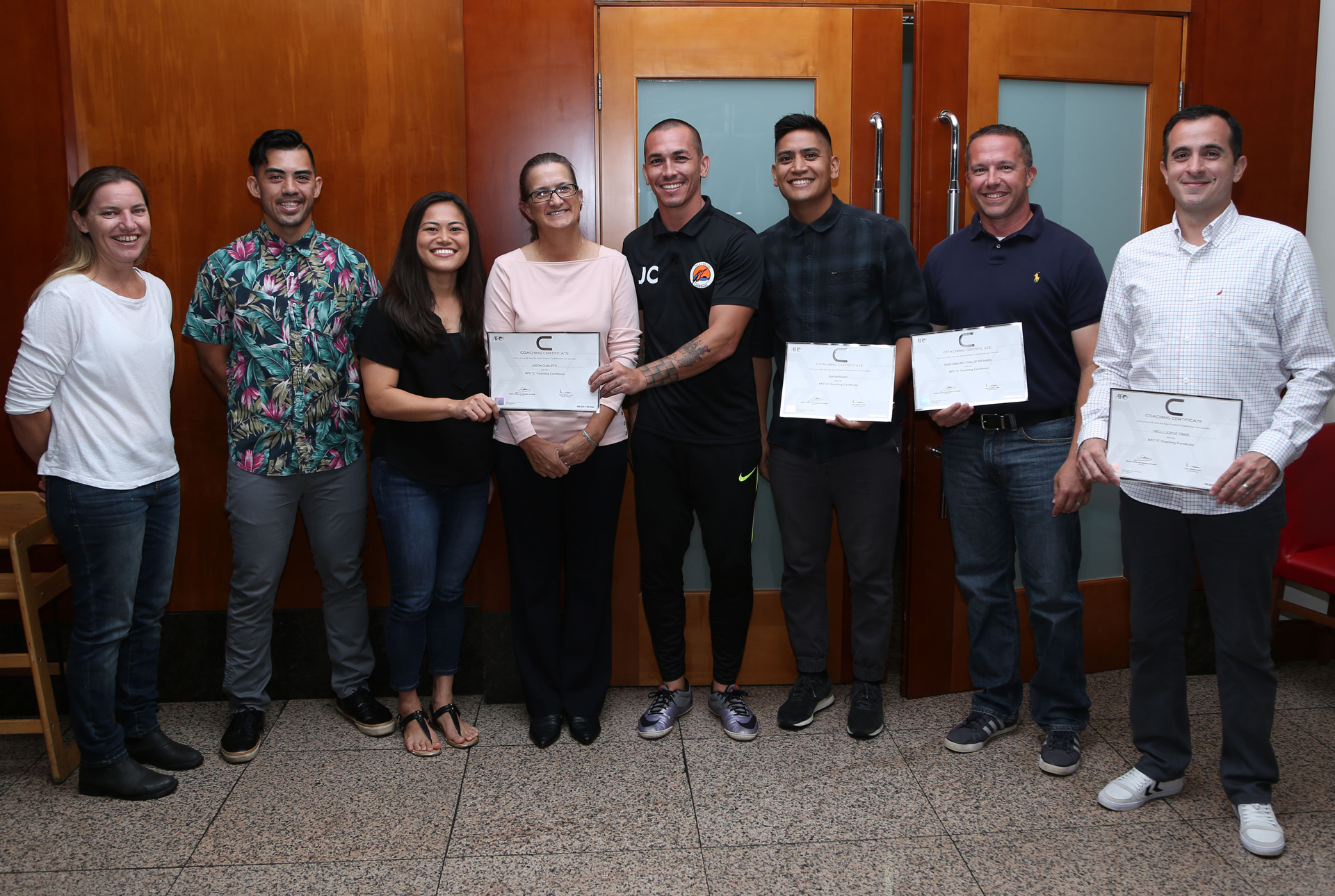 21 Mar

Five coaches in Guam earn coveted AFC "C" License

[February 26, 2018 – Harmon, Guam] Five of Guam's coaches – including three Guam National Team players – recently received their internationally recognized AFC "C" Coaching License certificates in a presentation ceremony Saturday at Fiesta Guam Resort.

"I am pleased to see more of Guam's coaches, and in particular, National Team players who have chosen to also ascend through Guam's elite coaching pathway, successfully pass the AFC "C" Licensing course examination and receive their certificates," said Belinda Wilson, Guam Football Association Technical Director. "With the level of play in Guam constantly improving with the introduction of the Aloha Maid Minetgot Cup Elite Youth League and the new United Airlines GFA Center of Excellence, even more licensed coaches will be needed to continue this upward trend, which is all in line with GFA's Strategic Plan.

"Through opportunities and support we provide Guam's coaches, it is our hope that one day, homegrown coaches will lead Guam's senior national teams to success in the international arena," Wilson added.

Receiving certificates from the course held at GFA in December 2017 are Jason Cunliffe, Jorge Hellu, Ian Mariano, Koharu Minato, and Phillip Santomauro. Cunliffe, Mariano, and Minato have all represented Guam as part of Guam's senior national teams.

Also successfully passing the course were international participants Luis Marquez Vert from Chinese Taipei and Raymond Zapanta from the Northern Mariana Islands.

The course was held from Nov. 26 to Dec. 11 at GFA with visiting AFC Instructor S. Richard Sinapan from Malaysia.

In addition to licensing successful coaches, the course also served as a practicum for Guam's Dominic Gadia, on track to become Guam's first AFC Local Instructor. Gadia, Assistant Instructor of the course, is currently the first and only homegrown coach with an AFC "A" License.

The AFC "C" License is the prerequisite for all specialized coaching licenses, as well as the minimum Coach Education Requirement for U16 and U19 national team assistant coaches.

After earning the AFC "C" License and logging in required coaching hours for one year, coaches will then be eligible to register for additional courses to obtain a Level 1 Goalkeeping Coach License and a Level 1 Fitness Coach License. Coaches may also register for an AFC "B" Coaching License course with required coaching hours after two years.

Particularly for Goalkeeping Coaches, licensure extends to Levels 2 and 3, with Level 2 as the minimum requirement for all national teams by next year according to the AFC Competition Operations Manual 2017.

Currently, the minimum Coach Education Requirement for a senior national team Head Coach, as well as a U-23 Men's National Team Head Coach, is an AFC "A" License. By 2019, the requirement will increase to an AFC Pro Diploma, the highest AFC Coach Education distinction.

The next AFC "C" License course in Guam is tentatively scheduled for June this year, with another one in December based on AFC's 2018 calendar.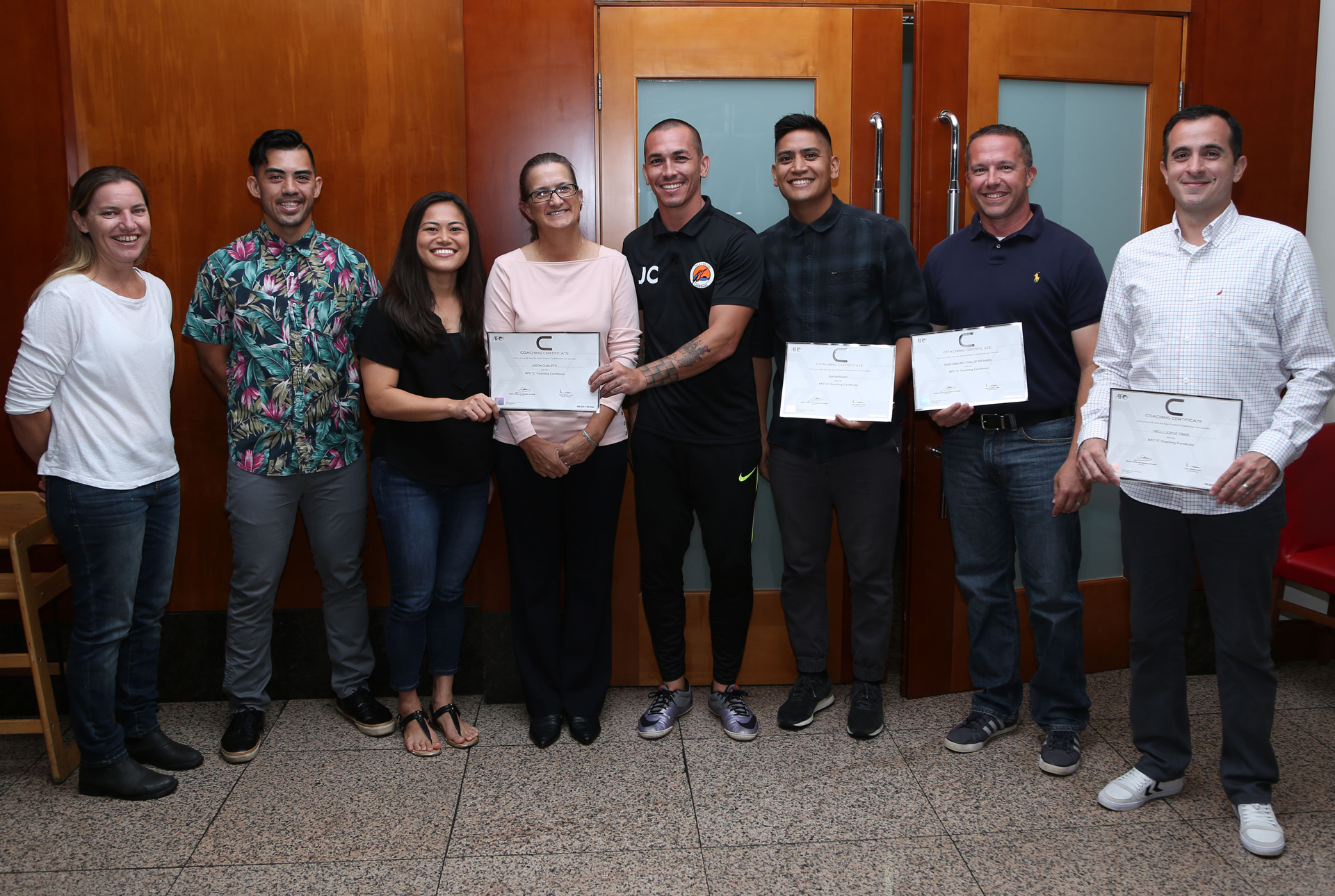 Five coaches from Guam recently earned their AFC "C" Coaching License certificate and were recognized in a presentation ceremony at the Fiesta Resort Guam hosted by Guam Football Association. In the photo are, from left to right: GFA Technical Director Belinda Wilson, GFA Coach Education Development Officer Dominic Gadia, Koharu Minato, GFA Acting General Secretary Cheri Stewart, Jason Cunliffe, Ian Mariano, Phillip Santomauro, and Jorge Hellu. Two other coaches, not pictured, also earned their AFC "C" License: Luis Marquez Vert from Chinese Taipei and Raymond Zapanta from Northern Mariana Islands. Photo by Jesse Mesa/GFA.