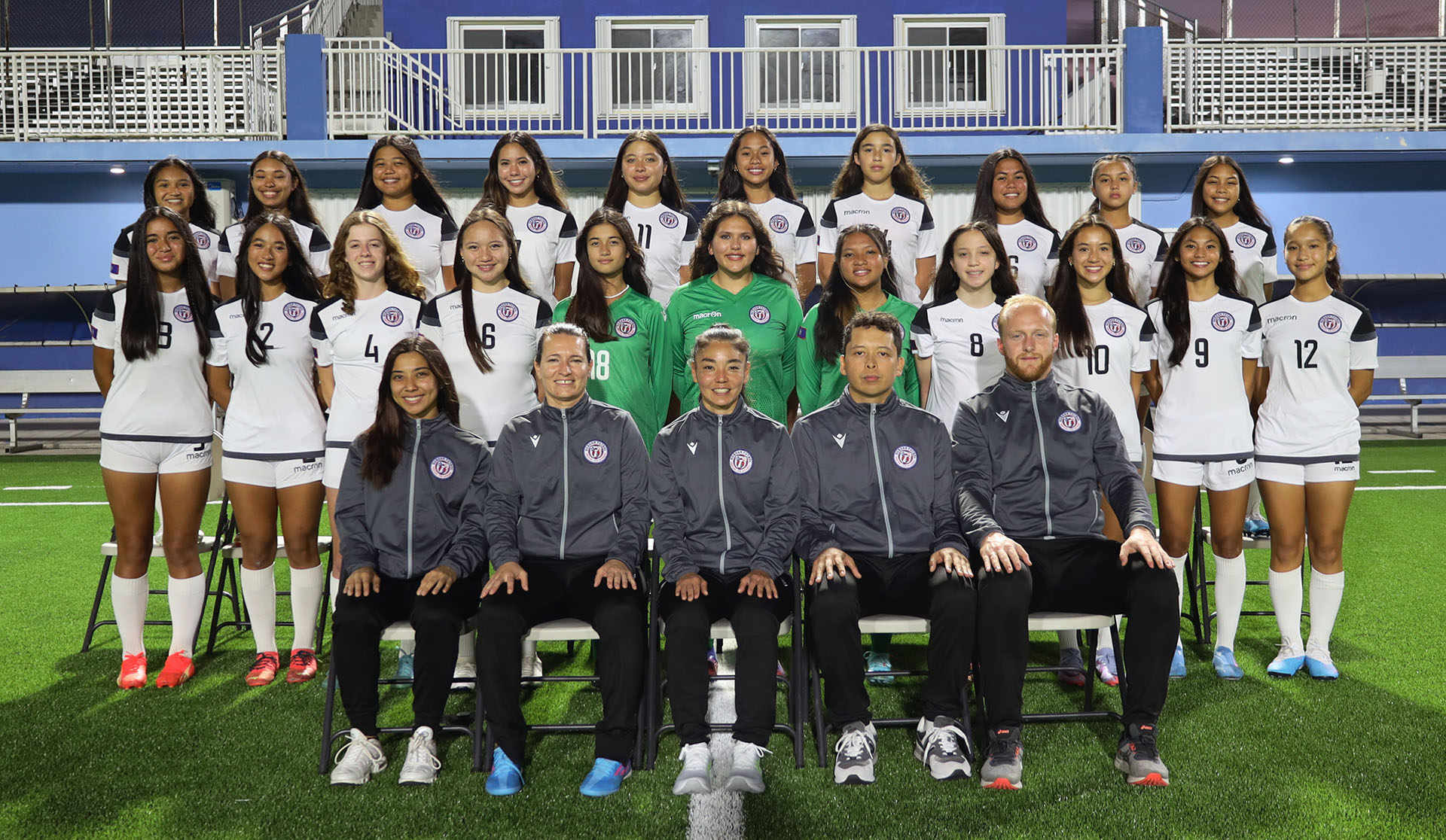 19 May

Final roster for Guam U17 Women's team released ahead of AFC tourney

[April 18, 2023 – Harmon, Guam] The Guam Football Association Technical Department officially released the final roster of 21 players selected to represent Guam at the AFC U17 Women's Asian Cup Indonesia 2024™ Qualifiers Group G at GFA beginning Apr. 22.

"The tournament is crucial for the youth players' progress into the senior team and their experience can influence the status of our football," said Ross Awa, GFA Technical Director. "I trust that the staff has helped the players develop their football and confidence while also fostering a positive team culture.

"The Junior Masakåda staff is dedicated to ensuring that the players have a rewarding experience during the tournament and has been working closely with the players to provide them with the necessary support and guidance they need to succeed on and off the pitch," Awa added.

The 21 players called up to the Guam U17 Women's National Team are Miomi-Rose Blas, Isabella Dela Paz, Aiyanna Duenas, Emme Ettleman, Feah Fejeran, Iliana Figueroa, Mariana Gomez, Cadence Guzman, Jaelyn Han, Aubrey Lynn Ibanez, Ahela'aoku'upu'uwai Kaae, Melia Kukahiko, Khae'ly Olpindo, Sierra Ruehl, Yzabella Saddo, Hinengi San Nicolas, Orung Santos, Trinity Santos, Nakia Tenorio, Kaia Villanueva, and Serenity Wusstig.

Head Coach Kimberly Sherman leads a staff of six, which also includes Team Manager Ariya Cruz, Assistant Coaches Derrick Cruz, Jeroen Bos and Kristin Thompson, and Physiotherapist Kelsey Kuehn.

The team will open its bid against the Philippines Apr. 22 at 7 p.m. and will next play against Lebanon at 7 p.m. on Apr. 24. The Philippines and Lebanon will go head-to-head in the last match of the tournament beginning at 7 p.m. on Apr. 26. All matches will be played at the Guam Football Association National Training Center.

Advance tickets for all three matches as a bundle are being sold at the GFA Main Office for $12 while supplies last. Each advance ticket purchase is eligible for a raffle drawing to be held Apr. 26. Winners need not be present to win, but must have the matching ticket to claim prizes. Prizes include autographed Guam Women's National Team gear.

Single match Entrance Fees will be collected at the gate on the days of each match: $5 per adult and $3 per student with ID under 18 years old. Children three years old and below will be admitted free-of-charge. During the tournament, refreshments and food from Jamaican Grill and Fizz & Co. will be available for purchase.

"I hope that the Junior Masakåda will excel in the tournament and approach every game, every minute, with a will to perform their best and give it their all on the field," Awa said. "I believe that with hard work and determination, they can conquer any challenges that come their way.

"Best of luck to the Junior Masakåda, may they come out victorious and make their country proud," Awa added.

The AFC U17 Women's Asian Cup Indonesia 2024™ Qualifiers will be the first AFC centralized tournament held in Guam since 2012 and also the first after the COVID19 pandemic halted most sports activity in Guam. Competing teams will be among the first to play matches on new, freshly installed turf completed earlier this month.

For supporters unable to attend matches live at GFA, live stream links will be made available closer to match dates and announced on GFA's official social media platforms.

For more information about the tournament or advance ticket sales, call the GFA Main Office at 671 637 4321.