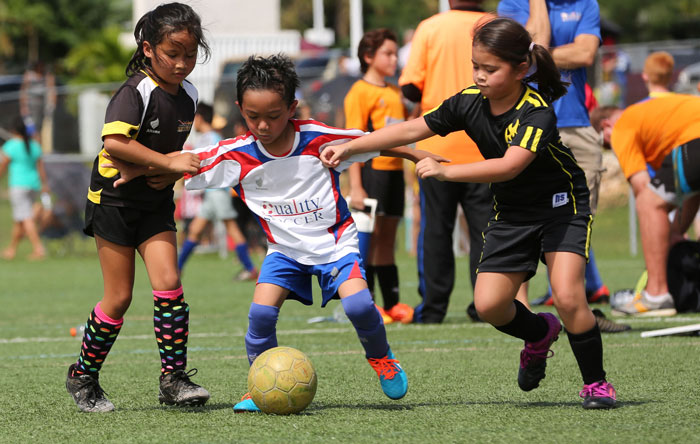 22 Jan

Fair Play Rewarded in Youth Soccer

With just two weeks left in the Triple J Auto Group Robbie Webber Youth Soccer League, many players are not quite ready to hang up their cleats just yet.

"I want to keep playing soccer even after the league is over," said 7-year-old Chloe Esteves of the Southern Heat. "I like playing soccer because it's fun and I like taking the ball away from other people.

"My mom (Tina Esteves) was the one who got me into the sport, and my whole family plays, too," added the Merizo Martyrs Memorial School student.

For teammate Jaron Meno, one of the highlights of this season's youth league was receiving a Fair Play with Triple J green card during a Week 2 match. Meno was one of dozens of youth athletes who received a Triple J "jimmy" ball as a prize for fair play during a short ceremony Saturday at the Guam Football Association National Training Center.

"Soccer is fun and it's all about playing fair," Meno said. "For example, if someone falls – your teammate or from the other team – it's good to make sure they are OK and help pick them up.

"I got a green card for fair play and I won a jimmy ball. The jimmy ball is fun to play with and I can keep practicing soccer with it," added the 8-year-old Merizo Martyrs Memorial School student.

In Week 8 U17A matches, the Wings Red enter the division's playoff race ranked No. 1 after a 6-0 win over the ASC Trust Islanders. Toy Matsushita and Kaito Inoue scored twice and Ricky Katsumata and Shashikant Kotwal once each in the win.

The Wings Black edged the Guam Shipyard Wolverines 6-5 with three goals from Thomas Park and two from Jordan Jasmin. Hinako Ito also scored for Wings Black. Jestin Escobar finished with a hat trick and Randi Jo Paulino scored twice for the Wolverines.

Quality Distributors defeated Community First Dededo Soccer Club 6-1 with two goals each from Jason Kim and Joshua Cepeda. Ryan Ledger and Andrew Baldwin also scored for Quality. Michael De Leon scored for Dededo.

The Paintco Strykers defeated Southern Heat 6-2 led by Justin Johnson's two goals. Michael "Jake" Benito, Brandon Flores, Kazu Yoshida, and Ray Gudmalin also scored in the win. Riley Jones scored both goals for Heat.

In U14 action, the Wings defeated the Southern Cobras with goals from Tyler Presto, Sena Morimoto, Bradly Lubas, Phoenix Pahl, Leon Morimoto, Nichika Fermin, Ryo Suzuki, Chad Ishizu, Takumi Odell, and Takumi Kishi.

Strykers White continue undefeated with a win over Quality. Clayton Mitchell scored three and Xavier Naputi two in the win. Vince Cruz, Jacob Herring, and Errett Bainum also scored.

The Tigers and Strykers Red battled to a 3-3 draw. Seung Min Kim scored for Tigers and Joshua Calvo scored for Strykers Red.

Islanders Betde defeated Islanders Asut with three goals from Shawn Sablan and one from Nyan Domingo.

The Sidekick SC edged the Wolverines 6-5. Tomas Calvo scored four and teammates Roben Morellano and Autumn Rese each scored once in the win. John Topasna and Noah Camacho each scored twice and Tristen Roberto once for the Wolverines.

In the U12A division, the Sidekick SC defeated the Tigers 3-1 with goals from Shelby Meeks. James Lee scored for the Tigers.

The Islanders defeated Wings Black 3-1 with two goals from Jonathan Sevilla and one from Mackey Rasmussen. Sho Meyar scored for Wings Black.

Wings Red battled to a 2-2 draw with the Wolverines. Eddie Cho and Niclas Vavra scored for Wings Red and Kaden Slack and Michael Lee scored for Wings Red.

The Paintco Strykers' Joshua Calvo prepares to take a shot facing defensive pressure from the Tigers' Michael Chung during a Week 8 U14 division match of the Triple J Auto Group Robbie Webber Youth Soccer League at the Guam Football Association National Training Center. The Strykers and Tigers battled to a 3-3 draw.