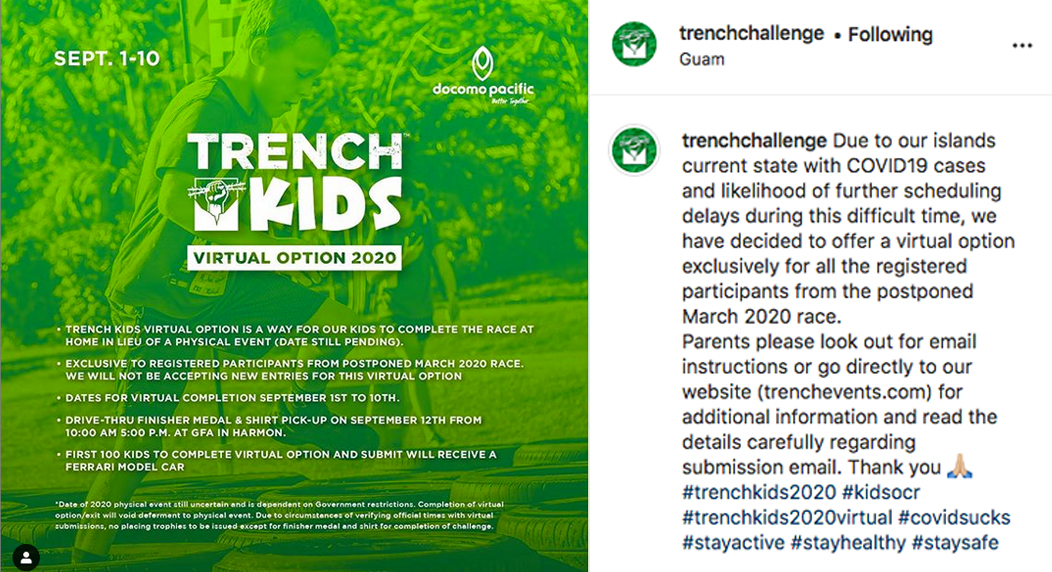 From Trench Kids:
Due to our island's current state with COVID19 cases and likelihood of further scheduling delays during this difficult time, we have decided to offer a virtual option exclusively for all the registered participants from the postponed March 2020 race. Parents please look out for email instructions or go directly to event website (trenchevents.com) for additional information and read the details carefully regarding submission email. Thank you 🙏🏼
#trenchkids2020 #kidsocr #trenchkids2020virtual #covidsucks #stayactive #stayhealthy #staysafe
• Trench Kids virtual option is a way for our kids to complete the race at home in lieu of a physical event (date still pending)
• Exclusive to registered participants from postponed March 2020 race. (Trench Kids) will not be accepting new entries for this virtual option.
• Dates for Virtual Completion September 1st to 10th
• Drive-Thru finisher medal & Shirt pick up on September 12th from 10 a.m. to 5 p.m. at GFA in Harmon
• First 100 kids to complete virtual option and submit will receive a Ferrari model car
Check out @trenchchallenge on Instagram for more details.