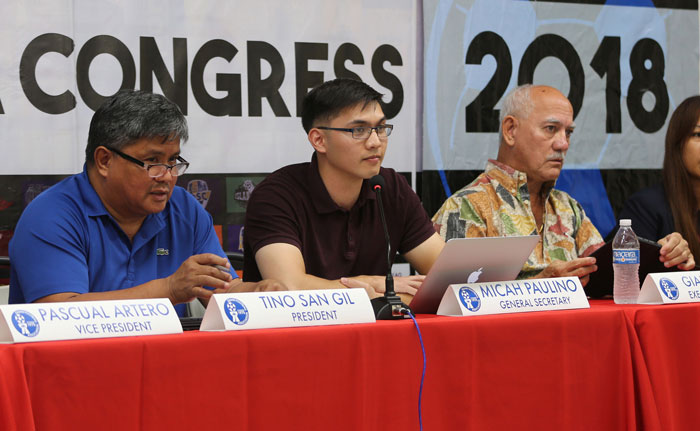 22 Feb

Eleven Vying for Five Guam FA Executive Committee Seats

[January 8, 2019 – Harmon, Guam] – A total of 11 candidates from eight member clubs will be vying for five vacant slots on the Guam Football Association Executive Committee, with the election set for the organization's next Ordinary Congress on Feb. 5.

Of the 11, three are running for re-election: Tina Esteves from Southern Heat, Kun Ho Rhee from Tigers, and Gian Tenorio from Sidekick Soccer Club.

The other eight candidates are from five other member clubs:

• Crushers FC: Michael Bordallo, Anjelica Perez

• GPSI Southern Cobras: Fred Alig

• Bank of Guam Strykers FC: Romy Belmes, Jay Shedd, Robert Torres, Jr.

• Wings FC: Marvin "Ike" Iseke

• Guam Shipyard Wolverines: Joseph Roberto

Per the GFA Statutes, Article 33.2, "no more than two Executive Committee members may be from the same Member Club of GFA, and there may be two Executive Committee members from the same club only if at least one is elected as an officer, i.e., President or Vice President."

"Since there are no officer positions to be selected in the upcoming election, only one member from any one club may be on the Executive Committee," said Frederick Horecky, GFA Electoral Committee Chairman, in a correspondence to the candidates. "Upon tallying all ballots, should there be candidates from the same Member Club acquiring the top five spots, the one with the highest vote total will secure the spot in the Executive Committee and any other candidate or candidates from the same Member Club will be eliminated and removed from consideration for Executive Committee membership. The next highest vote will advance to fulfill the spot or spots until all five spots are filled."

The election will take place during GFA's 2019 Ordinary Congress on Feb. 5 at Hotel Nikko Guam. Each Member Club may vote for up to five candidates on Congress Day at the venue. Names of a limited number of attendees must be submitted by GFA Member Clubs in advance.

The Executive Committee consists of nine members in total: one President, two Vice-Presidents and six members. Powers of the Executive Committee include passing decisions on all cases that do not come within the sphere of responsibility of the Congress or are not reserved for other bodies by law or under the GFA Statutes, approval of regulations stipulating how GFA shall be organized internally, and ensuring that the GFA Statutes are applied and adopt the executive arrangements required for their application, among other powers stipulated in the current GFA Statutes.

The GFA Statutes are available on GFA's Web site at http://guamfa.com/contact-us/finance-and-governance/official-documents under the heading "GFA".